What to See at The Wizarding World of Harry Potter, Diagon Alley at Universal Studio Florida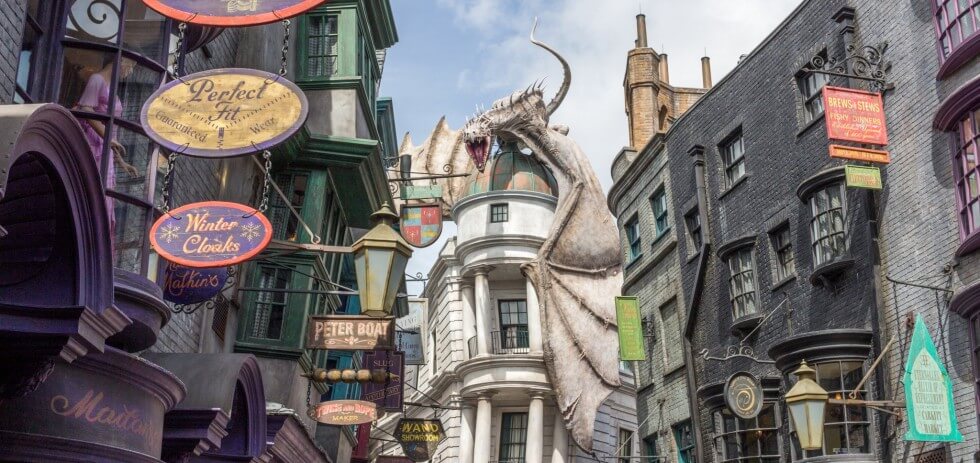 The Wizarding World of Harry Potter Orlando, Florida is made up of two parks; Universal Studios and Islands of Adventure. There is a lot to see at both parks, but as Harry Potter World Universal Studios includes the London Waterfront, Diagon Alley, Carkitt Market, Knockturn Alley, Horizont alley AND King's Cross (and every place has a ton of little details) it's easy to miss catching them all.
I was determined to not miss a thing so what follows is my very Granger-esque list of all there is to see at The Wizarding World of Harry Potter, Diagon Alley at Universal Studio Florida. See the post where I gave our tips for planning a crowd free experience at both Harry Potter parks here.
The London Waterfront
Stop by the Knight Bus and visit with the Conductor and his shrunken head co-pilot. Make sure you talk to the head! I don't know how they do it, but you can have really amazing conversations with him. Try taking a photo of him (the head) and then asking him if he wants to see it and showing him the screen on your camera.
Be sure to take a look inside the bus, including from the back to notice all the details like the toothbrushes in each bedstand!
Kreacher, Sirius Black's house-elf, periodically pokes his head out from behind the curtains in one of 12 Grimmauld Place's windows.
Visit the telephone booth in front of Leicester Square and dial M-A-G-I-C for a little surprise. Then take a look into the record shop next to this booth for several Easter eggs, or references to J.K. Rowling, JAWS, and a cameo appearance of the Universal Creative department logo.
Enter Diagon Alley just as Harry does in the books, through the brick alley behind the Leaky Cauldron.
Diagon Alley
Ride Escape from Gringotts (the only ride in this park) whose line takes you through Gringotts's bank. Look for the wizard-photo of the Weasley Family in Egypt while you are in the section of line in Bill Weasley's office.
See the Dragon's fire; the Ukrainian Ironbelly which Harry, Hermione, and Ron rode to freedom after breaking into a vault at Gringotts bank in "Harry Potter and the Deathly Hallows" that sits atop Gringott's spews fire and roars every 10 minutes or so.
Play on Sirius Black's (and then Hagrid's) motorcycle, which is parked outside the bank.
Visit all the shops: Quality Quidditch Supplies, Weasleys' Wizard Wheezes, and Madam Malkin's Robes for All Occasions.
Visit the mirror inside Madam Malkin's – it may have something to say about you or what you're wearing.
Look in all the windows, the attention to detail in the park is stunning. From stewed eel pies to the office for the Daily Prophet, to ads for Harry Potter products like skele-grow potion and pumpkin juice; it's all here!
Eat or drink at the Leaky Cauldron, or just go in for a look to see the big cracked cauldron in the fireplace.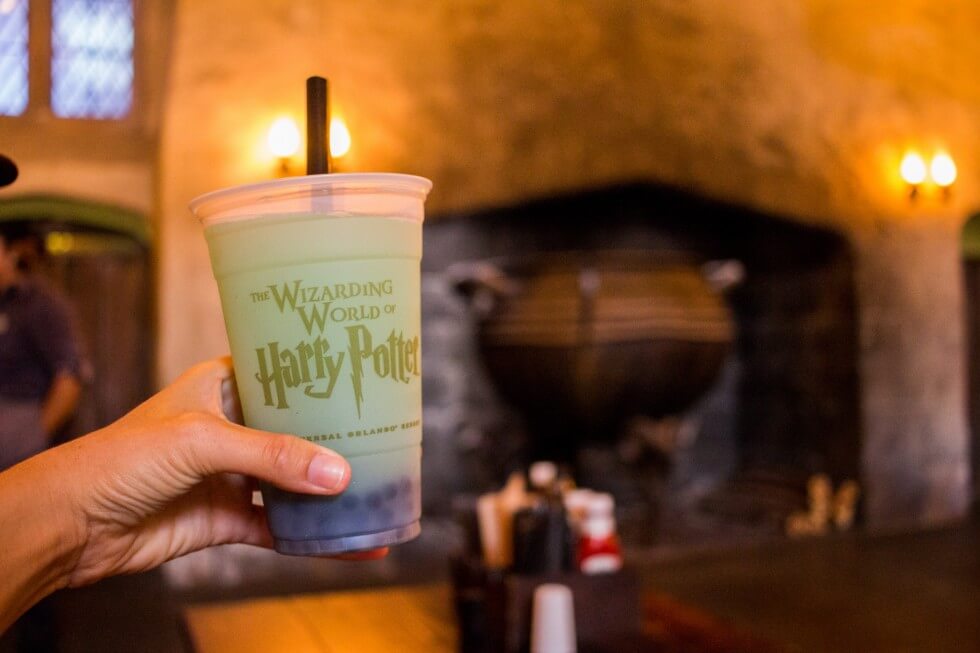 Carkitt Market
Visit the Gringotts Money Exchange to chat with the fully interactive audio-animatronic goblin teller while he exchanges your Muggle cash for Wizarding Bank Notes. He is almost as good as the Shrunken head at the Knight's bus. You really can also exchange your muggle money for Wizarding Bank Notes that work within the park.
See the live entertainment, there are two separate shows whose performances alternate. The Tales of Beedle the Bard are fun puppet shows that tell a different Beedle tale at each showing. The Singing Sorceress Celestina Warbeck and the Banshees is a music show that Mrs. Weasley wouldn't miss even for a signed Gilderoy Lockhart photo! All the song titles are directly from the books. Check Harry Potter World showtimes here.
Stop by The Hopping Pot next to the stage to grab some beer or a pumpkin juice. The (real) beer choices were Wizard's Brew (a sweet stout with a dry finish) and Dragon Scale (a lager).
Cast some of the best spells in this park. If you have an interactive wand, or just want to watch other people use theirs, the mermaid fountain and the blacksmith shop are some pretty amazing spells.
Horizont Alley
Check out Scribbulus Writing Implements; one of the hidden wand spells is found in the window. Results may vary, so you'll want to try it more than once.
Visit the Magical Menagerie, full of plush animals found within the Harry Potter books and films. Check out the windows, including one that holds Nagini, He-Who-Must-Not-Be-Named's pet snake (and a Horcrux) who will speak parseltongue to you. Inside you will find a crumple horned snorkack; Luna was right all along!
Visit the Fountain of Fair Fortune, another drinks-only venue that focuses on beer (of both the butter and draught varieties). Because it's located adjacent to Florean Fortescue's Ice-Cream Parlor, it also serves butterbeer ice cream.
Use the loo. There are some very authentic bathrooms in Horizant Ally; make sure to look above the toilet.
Knock turn Alley
Quite possibly my favorite park of this park. The whole area is spooky and gives the distinct impression you've wandered into the bad side of town. The wanted posters on the walls, the tattoo shop that you can peek in the windows of, it's all pretty amazing.
Visit Borgin and Burkes to explore some pretty unique pieces of wizarding merchandise, including Death Eater masks. There are also familiar items on display, including the vanishing cabinet, that you can hear birds in, and the hand of glory from the Chamber of Secrets.
The black light makes your wand map look extra magical and the best spells of this park are in here. The Troll skeleton that moves with you once enchanted and the alley behind Borgin and Burkes with two spell areas are so unique and fun!
Once you have finished all of your window shopping and Easter egg-hunting, it's time to head through Knockturn's exit to the Leaky Cauldron.
Then head back towards the brick wall you entered through and exit, you'll find yourself back in London; just take a right until you've landed at the only attraction in London, King's Cross Station.
King's Cross Station
King's Cross is the home of the Hogwarts Express, which will take you to Hogsmeade over in Scotland (Islands of Adventure).
The London street buskers, and other street performers are often scattered about both outside and inside King's Cross Station. They perform all kinds of music, so you'll never know what you'll get to experience.
Platform 9 3/4 magic. Make sure you hang back to watch your friends disappear through the brick wall between platforms 9 and 10.
Once you arrive at Islands of Adventure, you can either visit the park (obsessively detailed post about this park coming soon) or hop straight back on the Hogwarts Express to experience the journey back to London (which is different than the trip to Hogsmeade).
Don't forget to also just let yourself see what there is to see! I liked to have a list of things I could look over after an hour or two in the park to see if we'd missed anything, but it was even more fun to just go and explore The Wizarding World of Harry Potter with no agenda in mind!