Discovering the Cenotes Near Merida, Mexico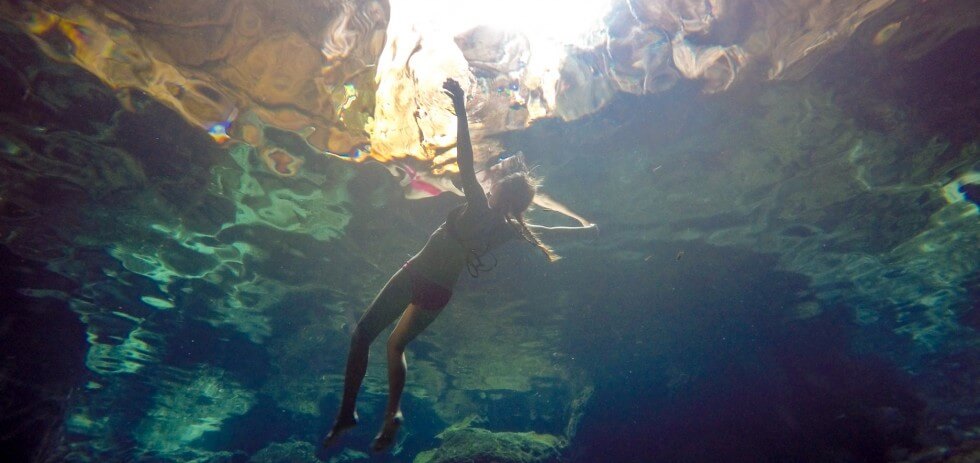 Cenotes Near Merida
From our first Cenote experience; scuba diving the Cenote Kankirixche near Merida we were hooked! We both instantly knew that during our month-long housesit in the area we were going to try to find and visit as many Cenotes as we could!
Actually, the first official Cenote we saw was at the Costco in Merida – odd, I know. The Cenote was discovered within the parking lot during construction and due to the laws protecting Cenotes they had no choice but to preserve it and protect it. Though this was technically our first cenote experience, it certainly did not have the impact on us that our Yucatan Cenote scuba dive did. I am sure you can see why!
Luckily, the beautiful Caribbean house we were cat-stting at came with a set of wheels and so I started doing some research into what cenotes we could visit ourselves. The best resource I found for our Cenote hunt was a Geocaching website! Check out this link to see a list of all the Geocaches in the Yucatan, many of them at or near Cenotes! Geocaching is like a huge hide and seek game where users hide "caches" in locations all around the world and then leave their GPS coordinates and clues online about how to find them. Caches are typically small waterproof containers (like a film canister – remember those?!) filled with a logbook that all the finders write their names in. Incidentally a large portion of the geocaches in the Yucatan are hidden near cenotes, so voila, I found the GPS coordinates of many cenotes near Merida!
Three Cenotes of Cuzuma – Dzapakal, Santa Cruz and Chelentun
One of the most popular ways to explore Cenotes near Merida is by going to either the town of Cuzama or Chunkanan where a local will take you to visit three Cenotes. There are a ton of Cenotes surrounding these two towns and each town offers tours to different beautiful Cenotes.
The tours are all via a horse drawn cart that trundles along tracks to visit each Cenote. The price is negotiable, but it is more than fair for the 2 – 3 hour tour. How long the tour is exactly depends on you as your guide will take you to the Cenotes and then wait until you are done. Rattling along on the rickety cart through the trees was definitely a fun part of the experience. The driver also seemed to be really nice to his steed, using a rope to flick off any flies or mosquitos that landed on it's rump.
The first Cenote we visited was Dzapakal, reached by a series of slippery and rusty ladders leading 24 meters down into a small cavern.
At the bottom of the cavern we found a beautiful little Cenote and felt like the only people in the world. This was one of those moments where I turned to Tom to say, "what have we done to deserve to be here on a Tuesday morning?!" A wooden ladder led into water so clear we were surprised when our feet first hit it, it looked at though we still had a couple of more rungs to go!
This was my favorite Cenote of the day, I loved the sense of adventure of heading down into the hole and then looking back up at the daylight streaming in through the entrance with a tiny, apparently bottomless pool below us and stalactites all around us.
After a dip we headed back up the ladders and onto the cart to go on to the next Cenote.
The Cenote Santa Cruz has a deliciously spooky feeling. The dark underground lake surrounded by impressive rock formations, looked exactly like what I picture Golem's abode to look like.
The last Cenote we visited was Chelentun, Tom's favorite of all the Cenotes we saw in all of our time in the Yucatan.
A big cement staircase led down into a huge cavern and at the bottom was an extremely large Cenote. Once again, Tom and I were the only ones there and we spent over an hour swimming from end to end, splashing, and floating in the clear waters.
How to Get to Cuzuma or Chunkanan: The easiest way is to simply put "Cuzuma" or "Chunkanan" into google maps on your phone. If you don't have a SIM card or data plan for your phone while traveling here are some simple directions from downtown Merida:
Take 59th street until the loop road around the city, there you'll find the signal for the highway to Chichen Itza and Valladolid, take it; there is a detour after 5 km that says Acanceh village, follow it; come in to Acanceh village and then continue to Cuzama; the tourist center where you can take the tour is located 1 km out of Cuzama towards Chunkanan village; the trip from Merida takes 1 hour.
Cenote Xlacah in the Dzibilchaltún Ruins
Another easy to visit Cenote is Xlacah, located in the Dzibilchaltún ruins just 10 miles out of Merida, towards Progresso.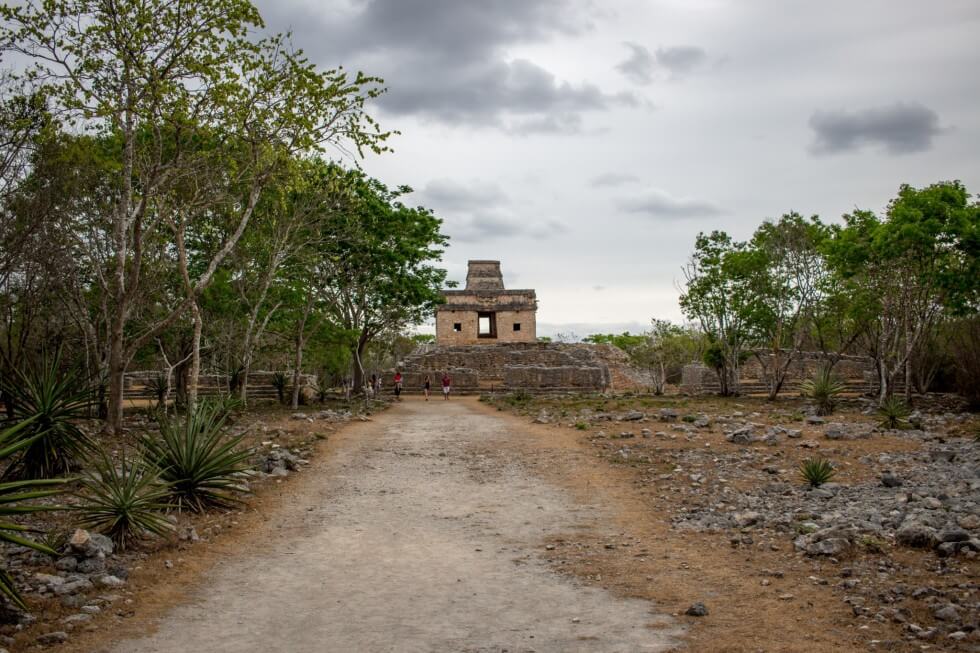 The ruins themselves are fun for an hour or two of exploring; Seeing what plants and animals you can spot, like these stingless bees or this dramatic tree growing out of the ruins with a bird high up in it's branches.
The real draw of the Dzibilchaltún ruins is the Cenote Xlacah at it's center.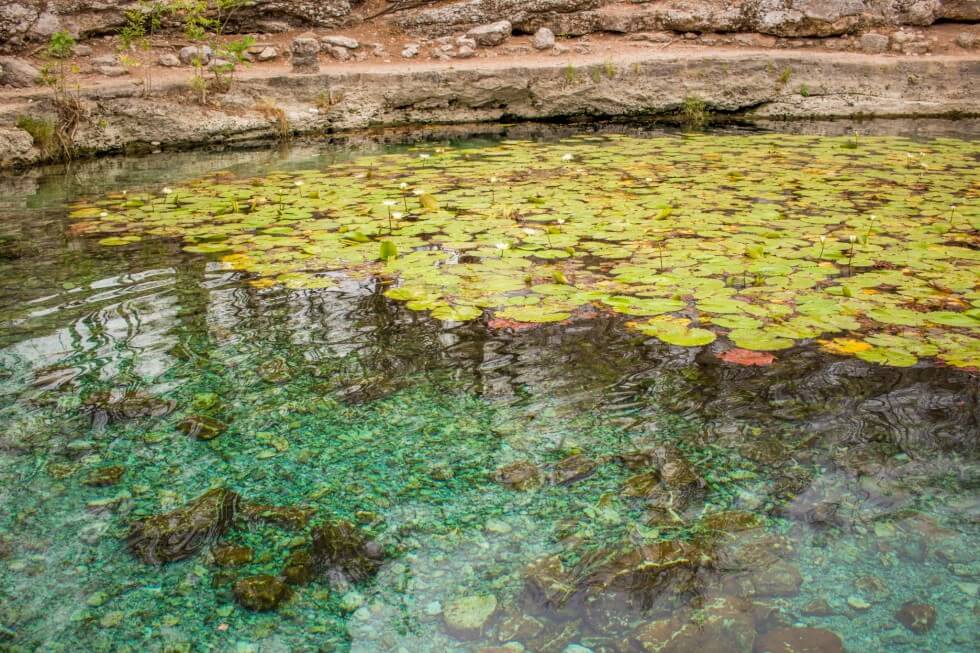 The Cenote was different than many of the others we saw as there was no climbing down into a cavern to reach it. It is an absolutely gorgeous, crystal clear pool filled with water lilies that is completely open to the air, though if you were diving you could venture down below the shelf for the cavern experience.
We were more than content to spend the afternoon just swimming around the pool; seeing the lilies from above and their root systems from below.
As Cenotes were considered sacred by the Mayan people they are found at many of the ruins sites in the Yucatan, such as at Uxmal. Don't forget your bathing suit when visiting the ruins of the Yucatan!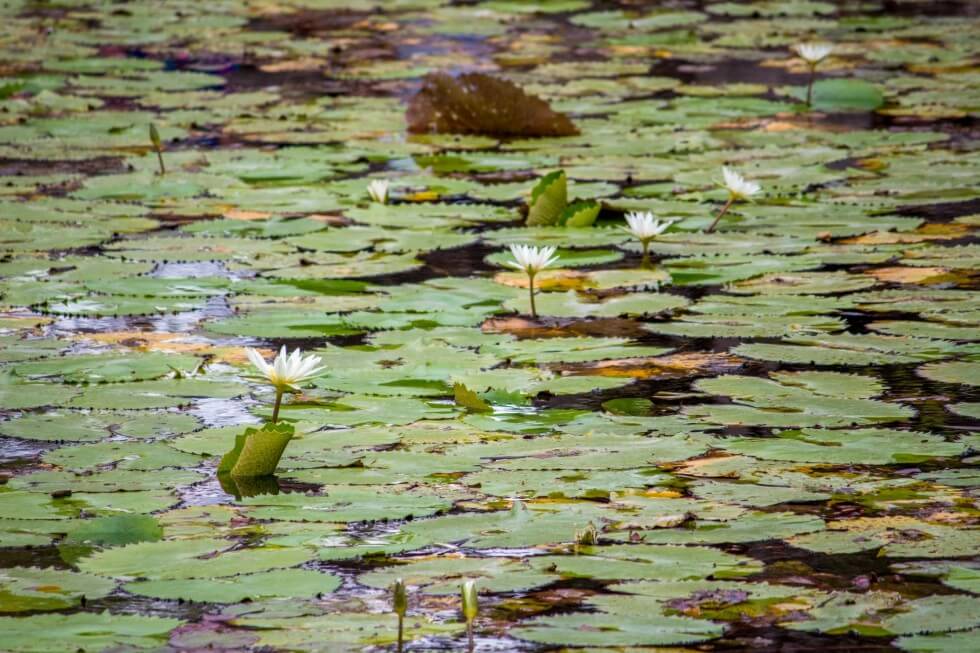 Cenote Sambula in Motul
Motul is a small town 45 kilometers outside of Merida. When we visited we didn't see any signs out front, so though we had the GPS coordinates from this site we drove by the entrance two or three times before we realized we were there! Once we finally parked and walked through the orange blocky entrance it was easy to see where to pay the entrance fee (of a few pesos) and we headed down the staircase to the Cenote.
Sambula is another beautiful, blue, pool whose cool waters were especially refreshing because of the crazy heat wave Merida had been experiencing while we were there!
This Cenote also has a cavern that we reached by diving down and swimming through a small cave that opens back up into a larger cavern with sunlight streaming down from an opening in the ceiling.
All in All
It is easy to see why the Yucatan is practically synonymous with Cenotes. We will always think of Cenotes first when we think of the month we spent house-sitting there. We loved Merida, the beaches of the Northern Coast and all the wonderful food, but it is the Cenotes that made our month there magical.