Carry On Packing; 4 months in Mexico Packing List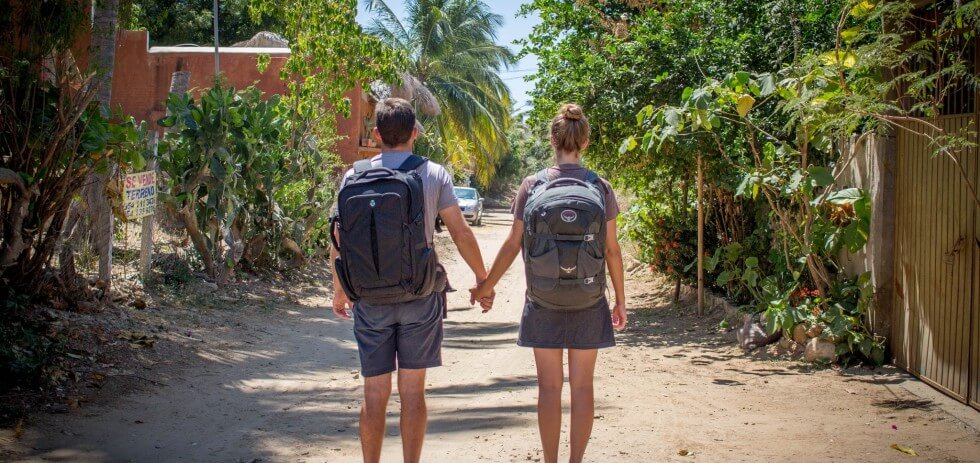 Tom and I both travel with just one carry-on sized bag each and I cannot recommend it enough. Not only are airlines charging more and more for checked luggage, but it also just makes life easier. Odd fact about me; I don't like carrying things in my hands. This is especially true when I have a backpack on and don't even get me started on the small bag on the front/big back on the back feeling. I know some people don't mind, but for me it is the WORST! It just makes me feel hot and uncomfortable and irritable. So for a happy life Tom and I just have one carry on bag each and we make sure we can put EVERYTHING in it when we go from place to place. This means we always try to leave a little extra room in the bag to put snacks and things. I literally need to carry on to keep calm.
We usually have our bags packed for full-time travel covering undetermined amounts of time and undetermined weather conditions. For our time in Mexico we knew that we wouldn't be hitting any extreme cold (e.g. snow) and so we were able to leave behind some of our extreme cold weather gear. Though, we do fit that into our carry on bags as well. So, here it is, we are baring our bags for four months of traveling around Mexico. At the end of this post, I think you will find yourself more amazed by HOW MUCH crap we travel with than how little. I know it looks like a small amount when it's all packed away in our bags, but you'd be surprised at how big of a mess we create as soon as we make ourselves at home somewhere. Basically, every time we unzip them there is a stuff-plosion in every direction that covers every available surface of wherever we are currently staying in a mish-mash of everything we own.
Our Carry On Bags
Tom and I always travel together and what often happens in these situations is you split up certain things. For example, I carry all of the toiletries, and he carries all of the electronic gear except for my computer and my kindle. Our actual bags are the Osprey Farpoint 40
(Jenny) and the Tortuga Backpack (Tom). Though the bag I use is called a 40, it is actually 38L (because I use the S/M size) and Tom's is 44L. We switched to these bags about 5 months ago and so far we really like them. They both have laptop sleeves, which is the main difference from our previous bags. Tom feels like his bag is "too blocky" and I am not a fan of the net water bottle sleeves on the outside of mine, but other then that they are darn near perfect!
What's in Jenny's Bag
Everything is held in the Sea to Summit Toiletry Bag that I love. It's the perfect size for us and is super light, strong and water-resistant
GoToobs, which are amazing, squeezable bottles with suction cups on the back, filled with shampoo and conditioner
Small, solid bar soap, which can be dried out and wrapped in paper for traveling
Face Sunblock
Body Sunblock
Razor and razor re-fills
Spin Pins, which are amazing and totally revolutionary if you have long hair, especially if you want to put that hair in a bun.
Small comb
Hair bands
Earth Science Liken Plant Deodorant. It took us a long, stinky time of trial and error to find a natural deoderant that worked, and this one is the best!
Toothpaste
Dental floss
Philips Sonicare Electric Toothbrush with Rechargeable USB Travel Case with a head for each of us.
I know many people think we are nuts for traveling with this and not good 'ol fashioned toothbrushes. What can I say, we take dental care seriously and since we are never sure when (or in what country) our next dental cleaning is going to be, we take our Sonicare everywhere. The USB chargeable travel case is pretty rad too.
First-Aid
A lot of people don't travel with first-aid, but a lot of people don't hurt themselves as much we (ok, I) do. We try to have just a little of everything on hand on then can buy more of anything if and when we need it.
One pill bottle filled with a mixture of Excedrin migraine, ibuprofen, Imodium, sleeping pills (for overnight flights) and allergy pills
Tums
Prescription medication
Digital thermometer
Individual alcohol wipes
Band-aids
Neosporin
Ear plugs
Uncle Bill's Precision Tweezers These tiny, travel tweezers are super strong and grippy!
Swiss Army Victorinox Nail clippers
Small, travel sewing kit
Clothes & Shoes
7 pairs of ExOfficio Underwear. I could write an entire post about how much I love these travel chones, but i'll spare you and just say, it's all about wash n' wear.
2 pairs of socks
2 sports bras. The Victoria's Secret Incredible, and The Victoria's Secret Angel. Victoria's Secret is not anyone's first thought for sports bars, I know, but they really know boobies and do a fantastic job with both of these. They are comfortable, durable, supportive and wicking.
Since we spend the vast majority of our time in the tropics I have come to really hate regular bras. I basically always want to be wearing a sports bra, or better yet a bathing suit or a tank with a built in shelf bra so I don't need another piece of clothing at all. Everything just gets so sweaty. TMI?
1 regular bra
1 yoga tank with built-in shelf bra
1 pair fitness shorts (they look like lace and have pockets so I wear them out or for exercise)
2 pairs yoga pants (most people probably just need one of these, but I basically live in spandex)
1 bathing suit top. I love this Jolyn top that is made for athletics
2 bathing suit bottoms
1 rash guard shirt for snorkeling sans sunburn.
1 button up lightweight long sleeved shirt. This is my #1 NEED to have travel item. It covers up from the sun, is super lightweight, and easy to throw on and pull off. I go through these faster than any other item of clothing because I wear it all the time. I have a different one every couple of months.
4 tank tops. One is the Athleta Chi Tank which is a great workout top, and the other 3 are cotton.
4 t-shirts
2 Athleta skirts. They are comfortable enough for hiking or tree climbing (one is a skort!) but also look nice.
I should say here that recently I've gotten really into Athleta. A friend recommended them for their "unstinkable" fabrics (great for travel!) and amazing guarantee (you can return clothes if you don't like them, even after wearing them on a workout). I accidentally discovered their clearance section and went a little ape, replacing quite a few of my clothes. Everything is stretchy and comfy and has pockets and feels like wearing yoga clothes but looks a little nicer. I also tried out a few items, and decided after a couple of wears and a wash that I did not like them. I was able to return them with no problems or questions asked!
2 pair shorts
1 pair Athleta pants.
2 lightweight long-sleeved shirts that can be layered. I have the unique ability to get cold anywhere.
1 Marmot Rain Jacket that folds up really small
1 pair Chaco Hiking Sandals
1 pair sneakers (i like Onitsuka Tigers, they are light, comfy and make me feel like Uma Thurman in Kill Bill)
1 pair gold Salt Water Sandals It's great to have a pair of shoes you feel comfortable going out to a nice dinner in, or walking along the town or beach in. Erin of Never Ending Voyage loves the Tieks Ballet Flats, and wrote a great review of them, but I really like the look, feel and price of the saltwaters.
1 pair of small flip flops
I try to find a healthy balance between travel-friendly clothing, and clothes I would wear in "real life." That is why I don't travel with pants that zip off into shorts and other (obviously) technical travel gear. I am happier and more confident when I am wearing things that I like, even though that usually means ripped up t-shirts and spandex pants.
Electronics
Extras
REI flashpack 18, which is the perfect day bag. It folds up super small and light to be stored in my bag while we are traveling from place to place, and has a pouch for a hydration bag.
Platypus Big Zip Hydration System
Headlamp
SPIbelt Sport Belt / Waist PackThis is a tiny little bag/belt that is great for holding an iPhone, keys etc. It is meant for running or long walks, or could act as a money belt. If you are a runner, it's probably fantastic but I don't use it enough to justify carrying it, so I think it may get left behind soon.
Sarong. My sarong is the most versatile thing I own. Not only is it a beach cover-up, but it can also serve as a tablecloth, picnic blanket, shawl, changing room screen, or even a fancy pencil skirt to cover up shorts when visiting churches or temples.
Bandana. The second most versatile thing I own.
Sunglasses
Accessories. Since I am wearing the same things over and over, I like to add a little pizzazz to my outfits. A ribbon, scarf, or hairclip are great, but all it takes is a big pair of cheap "gold" hoops to make me feel fancy.
Tilley Hat I love this hat and think it is not only cool, but also the ultimate travel hat. Tom says it looks kind of dorky. Truth be told I know it looks dorky but it protects from the sun and I love it. As a good friend of mine once said, "once you go hat you never go back."
A couple of ziplock bags, you always need 'em for something!
What's in Tom's Bag
Clothes
7 pairs underwear. Tom swears by Express microfiber sports trunks. They have all the travel-friendly features of Exofficio but he finds that they fit better and are more comfortable
1 pair socks
1 bathing suit
6 t-shirts
1 tank top
1 breathable, athletic style t-shirt
1 short sleeve button-up
1 long sleeve button-up
2 pairs shorts (tailor-made in Vietnam with extra, zippered, travel pockets)
1 pair Levi's Commuter 511 Pants. These pants are built for bicyclists but have great travel features too. They resist wrinkling, have a little stretch in them, and have a reinforced crotch so they can be worn a lot and not get holes. Tom loves 'em, but found when he was trying them on in the store that each pair fit a little differently and the sizing was pretty off. Definitely something you want to try on before you buy.
Marmot MemBrain Waterproof Jacket
1 pair flip-flops. His Chacos just broke and he can do pretty long hikes in flip flops cuz he crazy like that. Though he does miss his chacos for their superior arch support and plans on replacing them when we are back in the States.
1 pair boat shoes to serve as nicer shoes, closed toe shoes and walking around town shoes.
Leather money belt.
Leather minimalist wallet.
Electronics
Macbook Pro Retina 13 inch laptop + case + charger
2 1TB external hard drives.
Mini Power Strip. Comes in handy when we working in airports or coffee shops and only have access to one outlet. Also we no longer travel with an international converter because we just buy one converter for whatever country we are in when we need it, and then leave it behind.
2 to 3 prong converter
USB flash drive
Canon EOS Rebel SL1 Digital SLR Camera, not pictured because I used it to take the photo. Just imagine it is on top of it's neoprene case in the top right corner of the photo.
Canon EF-S 55-250mm F4-5.6 Lens
Canon EF-S 24mm f/2.8 Lens
Camera Battery Charger + 2 batteries
2 x SanDisk Extreme 32GB Micro SD Card
4 GB SD Card (Generic back-up card)
GoPro HERO4 SILVER
CheapFlexi-leg Mini Tripod
Array of USB Cables (Kindle, GoPro, Sonicare etc.) Don't bring too many of these, generic ones are pretty easy to find in almost any country.
Anker Astro Mini External Battery Power Bank. We often forget to charge our iPhone. This thing is a lifesaver.
iPhone 6 64GB unlocked
2 sets of headphones
Headphone splitter – so we can watch movies or listen to podcasts together.
Inexpensive Casio Calculator Watch. Not only does it look super cool, but it helps us do currency conversions in places where we either don't have our phone, or don't want to pull it out.
iPad Mini WiFi 16GB
2x iPhone and iPad mini lightening cables
Alfa Long-Range Dual-Band Wireless USB for Extreme Distance Connections This external USB Wifi card allows us to connect to wifi networks that are farther away. We are still test driving this and have not determined if it's a permanent member of our family or not.
This is also a good time to bring up an important point, don't forget travelers insurance for all of your gear! We use World Nomads, but if you live in the U.S. and have renter's insurance it will usually cover your gear when you are traveling.
Extras
I know the Steripen is controversial. Some people think it's a waste of space, BUT it is tiny and USB charged and has saved us on a few occasions when we have not had any water. Yes, if we plan perfectly we will never find ourselves parched in a hotel room at 1:00am, but no one is perfect and we are so thankful to have this when situations like that come up! Truthfully when we are staying at long-term rentals we get garrafons of water, and very rarely use this. But, if we are quickly moving from place to place we hate buying small bottles of water and wasting all that plastic (and money) and so we use the Steripen quite a bit.
Important Stuff
How it all fits
It's a surprising amount of stuff for a carry-on, right? The biggest secret is not what you pack, but how you pack it! As most travelers do we discovered the necessity of packing cubes right at the start. We have tried a lot of them, but these Eagle Creek Travel Gear Pack-It Specter Compression Cubes
are the lightest and most durable ones we have found. The extra zip for ultra-compression is also a great feature. We recently discovered the even greater joy of vacuum bags and are loving the Eagle Creek Compression Sacs
. This high-speed video of our willy-nilly packing process shows, sometimes it is just shoving and sheer force of will that makes it all happen.
What you may notice is not in there
We regularly critique what we are carrying and get rid of anything we don't use all the time. We used to travel with all of these things, but they got left behind when we realized we didn't use them enough:
Travel towels, everywhere we stay these days has towels.
Sleep sacks, it's been a long, long time since we have stayed in a room with questionable sheets. If you need a sack, we just wouldn't stay there these days.
Hammock
Mosquito Net
Pants that zip off into shorts (and other uber-technical travel clothes.)
Hiking Boots. I have found that unless I am doing a multi-day trek, or am hiking in cold weather my chacos are fine.
Packing is very individual
We make our living online and work full-time while we travel, both on our company, Touch Autism, and on this blog so we travel with a heckuva lot more electronics than other people. I know some people may think, why do you need a camelpak, or a feather pillow, that's crazy! While others think, I didn't see mascara on this list and nothing makes me feel good like lacquering up my lashes. Everyone's bag is going to be little different but after four years of research and trial and error we have found that these things work for us!
Please note: We are affiliates of many of the products in this post and will earn a small percentage of your purchase if you buy them through these links, at no extra cost to you. Thank you for helping the money not run out!