Our Self-Guided Mexico City Food Tour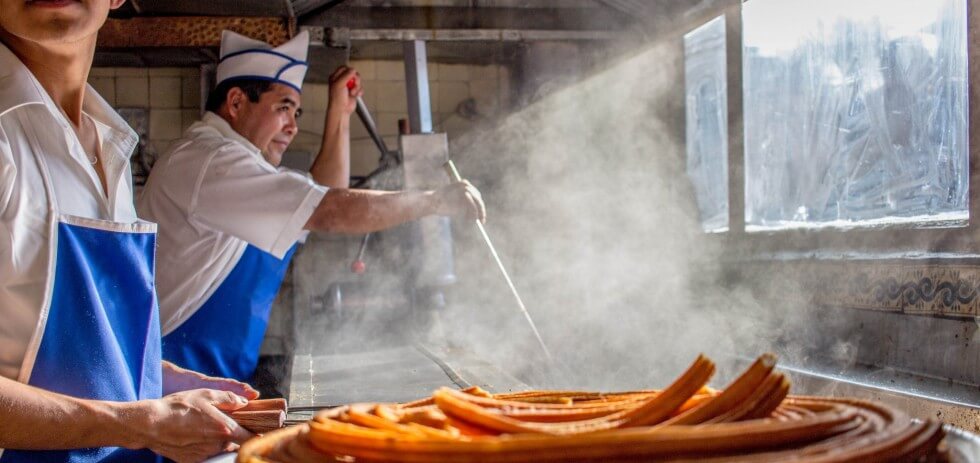 We arrived in Mexico City, or DF, with a few ideas of things we'd like to see. Something about a world-renowned anthropology museum, and possibly a trip outside the city center to see the Frida Kahlo museum in her iconic home. And we did, indeed, do those things.
But if we are being honest here, and I try to always be honest here, we mostly came to DF to get down on some tacos. Let me tell you a little tale about Tom and I and tacos. One afternoon at our yearly stay in San Diego I came home and Tom told me that our friend Reese was going to be joining us for dinner. I had planned on making steak and vegetable tacos that night with beans and rice and a big 'ol side salad, and so I groaned, "oh no! We are having tacos tonight and the last 3 or 4 meals Reese had with us was tacos. She is going to think the only thing we eat is tacos!" I tried to start to think of something else to make so that our friend didn't think we just had egg tacos for breakfast and then various types of tacos for lunch and dinner. Tom interrupted my mental menu planning with "we kind of do only eat tacos!" Well duh, I knew that, but that didn't mean Reese had to know! But then I decided, why hide it? I feel no taco shame. If you come over for a meal, especially when we are in San Diego, there is a pretty good chance that meal will be tacos.
We have gone on several food tours over our travels and they've run the gamut from great to gross. When we are unfamiliar with a language or a cuisine, a food tour is a good way to learn about our options. Since that was definitely not the case in DF and we only had one full day there, I decided to do a little research into the best street food and pulqueria options and design our own Mexico City food tour. I mixed it in with a visit to the Frida Kahlo museum and at the end of the day was gratified to see photos of some of the same places we visited on the sites offering 'insider knowledge' food tours of the city.
A word or two on pulque in case you are unfamiliar with it. Pulque is an alcoholic drink made from fermented agave sap that has been made and drunk in Mexico for the last couple thousand of years or so. It has a bit of a viscous texture and tastes very similar to kombucha, if you aren't familiar with kombucha it can best be described as sour and a little yeasty. I love it, both pulque and kombucha, but I know fermented things are not everybody's jam. Pulque has a very low alcohol content, about half of beer, and is chock full of vitamins and probiotics. The first pulque bar, or pulqueria we visited was less crowded (the night was just beginning) and let us taste all the options to choose our own.
If you are interested in replicating here is our self-guided walking and metro food tour of Mexico City, with a trip to Frida's house thrown in the mix. It includes 3 tacos stops, 1 tostada stop, 2 pulquerias and ends with dessert, so pace yourself.
Part One of the Mexico City Food Tour – Coyoacán
Link to the map for the Coyoacán portion of the day
Super Tacos Chupacabras is a five minute walk from the metro and though it is a small chain, makes some incredibly legit tacos. These may have been some of our favorites of the day, and as well as having various types of deliciously grilled meats to choose from they also had a seriously impressive array of toppings that you could attack as many times as you wanted. Nopales salad, potatoes, salsas, beans, rice and the list goes on. Also, if you are a vegetarian or vegan you can ask for just tortillas and fill them up with the toppings to your heart's content for just 5 pesos a pop! What is better than $0.30 veggie tacos?!
Frida's House is an easy 13-15 minute walk from Super Tacos Chupacabras through the lovely streets of the Colonia del Carmen neighborhood. You can probably find many blog posts about how wonderful it is, but we are here to talk about food.
The Mercado Coyoacán is only five minutes away from Frida's, so don't worry if you've already worked up an appetite. This market, like all markets is a feast for all of your senses. Where else can you casually walk by someone painting shell pink tiny fingernails of dozens of ceramic baby Jesuses. Jesui?
Tostadas Coyoacán has gotten some serious hype on the internet. I read one description that claimed this stall "elevates the humble tostada to dizzying culinary heights." I hate to be a naysayer, but Tom and I thought they were OK, but wished we had saved more room for extra tacos in the market. We know what we like and we like tacos, what can we say? Does anyone else find tostadas difficult to eat without getting food everywhere, and think they taste a bit like stale tortillas?
From here it is a 20 minute walk back to the Metro station at Coyoacán to head back to the city center and part two of our self-guided Mexico City food tour.
Part Two of the Mexico City Food Tour – City Center
Link to the walking map for the second part of the day
We used this free DF metro app to get around while we were in town and it makes navigating the web of metro lines easy peasy! Here is a screenshot showing the route from the Coyoacán stop to the Cuauhtémoc stop where the second part of the tour starts.
Hija de los Apaches is a pulqueria/bar just 5 minutes away from the Metro Cuauhtémoc stop. As I mentioned before they let me try all three option they had available that night and I went with 'Guava' and Tom went with 'Beer,' as I said it's a distinctive flavor/texture that not everyone loves. While we were there a local band was just setting up and it seemed like a fun 'locals only' type of place to spend an evening if you didn't have more tacos and other pulquerias calling your name.
Tacos Miranda is a cart staffed by at least 7 or 8 people to keep up with the constant demand of the crowd milling around, eating taco after delicious taco. What really made this place stand out was the amazing freshly made tortillas by the two young ladies just slapping one after another on the hot comal behind the cart.
Pulqueria Las Duelistas, is a 15 minute walk away and is a small crowded bar chock full of young DF locals enjoying a dizzying variety of pulque. We both went with the cinnamon pulque here and it came dusted with some fresh cinnamon on top. We did feel a bit of an oddity here, and while no one was unfriendly they were definitely surprised to see two extranjeros squishing in between them and ordering 'dos pulques de canela.' Delicious!
El Huequito, just a block away from the pulqueria was our last taco spot of the night and was the place I most commonly found included on the "Best Mexico City Street Food" lists I read and re-read to design this day. I have to say, these were our least favorite tacos of the day. But at least they were also the smallest and the MOST expensive. We were still a little full since we weren't able to resist going for seconds back at Miranda's so no harm, no foul.
El Morro Churreria, just another few minutes away was the place I had picked out for dessert. We both claimed we weren't hungry, but that we'd go in 'just to have a look' since it looked so cute from the outside with it's stained glass sign. The vintage theme continued inside where the waitresses bustled around in cute pink outfits between polished wooden tables and booths. Tom couldn't resist getting a bag of churros for the road, it's research, right? And I was sold when I saw you could order hot cups of thick dark drinking chocolate made with water and to the specific percentage of cacao that you desired. I got the darkest cup of what turned out to be amazing hot dark chocolate pudding and Tom finished his bag of churros by the time we made it on to our train at the San Juan de Letrán metro stop right in front of El Morro.
If you make it to any of these spot, have been to any of them, or have other DF recommendations we'd love to know!