Road to Hana Stops and Secret Tips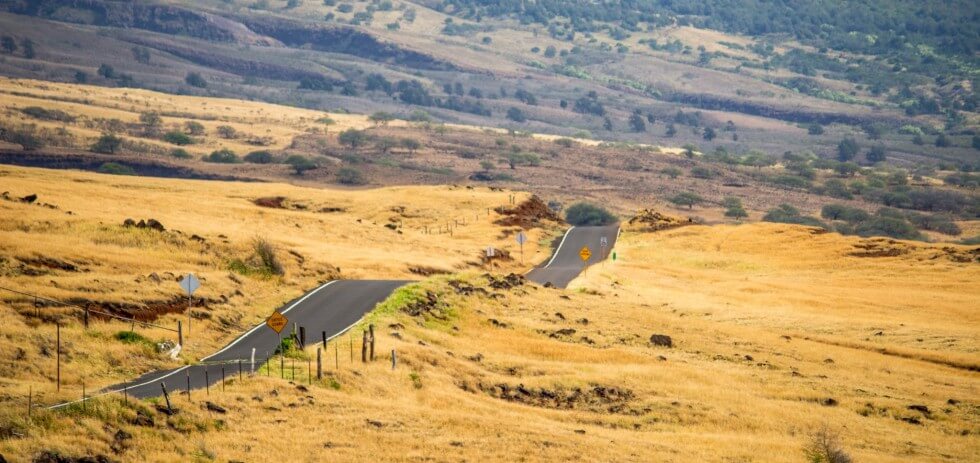 The above photo is a sight that most people who take the road to Hana never see. The most popular route is to go from Kahului to Hana, and then turn around and head back. Everyone is trying to start earlier than everyone else to beat the crowds and squeeze in as many stops as possible. Most posts I read while planning our day on this popular route described being too tired to visit any of the beautiful hikes later in the day. I read about the top 17, top 14 and top 10. I read about hitting the road by 6am to see it all. I don't know about ya'll, but that sounded like too much work for us! YUCK.
Also that means backtracking across areas you've already seen and totally missing the area past Hana which crosses the back side of Haleakala and traverses through Maui's gorgeous upcountry. An area that includes our longest stops, is dotted with lookouts over gorgeous views and is basically empty!
We decided to take the road less traveled and hit it from the back, from the amount of people we saw on the road this is not a popular choice! We found that the road before Hana (if you are going counter-clockwise as we did) around Haleakala is an adventure worth taking. In about the same amount of time as it would take you to go clockwise with everyone else, and then double back the way you came, you can see a side of Maui most are persuaded to miss.
I feel as though I should add here that many people choose not to take this route because the road becomes rough for portions and precariously hugs the side of cliffs. In fact many rental car companies expressly say "you're on your own" if you take this route. That said, we found the roads to be extremely well-maintained and if you drive slowly, which you will want to do to admire the landscapes, you'll be fine!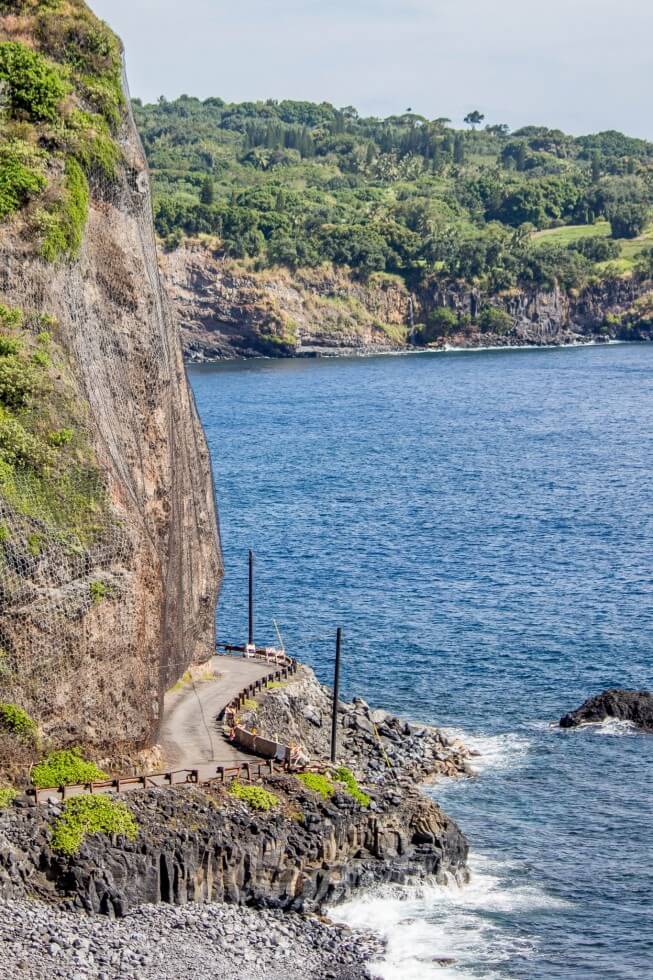 We started our day heading heading inland from Kahului through open spaces, tall golden grass and spectacular vistas over mountains and oceans. We continued on watching the landscapes go from arid to jungle as the day and road progressed. What follows is our backwards itinerary of the road to Hana. All stops are accompanied by their mile markers on the highway. It's important to note: Mile Markers are tricksy! They start over and jump around and occasionally start counting in different directions as the highways change according to cartographers, though it still feels like one continuous road. Most of these places can be located on Google maps if you have an iPhone or GPS, so just trust that you didn't miss anything.
1. Oheo Gulch (7 sacred pools) and Pipiwai Stream Trail Hike (Mile Marker 42)
This hike was my main motivation for slipping in the back door. Most people say they missed the hike because they got there and it was crawling with people. The bamboo boardwalk was high up on my list of places to see, so I did not want to get there at the end of a long day where even the promise of a beautiful bamboo forest couldn't convince me to embark on a hike.
I think the 7 sacred pools are the more popular sight on this spot, but I was more on a mission to explore the adjacent Pipiwai Trail than the (really fun looking) pools. The Pipiwai trail is a 4-mile round trip hike which goes by, and under, a giant banyan tree, than through a thick bamboo forest and ends at Waimoku Falls, a gorgeous 400 foot cascading waterfall. The hike itself is not particularly strenuous (only 2 miles each way) but is one of the loveliest and most memorable walks I have ever taken. It took much longer than we expected because we kept going off on detours through the bamboo!
Note: If you are going to same way we did (you rebel, you!) Mile Markers reset after 51 – the following marker is 35 and they go down from here.
2. Lunch Stop at Braddah Hutts BBQ Grill (Mile Marker 35)
Our lunch is not pictured because by the time we got there we were too hungry to worry about snapping any photos before we dug right in! If you are following the same itinerary we did this place is perfectly located after the long hike through the bamboo forest and before the swim in one of the most beautiful beaches I have ever seen. Luckily it has more going for it than just it's spot between two hunger-inducing activities. The reviews we read about Braddah Hutts BBQ Grill don't lie. The BBQ chicken we had here was delicious!
There is also a Thai restaurant where we parked for the red sand beach (our next stop) that looked really good. We waffled between the two for a bit, but decided that even though we love Thai food when we are in Hawaii we should eat Hawaiian grinds braddah!
3. Kaihalulu Red Sand Beach (in Hana Town around Mile Marker 33)
I know there are many beaches to stop by on this mini road trip, but I am beyond pleased that we chose the red sand beach! I mean just look at those photos!
2015 Update
It has been brought to our attention that since we visited the red sand beach last year, the trail has gotten more dangerous and the number of people visiting and getting seriously injured has skyrocketed. There have been numerous air rescues and people are getting seriously injured at least once a month. I have decided to take down our directions to the beach since it is no longer advisable to visit.
When we turned the corner in the trail and got our first look at this dramatic little cove we both stopped in our tracks, dumbstruck. Without exaggeration, moments like this are one of the reasons that we travel. Laying eyes for the first time on views like this one more than make up for whatever inconveniences or negatives come with our life of transience. Knowing that these places exist all across the globe and getting to see them is what keeps us always searching, adventuring and exploring.
The blue waters lapping up on to the red sand make a delicious contrast. It gives the idea of purple, though there is no purple to be found. Does that sound crazy? The blue sky and green trees that surround this little beach conspire to create a truly stunning landscape. I have never seen anything like it and Tom and I were both at a loss for words at our first sight of it. A loss for words that was followed by almost maniacal giggling with huge smiles plastered across both of our faces. We hurried the rest of the way down to the beach, anxious to insert ourselves into the landscape instead of just admiring it from afar. After walking along the length of the beach and getting close enough to the sand to determine that yes, it is indeed real, we stripped down to our bathing suits and ran splashing into the depths. There is a large calm area protected by an outcropping of rocks that makes a wonderful area to glide through the deep blue water, like a saltwater swimming pool straight out of a science-fiction influenced landscape.
4. Hana Farms Fruit Stand (Mile Marker 31)
We stopped here because we heard that their banana bread had won a blind, banana bread, taste test. I am a sucker for a blind taste-test and regularly conduct them on Tom. He good-naturedly submits to my regular challenges of his tastes, trying coffee brewed different ways, different chips, ice cream bars or other snacks. What can I say, I like things to be scientific. We didn't try any other banana bread on the island, but we can say that the loaf we got from Hana Farms was truly decadent and delicious. There were also some bars and cookies being sold there that were to die for. Obviously we got all three, all that driving around gawking at loveliness works up an appetite!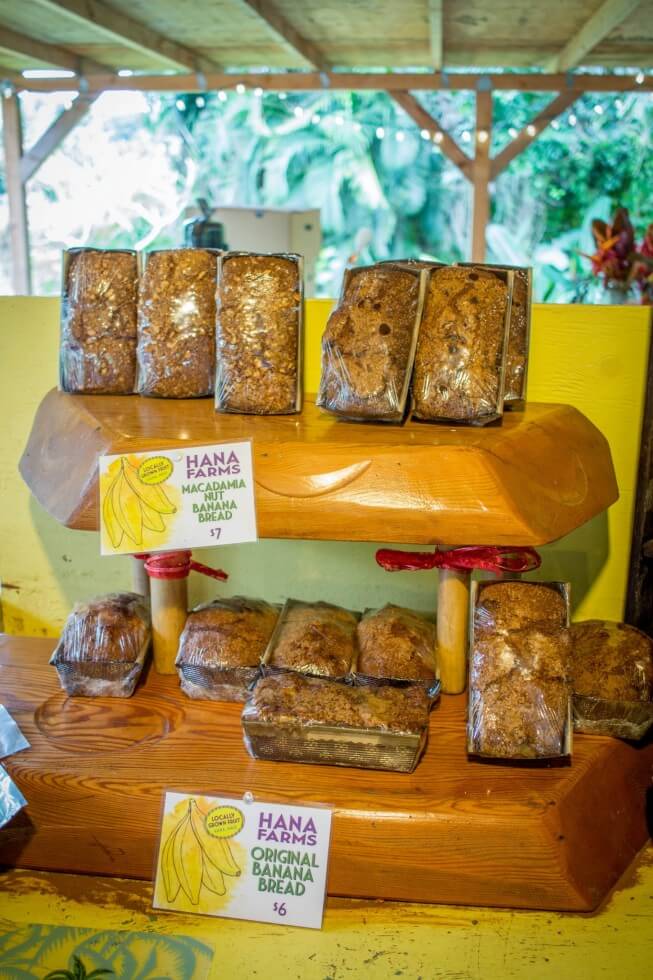 5. The Painted Grove (Between Mile Marker 6 and 7. Roughly MM 6.7)
If you can't tell by the ridiculous number of photos here, I am a huge fan of these trees. I had seen pictures of rainbow eucalyptus and thought "No way! Shut up! Bogus alert! Ain't nothing but photoshop!" I am from San Diego, and that is how I talk. Then I saw them in real life and couldn't stop looking!! How wonderful is earth?? I tried to only include the best of the photos here and am actually quite proud that I narrowed it down to these, but still. it's a lot. I know.
This is not an actual "stop" with an official parking lot and all that fancy stuff. There really isn't even much of a shoulder to pull over to. Some people suggest just driving by slowly to look, but if you are anything like me then you'll need to find a place to pull over so you can hop a li'l barb wire fence (just one strand) and wander around them to your heart's content.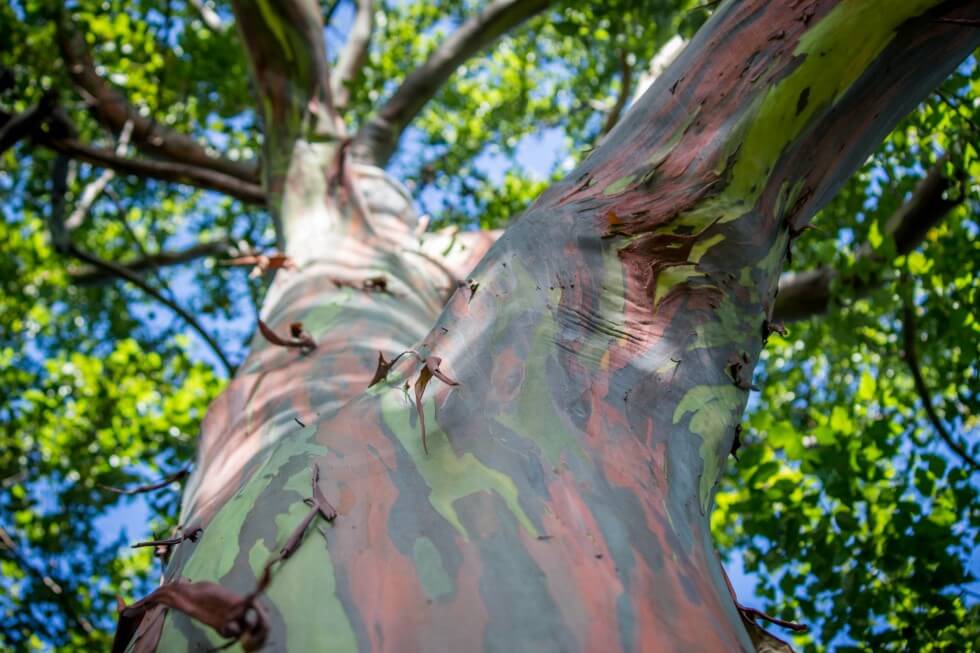 6. Ho'okipa lookout (Mile Marker 9)
From the bluff, Ho'okipa is a great spot to stop and watch some of the best surfing in Maui. In the winter, the waves can get pretty massive here. If you are following our route then you will hit this spot right around the golden hour and will be able to see surfers riding the waves in the ocean, and sea turtles catching the last bit of sun on the the sands.
All in All
From the front or the back, either way you want to approach it I think you could spend a lifetime exploring this route. Every where we looked was another waterfall, beach, lookout or other spot begging to be explored. If you do a little research I am sure you could find at least ten different posts that all list completely different stops, and they all seem incredible. Which I think means it is statistically impossible to have a bad day while making this leisurely drive around the North Eastern part of Maui. There are no bad choices. How liberating is it to know that all you have to do is show up and you will be greeted by beauty at every turn?? We can't wait to go back to Maui one day and do this drive with a whole different set of stops!
Our number one piece of advice for this trip is; Do not stop for everything! Every waterfall is beautiful and there is literally not enough time in the day to make all the stops. Also one hike that ends up taking quite a bit of time because it is so pretty you want to stop and gawk every few feet and a visit to a beach is a long enough day for most people. Add a long drive (4 hours!!), with more stops for admiring the landscapes, a lunch and dessert stop and two more short photo opportunity spots and we found ourselves feeling happy and tired, as you do after a very full day and that was only 6 stops! It is hard to believe that we saw all of this in one day, and it was enough to convince us that if we ever lived on a Hawaiian island, it would be Maui.