Jumping Manta Rays! Photos from Puerto Escondido, Mexico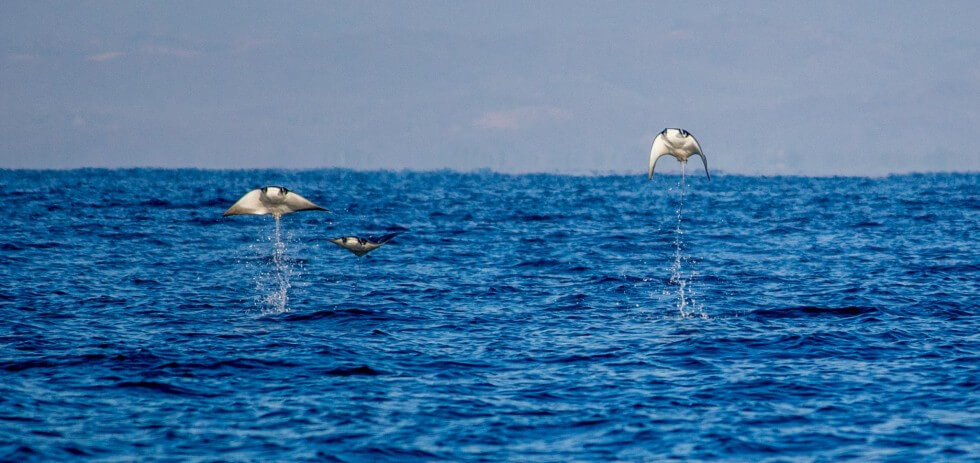 When we set out for a three-hour boat tour from Puerto Escondido, Mexico I assumed that we would see tons of whales, dolphins and other ocean wildlife. Even if we didn't I was still excited to get out on the water and motor out past the rugged Pacific coastline and fisherman to the open ocean. I just love boat tours!

The captain of our boat gave us the usual speech about wildlife sightings never being a guarantee. We hear that a lot but so far have never been disappointed. We spent the first 45 minutes or so motoring around, vainly peering out towards the horizons for a tell-tale spout, dolphin fin, or whale tail.
Our friends Simon and Erin warned us that they had terrible ocean-wildlife spotting luck, and had somehow never managed to see a dolphin or whale in over five years of traveling! They seemed about ready to apologize for their bad juju ruining our day on the boat when we spotted, and heard, something off the port-side.
We motored closer to find the ocean alive with manta rays, throwing themselves ecstatically out of the water and then belly-flopping back down with a terrific slap! It seemed like the ocean was teeming with them and I guessed that there were at least 20-30 swimming around our boat. The captain cut the engine and said we were welcome to get in the water. I ditched my clothes, grabbed a mask and was over the side of the boat before he even finished the invitation.
Once I was in the water I realized that no, there were not 20-30 rays, there were HUNDREDS! Tom and I have been very lucky over the past four years of our lives. Since deciding to travel full-time we have had some amazing experiences. But this. This is so far up there it is hard to find words. I'm pretty sure I was yelling into my snorkel and may have been crying into my mask while shaking all over. I was ferklempt, let's leave it at that.
I came back up to the surface to see everyone else in the boat staring down at me, "there are hundreds" I yelled out to them, my voice cracking. "Get in!" Tom jumped in after me with just a mask and the go pro, trying to dive down and get a few photos before the massive school migrated past. The captain called down to us to get back in the boat so that we could head in the direction they were going and swim with them again.
When I got back into the boat I saw that there were not enough masks and snorkels to go around, hence Tom's snorkel-less dive. We had to take it in turns, but since the rays move quickly it was near impossible for everyone to really get a great opportunity. I handed over my mask and snorkel right away, not wanting anyone to miss out on the amazing experience I had just had. We did not see any whales or dolphins that day, but I assured Simon and Erin that if their bad luck meant that instead we had the phenomenal, uncommon experience of that day I wanted to join all of their future wildlife expeditions! In keeping with our day of oddities, we also saw a bird posted up chilling on the back of a sea turtle!
Do you want to do it too?
I have never even heard of seeing groups of rays this large, throwing themselves out of the water, so there are no promises of it happening again. But if you did want to try and re-create the experience we went out Feb 10th from Puerto Escondido, Mexico.
We booked the tour directly with Lorenzo, the owner of Deep Blue Dive. Though there are things that cannot be helped, like not seeing wildlife, or even on the other end of the spectrum getting to see such a rare and amazing school of rays like we did, there are many things a tour company can do to ensure that it is a comfortable day. We have been lucky enough to experience amazing boat trips, like our whale watching trip in Kauai and know what can be done to accommodate guests.
This tour, unfortunately, was one of the worst we have ever experienced. When we booked the 450 peso per person tour ($30) we were told that our "three hour adventure in the Pacific Ocean included snorkeling gear, snacks and beverages." The tour was about three hours with included pick-up at 7:30am, and we were back on the beach by 11:00, but that was the only part of the above statement that was true. There was not enough snorkeling gear to go around for everyone on the boat, and so though there were amazing Mantas to see, we all did not get to see very much of them as we had to take turns passing around the masks. The captain of our boat told us to help ourselves to what was in the cooler and when we opened it we found a half-drunk warm bottle of coke, a bottle of water in the same condition and strangely, a couple of raw onions.
There was no way that we were going to leave the boat anything but ecstatic because of the amazing jumping rays we saw that day but we would definitely not book a tour with this company again and would suggest that you double check that there is enough gear to go around before leaving land!