Hilo Hawaii; The east side of the Big Island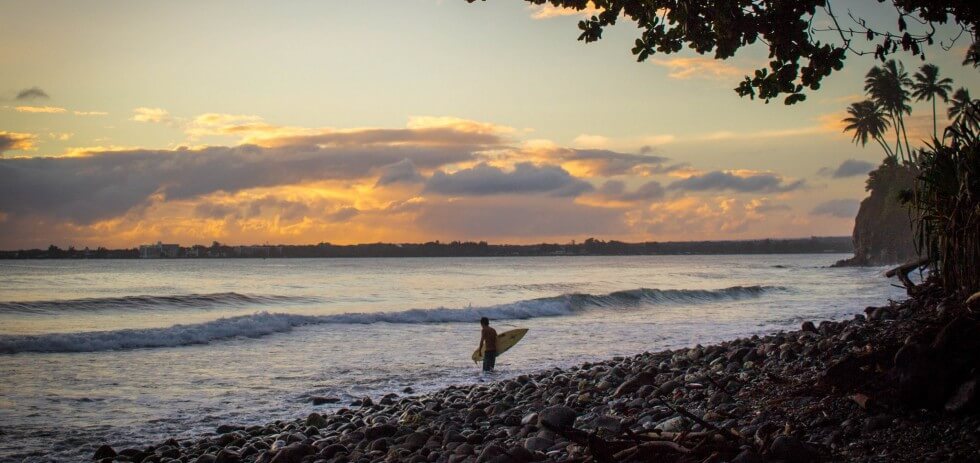 The last time we went to Hawaii we spent almost all of our time on the Kona side. Tom's Dad's farm is in South Kona and so it made visiting him convenient, and it is the side that Tom knows better from living and going to High School there. We spent just a couple days on the Hilo side of the island and I was amazed at the difference!
Hilo is the tropical, wet side of the island and the miles of black volcanic rock, white sand beaches and blue waters of the west side are replaced by waterfalls, lush gardens and steep cliffs falling away into the ocean. This year we decided to spend longer on in Hilo to enjoy and explore the east side of the island.
Where to Sleep in Hilo
The airbnb that we rented just outside of the center of Hilo exemplified all there is to love on the east side of the island. It was set on a babbling river and was a veritable tropical garden of Eden. It was a perfect place to relax and work, do yoga by the river and to come back to after exploring. Stays like this one re-affirm our love for Airbnb all over the world! Sign up using this this link and we will both get $25 Airbnb bucks!
I really enjoyed the town of Hilo more than Kona as well. It has a much more relaxed vibe and it feels more like people live there instead of just visit there. We were there during Christmas and enjoyed the inflatable trend that seemed to take the town by storm. By day, the deflated corpses littered every lawn looking like casualties of a tacky Christmas war. But every night they rose again and "Frozen" characters gaudily waved next to santas enjoying a Mai Tai or inexplicably popping out of outhouses. Glorious.
What to Do in Hilo
Though Hilo isn't a beach-lovers paradise there are several places close by to go swimming, snorkeling or surfing.
Take the Leap at Coconut Island
My favorite of these places is the popular Coconut Island that is right next to downtown Hilo. The island is connected to Queen Liliokulani Gardens via a footbridge and is a really nice little family park with bathrooms and showers. The best part of the island is a little tower that is a popular spot for the brave to leap off of into the bay.
Snorkel The Kapoho Tide Pools
The tide pools are a 45-minute drive south of Hilo and the best place to snorkel on the East side of Hawaii. It is a really nice place to snorkel, but no means "stellar." The pools are incredibly calm and clear which makes it ideally suited to beginners. The pools are free to visit, but I did not see anywhere nearby to rent snorkel gear, so make sure to bring your own!
Warm Up in the Ahalanui Natural Thermal Pools
The thermals pools are just 5-10 minutes away from the tide pools. I have heard the pool referred to as a "hot spring" but I find that to be pretty misleading. The pool is not hot, but it's warm, free and there are bathrooms, showers, parking and even a lifeguard! The pool is right next to the ocean and big waves cause the ocean water to come into the large pool and mix with the naturally warm thermal waters. It's a very popular spot and fun to go for a soak to warm up after snorkeling at Kapoho.
Surf at the Honoli'i Paka Break
If you are more interested in the waves than the sand, there is a very pretty break just a little north of town that is one of the best surf spots on the Hilo side. The Honoli'i Paka surf park has bathrooms, lockers, and a handy etiquette guide if you want to make sure you aren't stepping on any local's toes when you are hanging ten.
Visit Waterfalls
As I have already mentioned numerous times, there is a lot of water and so, of course, lots of waterfalls and gardens. Two very easy falls to see are Akaka Falls and Rainbow Falls. Akaka Falls charges an entrance fee of $1 per person or $5 per carload. There is an easy and beautiful half-mile, paved, loop walk through tropical vegetation to a scenic overlook of the over 400-foot waterfall. Rainbow Falls is so named because supposedly you can almost always see a rainbow in the mist thrown up from the falls hitting the water. We did not see the rainbow, but we also did not go in the morning which is the best time to see it. The falls are just steps away from the parking lot and are free to visit. We met a gentleman in a wheelchair there that had grown up in Hilo. He told us stories of swimming in the falls 75 years previously! It's always lovely to have something that beautiful that is accessible enough that everyone can still enjoy it.
Stroll Through Gardens
Everywhere you look is a tropical paradise but there are also several free gardens and parks to immerse yourselves more deeply in the greenery. The walks to the two waterfalls I mentioned above are also beautiful little parks full of banyan trees and other tropical foliage.
The Queen Liliuokalani Gardens are beautiful Japanese style gardens just a little southeast of downtown Hilo. We did feel like we were transported back to Japan when we were walking in the beautiful grounds filled with koi ponds, bridges, little pagodas, and torii (gates separating the physical world from the spirit world.) The gardens are free and there is plenty of parking.
Explore Caves
The Kaumana caves park is an easy and free way to explore caves along the saddle road. The caves/lava tubes are well-marked and easy to find. There is a steep staircase leading down to the root-draped and ferny openings. Bring a flashlight if you are keen to explore the caves deeply. Apparently it goes for several miles, but we forgot our headlamps and only explored the first few yards. The walls of the lava tubes are wet and look sparkly which made me feel a little like Sarah escaping the oubliette in Labyrinth. Don't forget your flashlight!
See Lava Flow
Hilo is pretty close to the town of Pahoa, which has very recently become one of the best places on the island to see lava flow! So many people wanted to come and look at the slow-moving lava that was threatening to take out this charming little town that officials decided to set up a "viewing station" at what had been the city's dump before getting covered in Pele's flowing hair. Speaking of that lovely lady's locks, while at the station we saw numerous offerings to Pele scattered over the creeping edge of lava! Now that the lava has appeared to have stopped (a mere 500 yards from the main highway!!) the viewing station will become a refuse collection station once again, most likely by March 1, 2015.
Watch the Sunrise
Finally, staying on the east side of the island means that there are fantastic sunrises (EVERY MORNING) if you can drag yourself out of bed in time. Definitely recommended!
What to Eat in Hilo
The Farmer's Market
The Hilo farmer's market is one of the best and biggest markets across all of the islands. There are a some stalls every day but Wednesday and Sunday are the big days drawing in over 200 local farmers and crafters. There is beautiful, exotic produce everywhere (does anyone need a fresh bunch of fiddlehead ferns?) and some very delicious prepared foods. My favorite of the ready-to-eat foods are the Rainbow rolls; which are different veggies and avocado wrapped up and served with a spicy peanut dipping sauce.
The Fish Market
The Suisan Fish Market is a fresh fish market right across the street from the Queen Liliuokalani Gardens. All they sell is raw fish to take home and cook and the BEST POKE I"VE EVER HAD. They also sell rice and seaweed salad, but it is not a "dine-there," kind of a joint. It is a order your poke and take your poke and if you are lucky there may be a seat at one of the plastic tables outside, sort of place. It doesn't matter though, it tastes so good you don't even realize you are just popping a squat on the curb while wolfing down your delicious raw fish chunks. I'm a class lady, what can I say?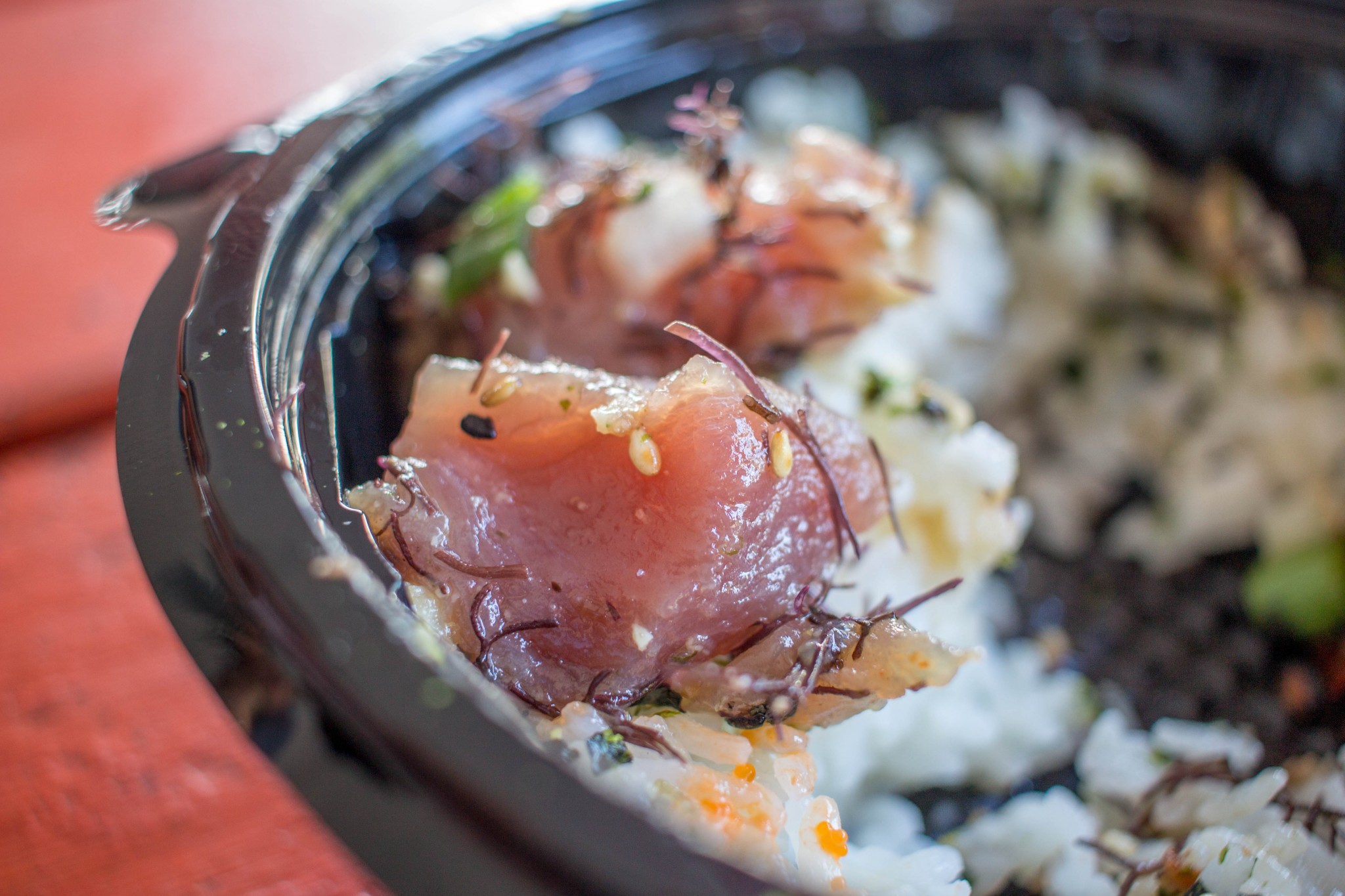 Sushi
On the other end of the fancy spectrum is Takenoko Sushi a perfect place for a special occasion, or really any occasion you feel the need for incredibly legit, melt-in-your mouth, perfect sushi. There is no question that you need to call ahead and make a reservation if you want to go! There is one sushi master chef and about 8 seats at his bar. We ordered the Omakase (chef's choice menu) which was a LOT of sushi and absolutely wonderful. People say this is the most "legitimate sushi outside of Japan." I have been to some great sushi bars all across the world so I don't know if I'd go that far but it is unquestionably excellent.
Diner Charm
The most famous place to eat in Hilo is Ken's House of Pancakes. Greasy spoon diners aren't really our thang, but the pineapple upside-down cake is highly rated and that is most definitely my thang. It all started when my Sister started making me amazing, vegan, ones for my birthday when I was still in High School. Verdict on Ken's: meh. Can't hold a (birthday)candle to the vegan ones my sister bakes. I really have to try and be in the U.S. for my birthday one of these years to get another one of those cakes!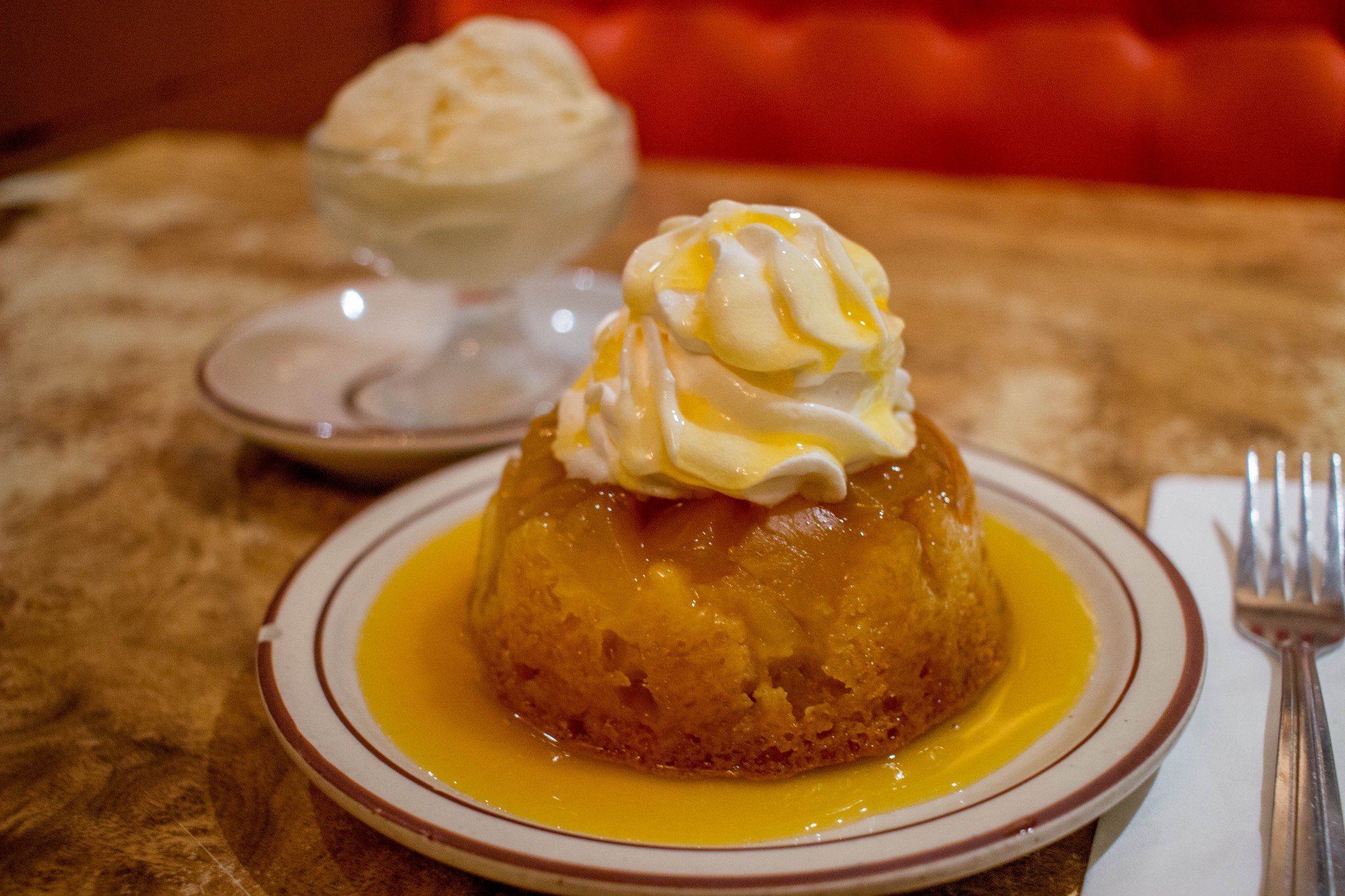 All in all
As long as you are prepared for the fact that the Kona side has the beast beaches of the island (maybe all of the islands) you should be able to enjoy all that the lush side has to offer. And if you do prefer gardens over beaches, then there is no question which side of the island you should visit!

What do you think? Have you been to both sides of the Big Island? Where would you stay, East side or West?