Sleep, Eat, Work, Do – Guide to Koh Lanta, Thailand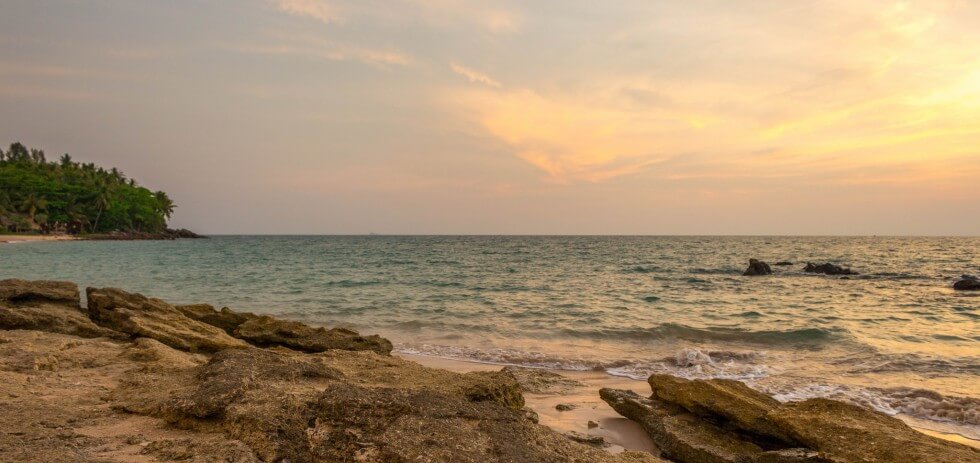 We just can't get enough of Koh Lanta, Thailand! Granted, we have not been to very many of the Thai islands (only 4 out of 200-300), but so far it is our favorite. It is big enough to have great amenities, and small enough for uncrowded beautiful beaches and a laid-back way of life. It is a perfect island for digital nomads or any long-term traveler and is circled by a big, well-paved road that makes scootering around to all the great restaurants and beaches incredibly easy.
Sleep
There are many different types of accommodation on Lanta, from basic hostels to super-duper fancy hotels. There are also many options for long-term rentals. Like all the Southern islands, hotels here are more expensive than in other parts of Thailand.
Rooms
We have stayed here twice. The rooms don't have much character, aren't on the beach and don't have a pool. BUT the prices are the best we have been quoted for very clean, nice, hotel rooms with a/c, a hot water kettle, and a fridge. The rooms and linens are incredibly clean and changed daily and they are located right in the middle of the long beach area. They also rent out apartments, but we have not stayed in them.
Vacation rentals
There are beautiful vacation rentals scattered all over the island. Our friends Simon and Erin of Neverending Voyage invited us to stay with them in one of these fabulous villas. They also wrote this great guide to vacation rentals on Koh Lanta, Thailand.
The villa that we stayed in is a big, airy three bedroom full of modern, western conveniences that you don't typically find in Thailand. There is a washer and dryer and a chef's kitchen, complete with an oven! There was a great indoor workplace that overlooked the moat-like pool that wrapped around the house. There was also a beautiful outdoor workplace with a ceiling fan to keep the bugs off.
That's all the practical stuff, now for the important amenities. There is a Flintstones-esque rock hot tub, a magical revolving entranceway and even keys to your very own tuk-tuk!
The same owners rent out several other villas and we have heard that each one of them is as special and unique as this one. For more info or to book a luxury Thai villa visit this site.
Splashing Out
As much as we like to stay relatively budget-conscious, as this is not a short-term vacation but a permanent lifestyle, we also like to occasionally go on vacation ourselves. We splashed out with our friends Shawna and Joseph and stayed for a few nights at Rawi Warin, a 5-star resort. We got great prices through hotels.com ($100/night). The rooms and bathrooms were very nice but what really made this place special were the many different pools and the amazing breakfast buffet. I have never seen a breakfast buffet of these proportions before and it was difficult to not eat a whole days worth of food every morning!
There is one large infinity pool that is really fun to play in and several smaller pools scattered throughout the grounds. There is even an "ocean pool," a long floating dock that goes out into the ocean ending in an enclosed square.
Eat
There are so many wonderful places to eat on Lanta that I have broken it up by area or beach.
Kantiang Bay Area
Drunken Sailors is one of our favorite restaurants for non-Thai food on Koh Lanta. They do make Thai food as well, and we have heard that it is good, but we have so many places we love for Thai food that we stuck to sandwiches, burgers and baked goods that are harder to come by when we ate here. Their brownies are to die for, and it's a nice place to just relax on one of their many hammocks and have a juice or shake.
This little restaurant across the street from Drunken Sailors has gotten rave reviews from everyone we know who has tried it. Unfortunately, they were closed every time we tried to visit so we cannot speak for the food ourselves. It's worth a mention due to it's popularity.
Noon Sunset Viewpoint Restaurant
The main attraction of this restaurant is spelled out in the name. It is set up on the bluffs above the ocean and is a beautiful place to watch the sunset. They also do great specials on Wednesday and Sundays.
Wine is something that does not usually spring to mind when thinking of the tropics. But Noon restaurant does a fun wine tasting on Wednesday evenings at 6:00pm that includes some appetizers and 4 half-glass pours. Enjoying the view while having some appetizers and wine is a fun and fancy-ish date night.
Every Sunday the restaurant puts on a buffet-style BBQ from 6:30 to 9:30. The view is always lovely and worth stopping for a drink, even if you aren't there for one of their events.
Long Beach Area
May's Kitchen
May's is located a couple of doors down from The Irish Embassy bar in the Long Beach area. This is one of our all-time favorite Thai restaurants in Koh Lanta and we usually eat at least one meal a day here. Everything we've had there is lovely and all of the women who work there are incredibly nice and friendly. Our #1 all-time favorite dish is the grilled Thai beef salad. They will also make you just about anything you ask for. They do not have many vegetarian options listed on their menu but will adapt anything for you. For example, our vegan friend ordered the Thai beef salad with tofu and mushrooms instead of beef, and it was delicious!
Irish Embassy
This Irish run bar and pub is located in the long beach area. We went for a pint and saw that "pub-trivia" goes on every Monday night. If you are craving a "Western-style" night out you can't get better than a corned beef sandwich, pint of harp, and some pub-trivia!
Klong Khong Area
The owner of Kwan's is obviously a serious foodie and makes absolutely beautiful and well-thought out meals. You get a very gourmet-feeling meal at prices comparable to most of the other restaurants on the island. Every time we went to Kwan's the owner brought us an incredibly fun (and complimentary) appetizer, like these leaf-wrapped flavor explosions. The menu changes often and the loving way that the owner describes every dish let me know how much thought and care went into the meals.
Kwan's also runs cooking classes and on a visit one of the ladies in the kitchen invited me over to help wrap some of the spring rolls they were serving that night. Kwan's is an incredibly friendly, food-centric restaurant, with many vegetarian options and I highly recommend them. Some days they are only open in the evenings so check their schedule online before going.
Old Town Area
We heard many wonderful things about this French owned cafe and restaurant, but we did not get a chance to eat there ourselves. We tried to go for lunch one day, but they were only serving dinner. You may want to check out their schedule online before going.
After our failed Caoutchouc lunch we discovered this restaurant on the other side of Old Town. There are signs at the street but the restaurant itself is down a path leading from a brick archway. The path turns into a long pier and the restaurant is on stilts over the water. The views are beautiful and the food is superb!
Khlong Dao Area
I am not an ice cream fan so I can't speak for their gelato, but if it is anywhere near as good as their other desserts than I highly recommend a scoop or two. Everything we had there was delicious, but I think the blueberry cheesecake took the cake for me.
The Kitchen Restaurant
We stopped here on a whim once when May's kitchen was closed, and then returned 3 or 4 times over the next week. The panang curry is incredible, and we also really liked the spicy glass noodle salad. The panang is just chicken and the most delicious sauce in the world, so we would often order a side of steamed vegetables with it to round out the meal.
Irie
We came here with our vegan friend in tow because we had heard that they cater especially to vegetarians. As we mentioned before everywhere we've been to on the island does not mind making things special upon request. It is always nice to just be able to order of the menu and not have to ask for something special.
Irie does have many inventive dishes and salads and makes vegan and vegetarian versions of popular Thai dishes such as larb. They also sell fun, homemade clothes and bags.
German Bakery

This German-owned bakery makes lovely-looking bread, cakes, cookies and pastries. We've never tried them because we are always too full from the real star of their show: The German Breakfast For Two (cue applause). We were first introduced to the amazingness that is a German breakfast by the lovely Shoko and Harald in Germany over their dining room table. Ever since that first amazing introduction we always jump at the opportunity to sit back and enjoy a long, leisurely breakfast of everything that you could possibly want for breakfast.
The version at The German Bakery has it all; two types of homemade bread with butter, jams, and liver pate, soft-boiled eggs, different types of meats, cheeses and even a little salad. All of this is accompanied by some fresh-squeezed orange juice and delicious coffee making it possible to sit and leisurely nibble for at least an hour, if not more (and we did!). The only problem with the breakfast, is you will probably skip lunch after having it and there are just so many good places to eat on Lanta!
Work
As I mentioned before Koh Lanta is great place to work remotely from. There is pretty strong internet everywhere. We worked at all the places we've stayed on the island and many cafe's and restaurants have good, free, wifi.
Do
Snorkel Day Trips
We kind of love day trips. It's like a field trip when you are a kid in school. Everything is taken care of for the day and all you have to do is play and have fun with the other kids and see all the neat things there is to see.
We have gone on two different day trips with Freedom Adventures. The first time we joined a regularly scheduled trip, and the second time we went on a private trip with two other couples. The snorkeling is not as spectacular as other places in SE Asia, but the food was good, and, guides were nice and the water is always clear and warm, so we had a blast with Freedom adventures.
Time for Lime Cooking School (and happy hour cocktails)
Lanta lime runs a fun looking thai cooking class. We have not taken it, but it looks like a fancier, more "fusion" style of Thai cooking than what you typically get. Though we never made it to a cooking class, we did manage to make it to their happy hour a few times. Happy hour is from 3:30 to 6:30 every day. They also serve a tasting menu (a vegetarian version and a regular version) which you can pair with your super fun and fancy cocktails like this chili margarita!
Beaches, beaches and more beaches!
I imagine if you are on, or are considering visiting, a beautiful Southern Thai island, you will be spending some time on the beach. The beaches of Lanta are absolutely lovely and the farther South on the island you go the quieter and more private the beaches become. It's easy to spend weeks here doing nothing but exploring the next beach!
Rent a Scooter
Koh Lanta has one long well-paved road that runs the length of it. It is a slower paced island and so is a great place to rent a scooter, or to learn how to drive a motorbike if that skill is not already in your repertoire. WARNING! DO NOT try and learn on the road! We have seen countless crashes and injuries. Find a secluded lot or street and practice, practice, practice before ever going on the road for the first time.
There are many places to rent bikes and helmets and you can usually negotiate a long term rental deal of about $5/day for anything over than a week.
Yoga
The yoga classes at Oasis Yoga are some of the best classes I've taken in Thailand. The classes are 400 thb ($12.50 usd) for a drop-in or you can get a 10-class pack for 3,000 thb ($94.20 usd). The owner of the studio really runs a superb class. It's the type of class that every position feels as though your body was craving it from the position before. The classes I took were a powerful flow yoga that left me feeling positive and invigorated for a "new day on a beautiful island," as Farra reminded us at the end of every class.
Classes are taught in a beautiful upstairs space surrounded by plants and fans, and mats and props are provided.
Scuba
Tom and I had the most wonderful day of diving with Go Dive Lanta! There was a dive instructor for each pair going down, which is something I've never had on dives in the U.S. All the equipment was top notch and the guide seemed to be knowledgeable and vigilant about safety on our dive. The water is warm and clear and there are some beautiful things to see! We paid around $100 usd for a two dive day trip that included breakfast, lunch, all equipment and pick-up and drop-off from our accommodation.
Massages and Spa Treatments
Koh Lanta (like everywhere in Thailand) has a ton of options for inexpensive massages. We went to Serenity which has more of a spa, or upscale feel to it. Our massage therapists were both very good and afterward we were served tea and fresh fruit on their back deck overlooking the water. The massages are a little more than other places, but at 500 thb (about $15.50 usd) you aren't exactly breaking the bank for a lovely experience.
There is a lot to love about Lanta! Have you been to Koh Lanta? Did we miss anything?