Best Maui Snorkeling, Sights, Sunsets and Shave Ice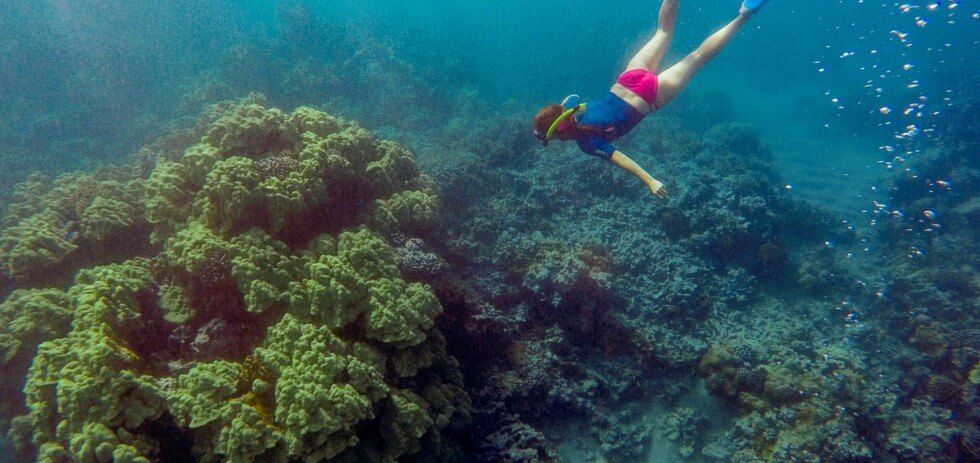 To put it mildly, we were quite taken with Maui. Our feelings about the island were similar to Mark Twain's, who put it much less mildly when he wrote these words:
No alien land in all the world has any deep strong charm for me but that one, no other land could so longingly and so beseechingly haunt me, sleeping and waking, through half a lifetime, as that one has done. Other things leave me, but it abides; other things change, but it remains the same. For me the balmy airs are always blowing, its summer seas flashing in the sun; … I can hear the splash of its brooks; in my nostrils still lives the breath of flowers that perished twenty years ago.
Even before we even landed we knew it was going to be a special place. The plane that took us there from the Big Island was a tiny little propeller plane and we were seated right behind the pilots. I have come to realize that flying in tiny aircraft is one of my favorite activities, and that it always leads to amazing destinations.
Best Maui Snorkeling
The Ahihi-Kinau Reserve is located at the end of Makena Road on the southwest side of the island. The reef is shallow and perfect for snorkeling. There is plentiful coral and because it is a protected reserve there is also plentiful wildlife. There are fish everywhere and I saw my FIRST WILD OCTOPUS! This was a pretty big deal for me, octopi have long been on my list of animals I really, really, really want to see in the wild.
Most people snorkel from the small protected cove that's right next to the road but we drove a little farther to a parking lot and then walked across the lava flow to a secluded little beach that was mostly empty and a great place to enter the water from. The reserve is also close to some of Maui's nicest beaches if you want to combine a snorkel trip with a beach day.
My aunt Nancy who lived in Maui for years told me that "Big Beach (also called Makena) & Little Beach down south of Wailea are a couple of beautiful beaches. To get to Little Beach, you go to the north end of Big Beach and climb over the little hill there. Little Beach is the naked beach, but it was usually easier to get into the water there as the beach break wasn't as steep as it was on Big Beach" but after all of our beautiful big island beach time we decided to nix our beach plan in favor of an extra long snorkeling session.
Best Maui Road to Hana Stops
The road to Hana is one of the most popular activities on Maui, but read our post to see how with a little planning you can see some of the best Maui road to Hana stops with little to no crowds. On what other island can you hike through a bamboo forest, visit a secret red sand beach and see a "painted grove" of rainbow eucalyptus trees all off of the same highway?!
Best North Maui Sights
Though the road to Hana is the most popular thing to do on Maui we enjoyed our drive around the northern bubble of the island almost as much. The vistas are stunning and around every curve is another sweeping view of the rugged shoreline, endless ocean, lush Jurassic-looking landscape or quaint little village.
One such village is Kahakuloa and it's little green church (founded in 1892) nestled against both mountain and ocean backdrops is quite possibly one of the cutest li'l buildings I have ever seen. If that church had cheeks I would pinch 'em for sure!
After the church (if you started your day from Kahului as we did) is the Nakalele blowhole, and the "heart-shaped hole in the rock" which needs a lovelier moniker for sure, any ideas? The blowhole is marked on the map so it is easy to find with a GPS or with google maps but if you are doing it the 'ol fashioned way, it is at Mile Marker: #38.5 on Hwy 340. Park on the shoulder where everyone else is and walk down towards the ocean.
The manhole-sized blowhole periodically shoots water powerfully into the air. We must have seen streams of ocean water blasted up 40-50 feet! The heart shaped rock hole is to your right if you are facing the ocean and watching the blowhole and though not as "showy" as the blowhole is pretty freakin' cute.
Best Maui shave ice and Lahaina town
Ululani's Hawaiian Shave Ice in Lahaina has gotten 5 stars and over 1,000 reviews on both Yelp and Tripadvisor so of course we had to try it! Their website claims that "all shave ice is not created equal" but I had to admit, I was skeptical of the reviews. How special can shave ice be? We got into the line which didn't appear to be THAT long and after AN HOUR of waiting I almost wanted to hate the shave ice. I don't like standing in line, but after we'd already invested 20 minutes we didn't want to give up. Had we realized it was going to be another 40 we probably would have walked away, but I AM SO GLAD WE DIDN'T!
I started eating that shave ice wanting to find it mediocre because of my annoyance with the line, but after the first bite I tried to talk Tom into getting right back in the hour-long line for another one! I have to whole-heartedly agree, it is the best shave ice in the world and all shave ice is not created equal. As it turns out, shave ice can be spectacularly special and totally worth the wait. It brings tears to my eyes and drool to my mouth just thinking about it!
Lahaina is known as the nightlife hot spot of Maui and for it's historical significance. It used to be the capital of the kingdom of Hawaii before Honolulu, and was the center of the world's whaling industry in the 19th century.
In the center of town is the largest banyan tree in Hawaii, and one of the largest banyan trees in the United States. It is by far the biggest banyan tree I have ever seen, so big that it barely makes sense. We stopped in Lahaina because we knew it to be a cute town, but that tree. It affected me in strange ways. Tom couldn't help but chuckle at me as I wandered around the different protrusions of this magnificent tree in a daze. Occasionally stopping and trying to figure out just how it works. The tree has "aerial prop roots" that grow into thick woody trunks which prop up the reaching branches and are basically indistinguishable from the main trunk. It's like a whole forest that is just ONE TREE. It's a lot to take in. Go see the tree. It's nuts.
All in All
Each evening as we cuddled up on some deserted stretch of sand to watch the sun set we could hardly believe all that we had seen since that morning.
Twain's words truly capture how we felt about Maui. Out of all the Hawaiian islands we have visited Maui is the one that has left the deepest impression. Don't get me wrong, we love the big island, where Tom's Dad lives and Kauai is so beautiful it almost hurts your eyes but Maui is the one that, as Twain says, "longingly and beseechingly haunts me." Maui is the one that made Tom and I think, "maybe we should live in Hawaii one day…"