Places to Stop Along the Road to Hana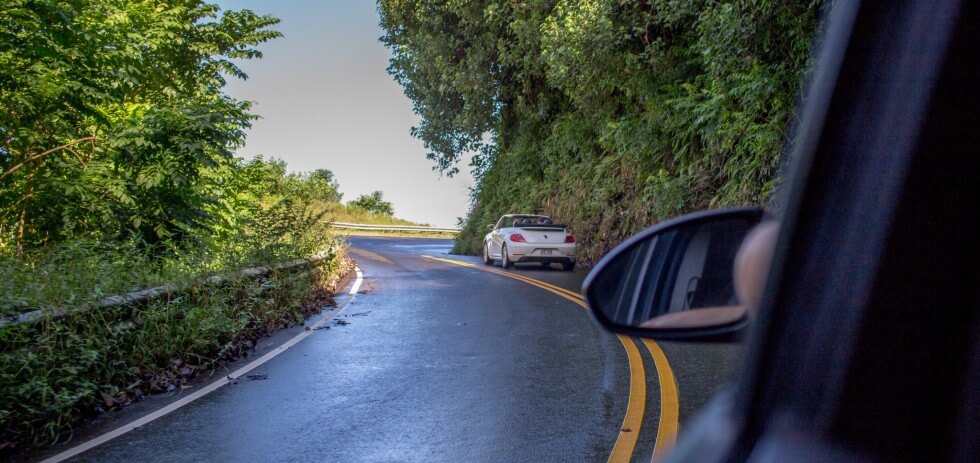 Last year after we drove Maui's Highway 36 (more commonly known as the Road to Hana) in the opposite direction from everyone else. We loved our day exploring off the beaten track and afterwards we were both sure you could do the drive many times over, and not see everything there is to see along the way.
This year we did the iconic trip in the usual direction, visited a completely different set of stops and 100% stand by that statement! It's a pretty magical trip with a ridiculous amount of things to do and see. Last year I shared the best stops for driving the road to Hana counter-clockwise, and so it is only fitting that this year I share the stops we explored driving the road the usual way (clockwise).
I have read that on a one day trip in which you are doing the full loop (which I 100% recommend, because who wants to backtrack?!) you do not have time for any of the longer stops. Just the drive alone is going to take you about 4 hours, so with stops, it will be a full day. I would argue that it is better to put in one or two longer stops and a handful of short ones than try and see 15 different things and only spend a few minutes at each, and our itinerary reflects that. Each sight is marked with the mile marker (MM) closest to it.
1. Paia Town: Mana Foods
This does not totally count as a stop, but if you are driving the usual way, you will be passing through Paia town. Mana foods is a big health food store in town that is a great place to stock up on road snacks! We stopped here to grab a few kombuchas and some other provisions for our day.
2. The Painted Grove – MM 6.7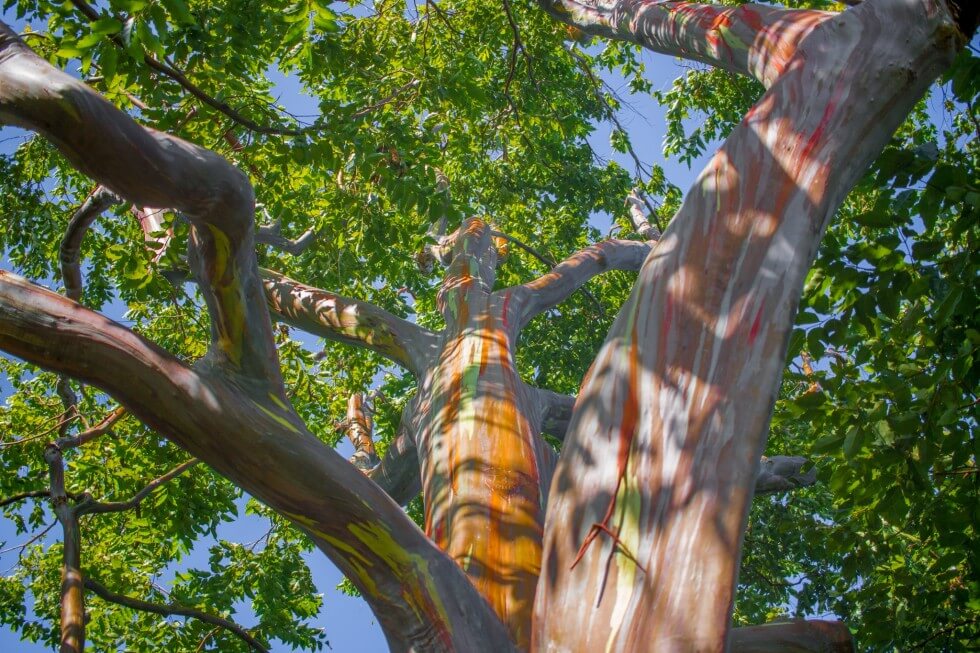 This is the only stop that we made on both of our self-driven Road to Hana trips. I really, really, love seeing the groves of incredible rainbow eucalyptus and so would probably stop here every time I make this journey. I wrote about it in depth in last year's road to Hana post but let's just say it is only a few minutes stop to see some pretty magnificently colored trees off the side of the road.
3. Twin Falls – MM 2
Twin Falls is home to the first accessible waterfalls along the Road to Hana. We stopped here because it was recommended by so many people. This is an incredibly popular stop and the only one of the day that I would not recommend. The lower falls is a quick walk from the parking lot and the upper falls were closed when we were there. This stop felt the least magical of any of the stops we have ever done. The walk did not have much to recommend it and there was not the air of adventure or beauty that you get from the rest of the stops.
4. Kaumahina State Park – MM 12
This stop is mostly just for a little break to stretch your legs after a fair bit of time in the car. There are also bathrooms here, so if you need to use one it is a great pit-stop, and if you don't you may as well skip it. There are also sweeping views of Maui's coastline and picnic tables so it is a pretty place to stop for a snack even if you don't need the loo.
5. Lava Tube – MM 31
The lava tube and labyrinth are at 205 Ulaino Rd. The amazing lava tube is on someone's private property and they have opened it up to the public for $15/person. Your entrance fee also gets you the use of a very high powered and necessary flashlight. Before you get to the lava tube entrance there is also a garden labyrinth that the owner's planted; think tropical corn maze. It is by far the most legit labyrinth I have ever gone through and it was a lot of fun trying to solve it with Tom and his Dad!
The lava tube is well-maintained with a staircase leading down into it and many different informative signs throughout explaining the history and geology of the cave. Other than that it was been left completely undeveloped, which makes it that much better!
There are gorgeous formations and bacteria that looks like gold shimmering on the walls and a beautiful vent up in the sky that brings natural light into one section.
The cave keeps going and going and I loved turning off my flashlight to spend a few moments in complete and utter blackness.
6. Wai'anapanapa State Park – MM 32
Wai'anapanapa State Park is home to a black sand beach, some beautiful walks and two freshwater caves that looked like the cenotes we fell in love with in the Yucatan. Our major piece of advice for this stop is; try not to be here between 11:00 and 11:45 as that is when all the tour busses are here and it is packed!
The Black Sand Beach and the contrast between the wild, blue water and green plants growing nearby is stunning. The current looked pretty strong when we were here though there were people swimming in the ocean. To your right, if you are standing on the beach facing the ocean, is a little tunnel through the cliffs to the ocean on the other side.
You can continue walking past the black sand beach for a lovely hike along the cliffs through a grove of walking palms.
The Freshwater Caves are reached by an easy little well-marked path leading from the parking area. The caves reminded us of the crystal clear cenotes we saw while in Mexico and are great for a walk and a dip.
7. Braddah's Hut – MM 34
We had hoped to eat at the Thai food restaurant in Hana that I had read about online, but it looked like it had shut down, either for good or for the holidays. As a back-up plan we visited Braddah's Hut at 5050 Uakea Road, just past Hana town, the same place we ate last year. Braddah's serves up solid local fare and seems like the absolute best option near Hana. I am pretty sure the ribs are the best thing on the menu.
8. Homoa Beach
Homoa beach is a pretty, little grey sand beach just past Hana. It looked to be popular with surfers and local families when we were there and had much better swimming than the Black Sand beach. It is a great spot for a swim, or to while away an hour on the sand of one of Maui's most remote beaches. Homoa Beach is located 2.5 miles past Hana. Turn left onto Haneoo Loop Rd. and drive past Koki Beach, take the stairs down to the shore.
9. West Wailua Waterfall – MM45
This is more about a dessert stop than a waterfall stop. A gentleman sets up a table here to sell his out of this world banana bread and brownies! The falls are also very pretty, but you pass many pretty waterfalls on this road. You also pass a lot of banana bread vendors but these brownies and banana bread are particularly good and less expensive than everyone else's. Here we are at the falls with a brownie in my hand. The decadent dark chocolate, macadamia nut brownie the size of a brick was (obviously) gobbled up before it could be photographed.
You will pass the seven sacred pools and Pipiwai trail as you continue driving. It is, however, overloaded with tourists at this time of day and you will probably be too knackered for a 4-mile hike; albeit an amazing one, so don't bother stopping. Come back another day to do the hike, or if you can't then I highly recommend that you take the road in reverse, like we did last year, to do the hike first thing in the morning.
Right around MM 37 you will enter the part of the road that everyone warned you about! The highway disintegrates into a ten mile stretch of a hod-podge of gravel, dirt and bubble gum splotches of pavement. Just sit back, drive slowly and imagine that you are sitting in a massage chair.
10. Picturesque Churches – MM 35 & MM 33.7
By this time, the lighting will be making the little, old, churches that can be found along this stretch of road even more photogenic! Both Huialoha Church and Saint Joseph's Church are tiny, old buildings perched on the wild Hana-side coastline. Both are open to the public and make a nice place to stop, stretch your legs and soak up more views.
Huialoha Church
Just past MM 35, you will see a dirt access road with a simple gate. Open the gate and drive a little ways down the dirt road and park next to Huialoha church. There is a small boulder beach just down the cliff from the church, a little graveyard and different crumbling stone buildings. Huialoha church was built in the 1850's and standing on the wind-whipped cliffs for just a few moments will make you realize how incredible it is that the building is still standing at all!
Saint Joseph Church
St. Joseph's Church at MM 33.7, or 33622 Piilani Hwy, was built in 1862, and sits next to the remnants of the crumbling foundation of the original church.
11. Backside of Maui – MM 35 to MM 15
Known in Maui as "the backside" Kaupo and the surrounding area is a landscape of stunning contrast to the winding rainforest roads of Hana. It is best seen exactly when you will be seeing it; during the golden hour. The warm setting sun turns the fields golden and the wind ruffles through the grasses in undulating patterns.
It is a sight that many people don't see as it is common to drive to Hana and then turn around and drive back the way you came.
12. Wine Tasting – 14815 Piilani Hwy
If you still have any oomph left, and if you make it there before 5:30 pm you can stop at Maui's only winery for a complimentary wine tasting. I cannot, unfortunately, speak for the wines because we were quite oomph-less by the time we made it there and did not stop. Alternatively, you could visit the winery the same day you come back this way to hike The Pipiwai trail, one of our favorite hikes in the world!
It is hard to say if we prefer driving the Road to Hana from the front or from the back but what we do know for sure is, it's an epic trip no matter which way you decide to drive it!