Sleep, Eat, Work, Do – Kampot Cambodia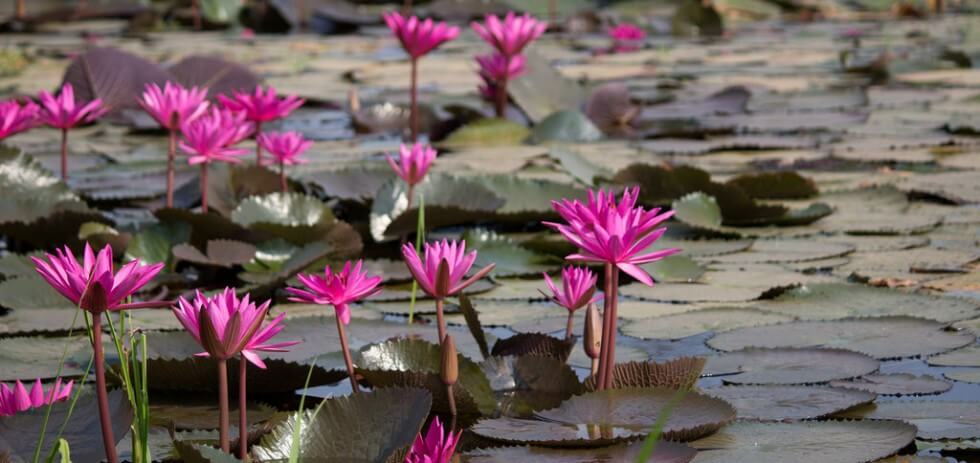 Ahh Kampot, how do I put you in a nutshell?
Actually, come to think of it, I wish Kampot did fit in a nutshell so that I could take it with me everywhere! Then if I ever feel overwhelmed or anxious, I could just whip it out and slip back into the placidity of this little town. I don't think I'll ever be able to say the word "Kampot" without getting wistful.
Kampot is not a "knock your socks off" kind of a destination. It's more like someone kinda pulling your socks off without you even noticing (but not in a creepy way). The next thing you know you are laying back, totally sock free with someone giving you an awesome foot massage. Kampot totally crept over us and before we knew it over two weeks had passed, our Cambodian visa was expiring and we here hopelessly in love with this dusty little Cambodian town.
Kampot is in Southern Cambodia and is easily reached via Phnom Penh, or Sihanoukville. It is a 30-45 minute motorbike ride away from the coast and is set along a lovely river. There is not that much "to do" in Kampot besides just enjoying the surprising amount of good restaurants in town and slipping into the slow, relaxing and pleasant little world that it is.
Sleep.
Mea Culpa (translates to "through my own fault") is an apt name for this hotel. They may be mostly to blame for how much we loved Kampot. Our room and attached bathroom was big with high ceilings and was nice, bright, and clean. There was a comfortable king sized bed, large wardrobe for clothes, a seating area with a table and chairs in our room and a private terrace with tables and chairs through some large metal French doors. All of this loveliness was cleaned daily and came with free coffee, tea and drinking water as well as a shared fridge. The a/c was also great and very quiet. The restaurant at the hotel has a wood fired oven and they make nice pizzas, salads and bread. Wi-Fi was great and they arrange motorbike rentals so that the bikes are brought to you at the hotel. When we were there it was $25/night and at the south side of town.
Greenhouse is a little outside of town, about a 10-15 minute motorbike away from the town center. Though we didn't stay here we did spend a couple of lovely afternoons eating, working and playing in the river on stand-up paddle boards with friends. More on that later in "Eat" and "Do." If you are looking for something right on the river and more removed from town it seemed like a solid choice.
Olly's, Naga House, Bodhi Villa, Samon Village.
All of these places are in a little row along the river right outside of town. I think the best part about them is that they all have docks that you can jump right off of for a swim. I got the feeling that these were the places geared towards young, backpackers and if you are looking for a lively spot to meet people they are probably solid bets. I chatted with some girls who were staying at one or another of these places and they all said the same thing. The rooms are fine, and it can be fun but they are all pretty noisy. I think sound carries across the river as well as one girl told me that even when the party was not at her place, the noise from one of the other places still kept her up.
Eat.
I think this is (without exaggeration) one of my favorite cafes IN THE WORLD. They make amazing coffee, and even have the aero press. If you are a bona fide coffee nerd (as Tom is) then you will know what that it, and be excited that you can get aero press coffee in Cambodia (as he was). Their food was also consistently incredible. Their veggie burger was just as good as their homemade chorizo burger, the homemade blue cheese pumpkin tortellini was inspiring and after having their carrot cupcakes once I asked every other day "do you have more cupcakes today??" They also bring you bottle after bottle of drinking water, which is nice. I drink a TON of water and every time I turned around they had refilled it. Sadly they close at 3pm, so this is only a breakfast or lunch option.
GreenHouse.
The food here is also really good! The croissants are incredible, and I had the richest most overwhelmingly (in a good way) peanutty, peanut sauce here. It was served over chicken with salad and with some hot sauce on it was just perfection.
They have a lovely happy hour here at sunset. There are great views over the river and cocktails are 2×1. Our favorite was the mojito. Truthfully we found the food here to be very OK. I may have been more impressed in another town, but Kampot just has too much incredible food and theirs suffered a bit in comparison.
Rusty Keyhole.
Everybody talks about the ribs here. That's because they are damn good ribs. They are not "good for Cambodia" ribs either. They are legitimately REALLY good ribs.
There are a ton of NGOs in Cambodia, but this one spoke to me (for obvious reasons) the most. They run a Special education Project in Cambodia and call themselves "an inclusive arts organization that brings together people with and without disabilities." Definitely my type of place! They also make some really nice food and we especially liked their scones and brownies.
Café Malay.
Owned by Germans and the menu includes homemade sausages and sauerkraut!
DiVino Italian Restaurant.
We came here a couple of times and everything we had was very nice. I think the star of the show for us was the bruschetta, and the chili infused olive oil. The pesto pasta, salads, and pizza were all very good as well but that bruschetta was something to write home about!
Mea Culpa.
As I mentioned the hotel where we stayed also has a very good Italian restaurant. Tom really enjoyed the pizzas here and I loved the salads. They were topped with feta and pine nuts and were quite tasty.
Self-Catering.
Groceries.
There are two little grocery stores right next to each other on the Durian roundabout (BTW, It's kind of weird that I town I love so passionate celebrates a fruit I hate so vehemently). The more cluttered looking, dustier shop has a much better selection than the other one. We found such treats as really nice Hungarian salami, blue cheese, and fancy dark chocolate here!
Bakery.
There is one little bakery if you turn left just past Café Espresso (walking away from Epic Arts café). We bought bread here once, but then discovered another larger bakery and I ma pretty sure that the little one just buys the bread from the bigger one and re-sells it. The bigger bakery is on the same street as the "new bridge." Just go up that street into town and you will see it on your left.
Work.
Wi-Fi was actually quite good in Kampot. It was better here than Seem Reap or Phnom Penh so with all of the great food options and the general friendliness of the town it is a great "digital nomad" option. We worked at the same place we stayed "Mea Culpa" quite a bit. We also worked at Café Espresso, Epic Arts Café and Greenhouse. All of these places had power outlets, fast wife, and di not seem to mind that we spent hours on our computer before or after our meal. Café Espresso was by far my favorite place to work as they kept re-filling our complimentary drinking water and had a big, nice, wooden table to work on.
Do.
This is by far what I did the most of while we were in Kampot. This is a beautiful little spa and yoga studio that is women's only and does some great work with women in Cambodia. You can read more about the work that they on their site. There are two yoga classes a day (11 am and 5 pm) and both classes are 90 minutes. The morning class is more athletic than the afternoon class. It is $5 a class or 10 classes for $30, which is a pretty fantastic price. I took the opportunity to build my own yoga retreat and went to one or two classes a day here.
Spa Treatments.
There are many spas offering treatments in Kampot, including some blind massage shops. I got the "Banteay Srey Special" after my last yoga class there and it was lovely. It was a 2.5-hour treatment that included a scrub, steam, pedicure, hour-long massage and juice for $28. I also spent some time relaxing on their beautiful back deck chatting with some of the other girls who were there before my treatment. All of the girls working at the spa were incredibly nice and very good at what they did! The ambience here is a lot nicer than most of the spas or massage shops I have been to in SE Asia.
Bike rides.
Kampot is made up of very wide streets so it is a great place to ride a bike. Mea Culpa has bikes available for their guests to borrow for free anytime they wish.
Lily Pond.
Right next to Mea Culpa there is a very pretty lily pond just chock full of bright pink blooms. The flowers bloom every morning and then close when they day starts to really heat up around noon.
River activities.
River Fun.
Swimming, kayaking, stand-up paddle boarding and general splashing about can all be had up and down the river. The only place that we got into the water was at Greenhouse. It is farther outside of town than anywhere else and so it felt like a nicer place to be in the water. We had a blast playing on the stand-up paddleboards one afternoon with friends.
Salt Fields.
If you cross either of the bridges from the main side to the other side and go left you will find some beautiful salt fields just outside of town. We went at sunset and they were lovely. Our friend Erin went for a run past them at sunrise and took some photos, that made me wish I was a "wake up early and run somewhere" kind of a girl instead of the "lay in bed in the morning and then ride a motorbike there later" kind of a girl that I am.
Day trips.
There are some great day trips just a little bit outside of Kampot, and though we planned on seeing more, we did manage to make it to three of them.
Kep.
A little town on the coast that is a 30-45 minute motorbike ride away. Kep is known for crab and has a very lively seafood market. The crab was delicious and smothered in a yummy green pepper sauce. The beaches also looked really nice here, apparently they had just trucked in a bunch of sand from Otres beach and it seemed to be settling in nicely ☺
Rabbit Island.
From Kep you can hire boats that seat 8-10 for $25 round trip to visit Rabbit Island, or Koh Tonsay. The island is just beautiful and when we were there we used loungers and hammocks all day that nobody ever asked us to pay anything for. Come to think of it, there were not any touts walking up and down the beach either. Beers and coconuts were .75 cents each and the water was a clear and bathwater warm aquamarine. We definitely could have come here a couple of more times!
Pepper Fields.
Outside of Kep and Kampot there are many different pepper farms. Which as an added bonus means that most of the restaurants cook with delicious fresh green pepper. There are many different pepper farms that you can visit and we rode a motorbike to Sothy's Pepper farm. We chose Sothy's because it was the first one that we saw, but it was a really nice experience. Someone from the farm showed us around and explained how they grow the pepper, when it is harvested, how it is grafted, and what they use for bugs since it is all organic. He also explained how the different colors of pepper are made.
We were very surprised to discover that red, white, and black peppers all come from the same plant! The only difference is the maturity at which it is harvested, and whether or not the skin is removed. We sampled all three kinds of pepper at the end and were amazed at how different they all tasted. Sothy herself was there chatting with some other visitors and we talked to her for a few minutes about the work she had done with the Peace Corps.
After the tour we waited for the guide to try and sell us something, or to let us know how much we owed him, but there was none of that! He simply smiled and answered all the questions we had. We left him a tip in the box on the table, but it was very unlike other guide experiences we have had where they have told us, in no uncertain terms exactly how much our tip, per-person, needed to be.
Other Tips.
We were in Kampot in the dry season and it is a dusty place for sure! Any of the gas stations in town will give you face masks for free and I would use them if you are going to be riding any distance on a motorbike. After breathing in all of the dust that gets blown up when you are riding you can develop a pretty nasty cough.
Photos for visas and other visa info. If you are going to be getting your visa for Vietnam in Sihanoukville than there is a photo sop that will make your visa photos a couple of doors down from the grocery stores I mentioned. Global Goose wrote this great post on how to get your Vietnamese visa in Sihanoukville.