Our Favorite Place in Oaxaca Mexico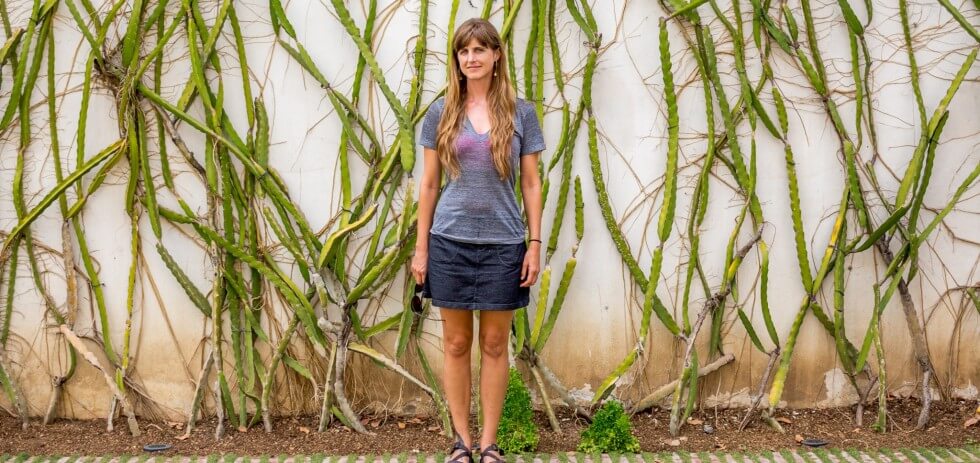 On our first day in Oaxaca we stumbled, as if by accident though I am sure it was fate, onto the Centro Académico y Cultural San Pablo. We were drawn in by the herringbone pattern on the ground made with carefully laid bricks and the cropped grass growing in between them. We walked further in to see that when the regular pattern of the floor met the white-washed walls of the courtyard the it seemed to erupt into a riotous display of wall hugging cacti.
We were immediately hooked "THIS is EXACTLY what I want our house to look like when we grow up" I breathed to Tom, and he was in total agreement. We continued to explore the academic and cultural center and exclaimed to one another at each new facet of beautiful unique architecture, gorgeous water fountain or beautiful art installation.
The center immediately felt like our very own secret place in Oaxaca. When we showed it to our friends Simon and Erin I caught myself saying, "this is our library, the WiFi is screaming fast, and this is our glass-barred window, and don't you love our triangle wall?!" Ooops, I mean THE library, THE glass-barred window and THE triangle wall…
We found one excuse or another to visit almost every day, either to work in the library, which we quickly started calling "the office" or to check out one of the free films or art exhibits there, or just to use the restroom or to take a mini -break from running around town to relax in the gorgeous courtyard. There is a restaurant on the premises as well, called SP restaurante. It is quite pricey and so we only ate there one time. We thought that there wasn't too much to recommend it, other than the beautiful view over our the courtyard.
Do you want to do it too?
The San Pablo Academic and Cultural Center is located at:
Hidalgo 907, Centro Histórico
Oaxaca, Mexico
The library is in a beautiful glass-windowed room with very fast Wifi, so is a great option if you are looking for a quiet place to work. The gallery always has a different art exhibit or two up and there seemed to be different free events or workshops going on almost daily. Check out their facebook page to see what events they have going on, or better yet stop by and check out the board covered in flyers and calendars of events.
Have you ever found a place while traveling that felt like it was your little secret? A place that maybe felt like it was built just for you?