Our Favorite Big Island Hawaii Things To Do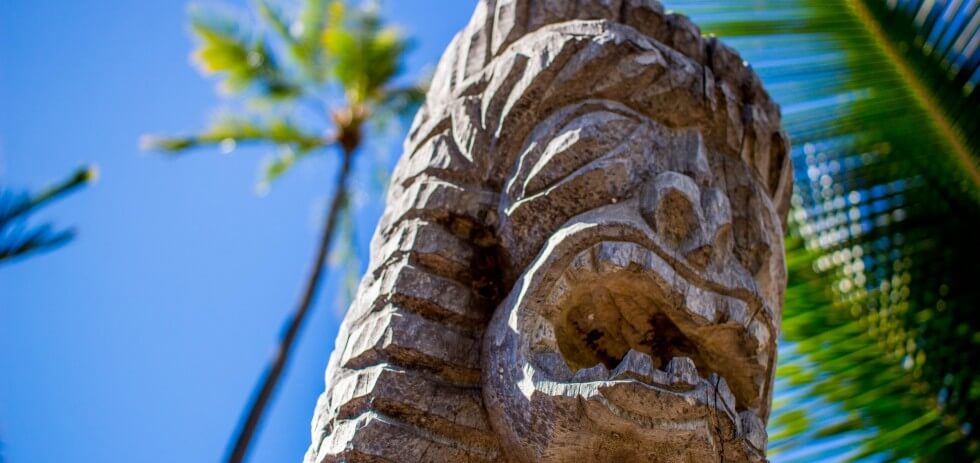 Tom's Dad lives on the Big Island, and Tom spent his High School years there so every time we have gone I've reaped the benefits of insider knowledge, and now you can too! The following is our official 10 most recommended things to do on the Big Island of Hawaii.
It is an appropriately named place, bigger than the rest of the Hawaiian islands combined, and with all that spaces comes a multitude of things to do. This list is by no means a complete run-down of all there is to do on this beautiful island, for that check out the book "Big Island Revealed." These are our personal favorites that we recommend to anyone who visits!
Michael (my father-in-law) is a farmer in South Kona and when we visit we "glamp" on his deck at night and eat all of the amazing food that he produces by day. This was our second year celebrating the holidays on the beautiful farm and I hope it is a tradition that continues!
Michael is primarily a bee farmer, but he also has an organic avocado orchard, and tons of dragonfruit, papaya, bananas, limes, pineapple, tomatos, and fresh herbs. The farm is next door to a macadamia nut orchard and since his bees help pollinate the trees he has gathering rights. Needless to say, we eat very, very, well every time we visit!
Hiring a car is absolutely recommended while visiting the Big Island, it would be extremely difficult, if not impossible, to do most of the things on this list without your own wheels. Unfortunately, over the holidays cars are an extremely limited resource on the island and as such are quite expensive. We have been lucky enough to rent cars from some of the guys who work on Michael's farm for a fraction of the cost. This last time we cruised around in the island in a bitchin' Camaro.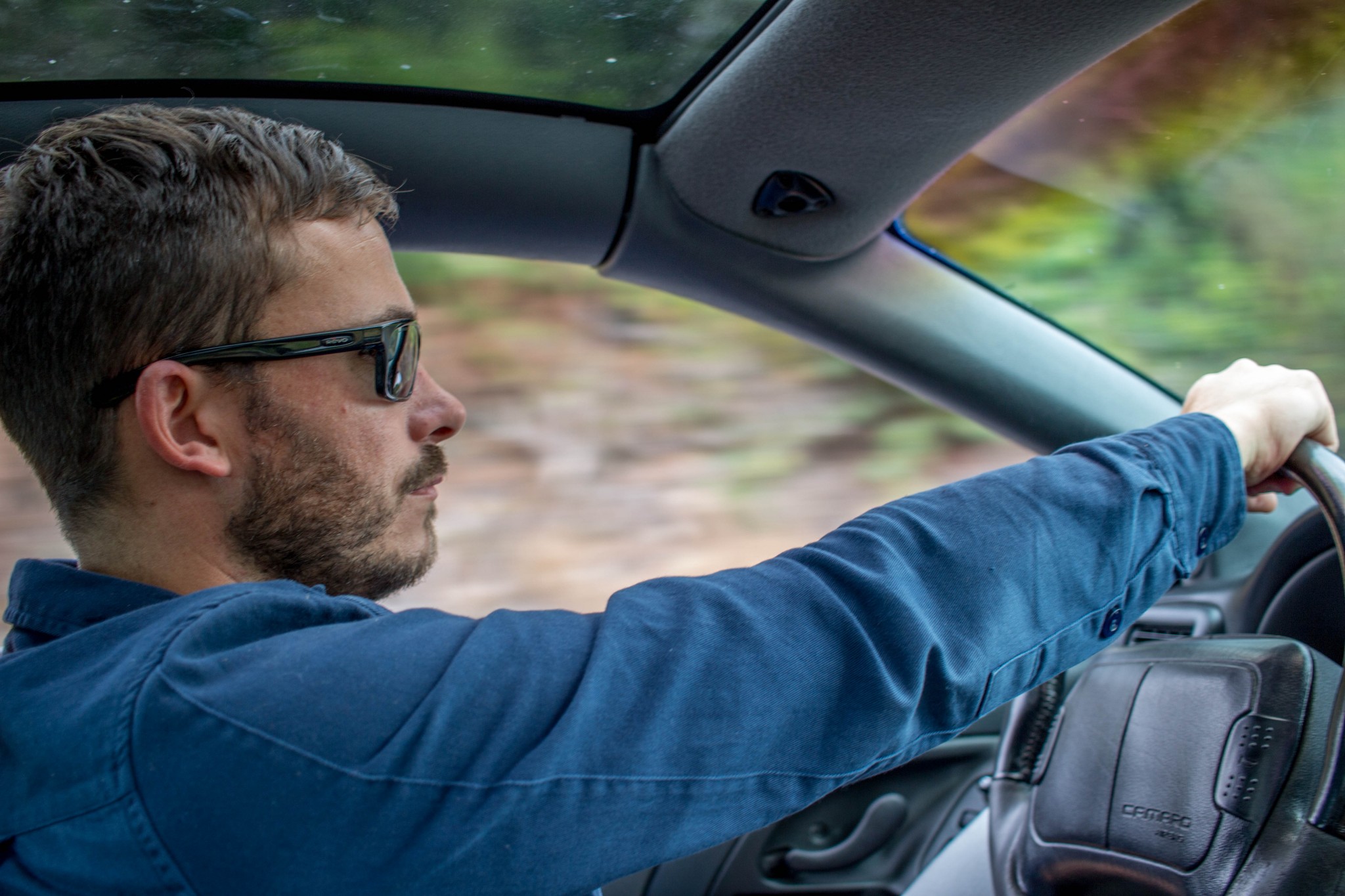 The best part of renting cars from locals is that you blend right in and instantly accumulate some island cred. I have seen sites online that offer private car rentals between locals and visitors for much less than the rental companies. We have never used this site or any other "locals" renting site and so cannot vouch for them. If you are looking to rent a car in the usual way the best deals we have found on any of the Hawaiian islands are through Costco car rentals.
And now for the ultimate Tom and Jenny Big Island Hawaii things to do recommendations!
1. The Beaches
The beaches on the Big Island are often difficult to get to, which may be part of the reason they are some of the nicest we have seen, anywhere in the world. I don't know if sand gets any whiter, or oceans any clearer!
Makalawena Beach
Pronounced "MAHK-a-la-ve-nah" (the "w" sounds like a "v" in Hawaiian) this beach epitomizes hard to get to and ridiculously worth the journey that is the nature of many Big Island beaches. To get to Makalawena Beach turn off Highway 19 (towards the ocean) between mile markers 90 and 91. You will see a sign for Kekaha Kai State Park. This road is mostly unpaved, but just about any car and any driver can handle it. Just go slow and relax the white-knuckled grip on the wheel. Drive to the end of this "road" where you'll likely see other cars parked on either side. Find a spot and get ready to walk. Whatever you want to take to the beach you will be carrying over lava fields for 20-30 minutes, so pack accordingly.
From the parking area, walk north through a gate and along the path towards the trees that are a couple hundred yards ahead on the left. These trees form the back of Kekaha Kai Beach. You will be tempted to stop here. You will think, "wow this is a really nice beach, why keep going?" Resist the urge, an even lovelier beach awaits.
The path continues to the north end of Kekaha Kai Beach and then crosses through the lava field for another 20 minutes or so until (finally!) you get to the sand dunes that mark your arrival at this Corona beer commercial-worthy beach.
Mile Marker 69
Though this beach is pretty far away from Kona it is much easier to access than Makalawena. As the name implies it is off of mile marker 69 on highway 19. There are no amenities such as restrooms, showers or the like, but it is a beautiful spot and we have had it all to ourselves for a full day of splashing in the waves until sunset.
Hapuna
Hapuna, which we nicknamed "Hapuna Matata" is an easy beach to reach, but so beautiful it could easily mean no worries for the rest of your days. It is about 45 minutes north of Kona and there is a small parking fee for non-residents. There are tons of facilities at this beach; restrooms,trash cans, drinking water, lifeguards, etc. but there are no shade providing trees on the sand so an umbrella is a very nice thing to have. This beach tends to be a bit more crowded because of its accessibility, but it is huge and is commonly named one of the most beautiful beaches of Hawaii.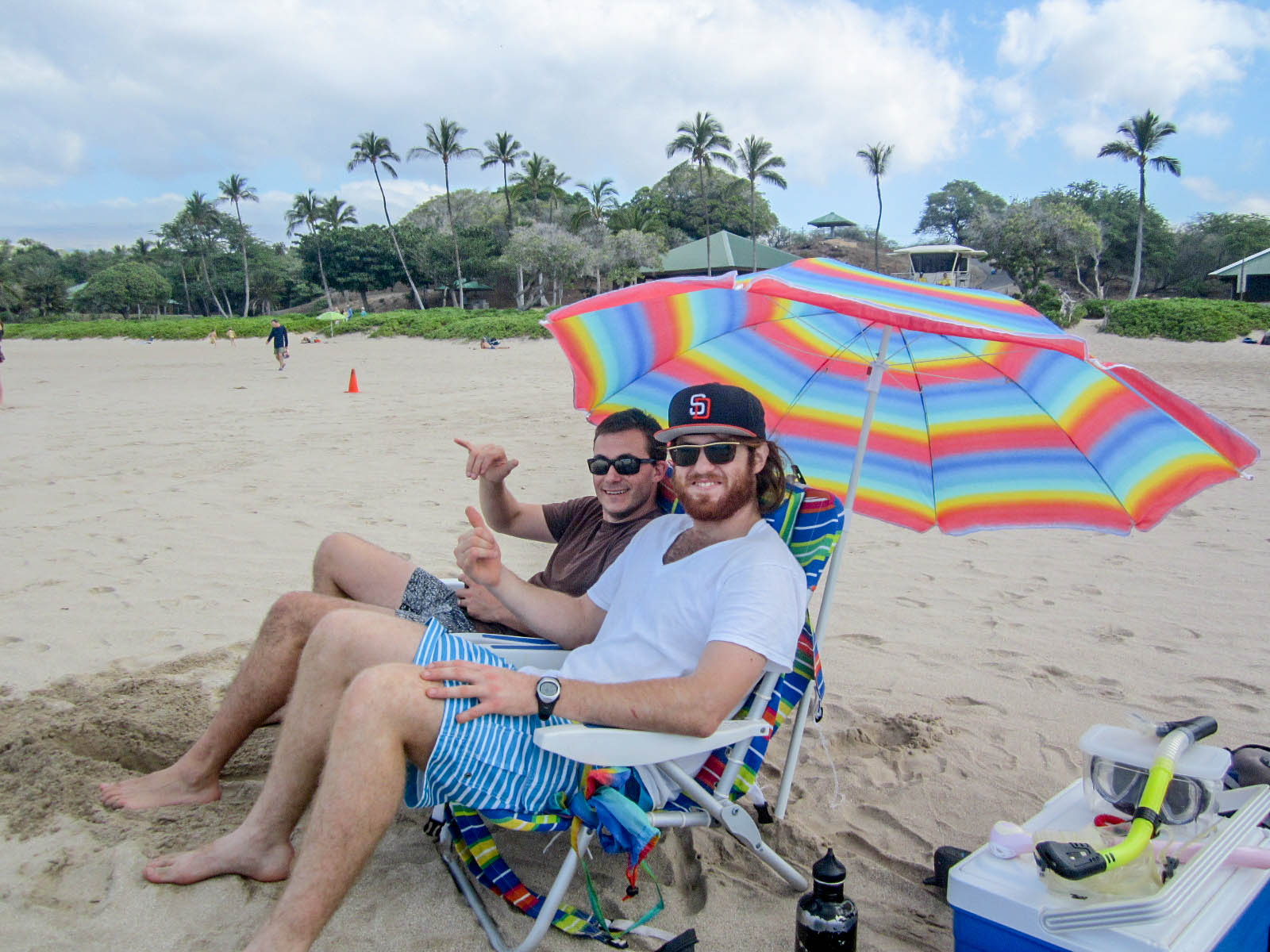 Manini'owali Beach (Kua Bay)
This beach is the easiest to get to and so though it is still lovely, it is by no means deserted. It is a very small beach, and so it does not take too many people to make it feel very crowded! It is super close to the airport; making it a great place to catch one last sunset if you have a late flight, or go for one last swim if you don't mind being soggy on the plane.
Magic Sands
I don't have pictures for this one, but it deserves a mention for a few reasons. Firstly it is right in Kailua Kona on Alii drive. It is extremely crowded, but is also a super fun beach with waves perfect for boogie boarding and body surfing.
2. Visit the Hilo Side of the Island
Most visitors to the island stay in Kona, but at the very least a visit to the Hilo-side is a must do! Check out our post all about Hilo here. There are so many caves, waterfalls, and gardens to explore, and the famous Hilo farmers market probably deserves a number all on its own!
3. Dive or Snorkel with Manta Rays
The manta ray dive on the Big Island is one of the coolest dives we have ever done. You can experience this as a diver or a snorkeler and our friends who snorkeled said it was amazing and that they couldn't have imagined the dive being any better. We went with Jacks Diving Locker for a two dive trip. The first dive was a sunset exploration dive and the second, manta ray dive was a night dive. During the night dive we went down about 30 feet and sat on the bottom with huge flashlights. Plankton were drawn to the lights like moths to a flame, and huge manta rays were drawn to the plankton, their favorite snack. We went down with two of our friends and the 4 of us put our lights together to make the strongest beam, this attracted the most plankton and the most Manta rays! I can't recommend this dive (or snorkel) enough, it is really an amazing and incomparable experience!
4. Visit Strangely-Colored Sand Beaches
Aside from the blindingly white sands of maklevena there are many oddly-colored sand beaches scattered around the island. Unfortunately we don't have pictures of any except for the black sand beach in Pololu, which you can see in #8 where I talk about the hike there. There are enough oddly colored sand beaches that it seems like you need to make it to at least one, and please do better than we did and remember to snap a photo!
South Point Green Sand Beach
This is not only a green sand beach (nuts!) but is also the southernmost point of the U.S. It is a hot and windy hour long hike to get to the beach. Recently some enterprising locals have begun to "shuttle" people back and forth from the beach in the back of a 4 wheel drive pick up. The cost ranges from $10-$15 round trip per person.
To get to the trailhead, or "shuttle" pick-up point go down highway 11 to between 69 and 70 mile markers, and look for the sign-posted South Point road. Carefully drive this road until you see the other cars parked. Once you are out there you can swim, or even participate in some cliff-jumping, or at least cliff-jump spectating. Even if you don't want to swim or leap from cliffs the olive green sand is worth the trip out there and it is one of only two green sand beaches in the entire world, the other being in Galapagos Islands.
Punalu'u Black Sand Beach and Pololu Black Sand Beach
One of these black sand beaches is in the southeast and the other is in the northwest. Punalu'u (in the south) is also known for being a sea turtle nesting area so if you want to see them sunning themselves on the beach or relaxing in the shallows this is a great bet. Pololu in the north is surrounded by stunning scenery, and if you go on a hike there you have knocked two of our reccommendations off the list ☺
Ho'okena Grey Sand Beach
Ho'okena Beach Park is located on the west shore, at the northern end of Kauhako Bay. The beach has fine, black, sand mixed with white sand, giving it a gray color. The shoreline is rocky, but there are a few sandy entry and exit points to get in and out of the water. The waters are generally calm here, making it a great choice for families. There are a number of trees that provide shade, making it another great picnic spot.
5. Explore Volcanoes National Park and See Lava Flow
The Big island is home to one of the world's most active volcanos and seeing the lava that has been continuously flowing from Kilauea since 1983 is a must! Even if you don't give a hoot for seeing one of the most recent flow sites, Volcanoes National Park is a great place to camp and for hiking and sightseeing. If you don't have camping gear, there are tent cabins that rent for $80 a night and all have their own fire pits. Each tent cabin has a double bed and a set of bunk beds to sleep 4 people.
When we visited two years ago some of our friends trekked for hours across lava fields to see a flow.This last time we were lucky enough to see a new flow without any trekking. You can read about our visit to the 2014 Pahoa flow in our post about the east side of the island.
6. Snorkel at Two Step and See The City of Refuge
Unquestionably the best snorkel spot on the island, two step is named for the two steps in the cliff that are used for entering and exiting the water. We have always seen quite a bit of life and coral when snorkeling in this popular spot. Look out for the giant "Aloha" spelled out in the sand.
Two step is located in the same place as Honaunau National Historical Park, also known as city of refuge. A city of refuge is a place where ancient Hawaiians could go to become absolved of crimes of kapu. Kapu is a taboo forbidding a commoner from getting too close to the chief, touching any of his possessions, walking in his footsteps or even letting their shadows touch the royal grounds. The penalty for violating this taboo was death, unless the kapu-breaker made it to a puuhonua, or place of refuge. At these places of refuge he or she could be absolved by a kahuna (priest) in a purification ceremony, then return home; no harm no foul. There are places like this all over all of the Hawaiian islands and the one here is the best preserved of Hawaii's ancient places of refuge.
7. Kayak with Dolphins at Captain Cook Monument (Kealakekua Bay)
The bay surrounding the Captain Cook monument is a beautiful spot to kayak with juvenile spinner dolphins. Once you have boated across the bay, you can tie yourself to the kayak and jump into the water for some excellent snorkeling. Unfortuneately we do not have any photos to show here (we have to stop doing that, I know!) but a google image search will bring you hundreds. This is the best spot for seeing dolphins that I have ever been to. And watching the spinner dolphins throw themselves out of the water and turn, earning their name, is magnificent. To protect the reef there have been new permit rules put into place for kayakers. This permitted kayak rental company's site explains the rules in detail.
8. Hike in the Northern Valleys
The northern coast of the big island boasts some beautiful hikes. The most famous is Waipi'o valley, equally as lovely but not as crowded is the Pololu Valley hike pictured here. The hike is a steep, but relatively easy 2.5 miles round trip and at the bottom of the lush, tropical cliff is a fun rope swing and a beautiful black sand beach. The trip down takes about 30 minutes and it is a great place to bring a picnic and spend a few hours down there swimming in the ocean, or just relaxing on the black sand beach.
9. Eat Poke
Eating poke is a must when visiting any of Hawaii's islands. It is a uniquely Hawaiian dish that the first Polynesians to make their way to Hawaii brought with them. It is similar to shashimi, ceviche or kinilaw. Raw fish is cubed, (poke actually means to slice or cut) and mixed with different seasonings and is often served over rice. Safeway sells surprisingly delicious poke in their deli cases, but the poke at Suisan fish market in Hilo is by far the best we've had anywhere.
10. Swim in Unique Swimming Holes
Saltwater Pool on Ali'i Drive
Our personal favorite of the Big Island's unique swimming holes is the ocean swimming pool in Kona. This saltwater swimming pond gets filled (and cleaned out) by the waves of the Pacific ocean. When the surf is big you can sit on the edge and the waves will knock you into the pool, too much fun! It's not that nice when the waves are small because the water is stagnant. To find it put "75-6106 Ali'i Dr Kailua Kona, HI 96740, USA" into google maps. This takes you to "Kona By The Sea" after you turn off Alii drive into the entrance, drive to the right where you will see a small parking lot marked as public parking. Walk down the very straight path from the road to the pool along the building. The state now owns this former private property and like the beach, the seawater pool is free and open to the public.
Kapoho Tide Pools and Ahalanui Thermal Pool
You can read more about the Kapoho tide pools and the nearby volcanically heated pools of Ahalanui in our post all about the Hilo side of the island. Suffice to say both of these unique swimming holes are great for a soak!
Bonus: Watch the sun rise and set
Both the sunrises on the east and the sunsets on the west are absolutely lovely. And the best part of an island is that if you are keen, you can easily see both in one day!