Travels with Baby – Carry on Packing List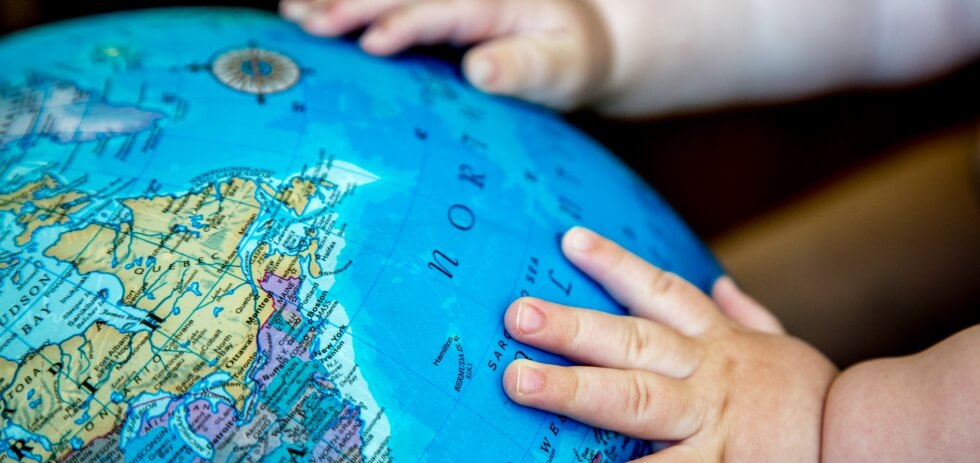 The first thing we heard when I got pregnant was "there goes the end of you being able to travel with just a carry on!" I am happy to say that this is not always true. Our first trip, when Bae was just 2 weeks old, was a six-week stay in San Diego and for that trip we did not pack carry on. We brought EVERYTHING from the nursing pillow to clothes in various sizes, to the double electric breast pump and bottles. We are learning as we go (which is a great way to describe this whole parenting thing, not just packing) and were able to easily pack everything we needed for our three week trip to snowy New York in carry on luggage. Tom and I shared one carry on backpack and used our other carry on bag for Bae. Our personal items were one bag full of all our computer gear and a diaper bag.
BTW, we recently got Global Entry and TSA pre-check and cannot recommend it enough! No long lines and we leave our computers in our bags and our shoes on our feet, it makes traveling with a baby so much easier! It only costs $100 for five years for Global Entry and TSA precheck, or $85 for just TSA precheck if you don't plan on traveling internationally.
Bae's Gear
Special Baby Gear does not count towards your allotted carry on or checked luggage by airlines. You can bring a car seat and stroller for free and either check it at the counter or gate check it. If you are traveling Southwest and the flight is not full you can bring your car seat on the airplane and use a seat for Baby, they are nice like that. Otherwise, you either check your baby gear at the counter, or if you are bringing a stroller and want to take it all the way to the gate you can gate check your baby gear.
This is not packed but worn, basically all the time. I have worn Bae from the beginning, knowing that it would help with travel. I started with the Lalabu Soothe Shirt
when he was a teeny tiny. We then graduated to the Boba Wrap
when I was ready for the body origami that is a baby wrap. I now use the Ergobaby Adapt
which I love because you never need an infant insert. I can't recommend carriers over strollers enough. Many places you travel it just won't be convenient for a stroller. They are big and bulky and don't do well with stairs or rough terrain. Trying to navigate one on crowded streets, up and down stairs or on a busy subway, ay yi yi! Do yourself a favor and teach your Babe to like the carrier. Mine didn't at first, but I stuck with it and wore him for a few minutes every day since birth and now he is happy as can be sitting in it for hours watching the world go by.
This is self-explanatory. If you are going somewhere where you won't have a car you can do without (we wouldn't bring one to Thailand obviously.) We were renting a car for a portion of this trip so we needed to bring it.
We packed his travel cot as a "stroller" since we don't use one (see above). The Sena Nuna mini folds with one hand, can be a playpen or a bed and weighs just 20 lbs – less than our chunky Bae! We put both the travel cot and the carseat in this great, large stroller bag we bought from Southwest for $15 and no one ever looks in it. Actually, since the bed is smaller and lighter than a stroller the airlines are always surprised by how small and light our "baby gear" bag is.
Bae's Carry On
I have always been a fan of hands-free bags, but carrying 20 lbs of Bae on my front makes it's hard to try and put a backpack on. I now use a hard shell roller bag that is easy to push through airports. It easily fits all of the following.
Clothes
His clothes are small and we do laundry once every 4-5 days so this is the smallest chunk of his bag. We brought one small packing cube full of clothes:
We use these to wrap him in, as nursing covers, or for random tummy time in airports. Two of the blankets are in his packing cube and one is always in our diaper bag.

Sleep
We have a high-needs sleeper (read, Bae doesn't love to sleep) and a loud sound machine is a must for us. We use this app on an old iPhone as his sound machine. This app allows you to create your own mixes and Bae sleeps best with the sounds of heavy rain and thunder together at max volume.
We used to use this Baby Monitor App on the same old iPhone we use as a sound machine. This is not a bad option if you want audio only, but there is no night vision on an iPhone so now we use the Nest Cam.
Eating
Baby A is 6 months old and exclusively breastfed, though we did just start introducing solids.
This breast pump is small and lightweight, I actually usually have it in the diaper bag. It comes with a bottle top and nipple in case I need to pump and give Bae a bottle. Visiting family can often mean babysitting!
These are for giving Bae solids or purees. They aren't necessary, but we had the space so I just brought them. I have talked to another Mama who brings the wand out to eat and pops things in for Baby to keep her amused at restaurants. Bae is not a big fan of food so far, so that does not work for us, but I am hoping that any day now he will decide that something other than breastmilk is worth consuming. I make delicious milk- what can I say?
Bathrooming/Toiletries
I brought one pack of diapers and one pack of wipes in the suitcase and a handful of each in the diaper bag. We use Honest Company, which we love because they are ethically made, environmentally friendly, and come in freaking adorable prints. You can buy them in store, or have them delivered where you are headed. We usually get a bundle delivered to our destination if it is a long trip and buy a pack in stores if it is a short trip. Full disclosure: If you sign up for Honest Company using that link we get a referral credit.
I know you can buy baby Tylenol anywhere but we figure if we need it, we will want it immediately! He has never had Tylenol, but he has to get sick for the first time some day, right?
Miscellaneous
This miscellaneous stuff will change out as he grows, but I imagine we will always need some kind of luxury items.
A babe in arms needs to be put down sometimes! My yoga towel makes a great tummy time mat since the sticky bumps on the bottom makes it bunch less than a normal blanket.
His doorway jumper is small and light enough to pack and he loves it at the momemt.
A few small toys to cycle through
All in all, it's actually a lot of stuff and we still had room in his carry on for some extras, like a handful of protein bars for me (breastfeeding makes you HUNGRY!) and a gift we brought to the East Coast for a family member.
Bae's Personal Item (Diaper Bag)
His diaper bag has the same stuff in it for a flight as it does all the time. This bag is much roomier than it looks and all of the following takes up very little space, leaving plenty of room for all of the random crap I might want to shove on top as we go.

A Blanket
A Spit Up Cloth
Diapers (6)
Wipes
Compostable Dog Poop Bags (for dirty diapers or clothes)
Diaper Rash Cream (he gets mean diaper rash and this stuff is magic for us)
Pacifier
Bulb Thingie (I actually don't know what this is for, but our birth class teacher said to always have one, so there it is. It's small)
2 Small Toys
A Change of Clothes
A Hat (warm or sun depending on the climate)
Manual Breast Pump and one Milk Storage Bag
Hand Sanitizer
My wallet
Sunglasses
Chapstick
Snacks (for me, Bae doesn't eat food yet)
Cinnamon Toothpicks
Bae's Shot Record (A print out from his Pediatrician to get on flights)
Our Carry On
We've been traveling carry on only for years and just squished things down even more, to be able to share a bag. We used to pack our bags for full-time travel covering undetermined amounts of time and undetermined weather conditions. Since Bae has been born we know exactly how long we will be somewhere and what weather zones we will be in, making it easy to make the transition from two bags to one. We no longer need snow jackets and bathing suits and sarongs in our bags. We have also removed any "luxury" items, like the full sized feather pillow we used to travel with and multiple pairs of shoes.
Clothes
Our clothes have pared down quite a bit since we are more limited on space. For our three week, snow trip to New York we each brought:
Boots
House Shoes (sandals for Tom and Tom's for me, though we really could have left these behind. We never used them. But If I were a runner I could have fit running shoes)
Two pairs of pants (one we are wearing and one in our bags)
4 shirts
5 pairs of underwear
4 pairs of socks
Hats
Gloves
Lounge gear (sweatpants for Tom, and my Boob Nursing Night Gown that I LOVE)
Light sweater (hoodie for me, thick button up for Tom)
Lightweight, Packable, Down Jackets.
Outer Jackets.
I like the city anorak from Everlane which is big enough that I can wear Bae inside of it, but also does not look too dumpy when I wear it sans Bae.
I also brought:
Two pairs yoga pants (that I layer under my pants to go outside)
Nursing Sports Bra
Two regular nursing bras
One yoga tank
Toiletries
We fit all of this in Tom's Tortuga Backpack.
Our Personal Item (Computer Bag)
When we go on flights Tom's REI flashpack 18, is shoved to the gills with our electronics. We work while we travel and need more electronics than the average person.
I also thought that Bae was going to mean the end of our life as carry on only travelers. It was nice to see that this was not the case. At the end of the day, unless you are going on a trek through the Amazon or backcountry camping you can buy anything you need where you are headed and it is always surprising how little you actually need.