Our Harry Potter World Plan to Avoid Crowds and Maximize Magic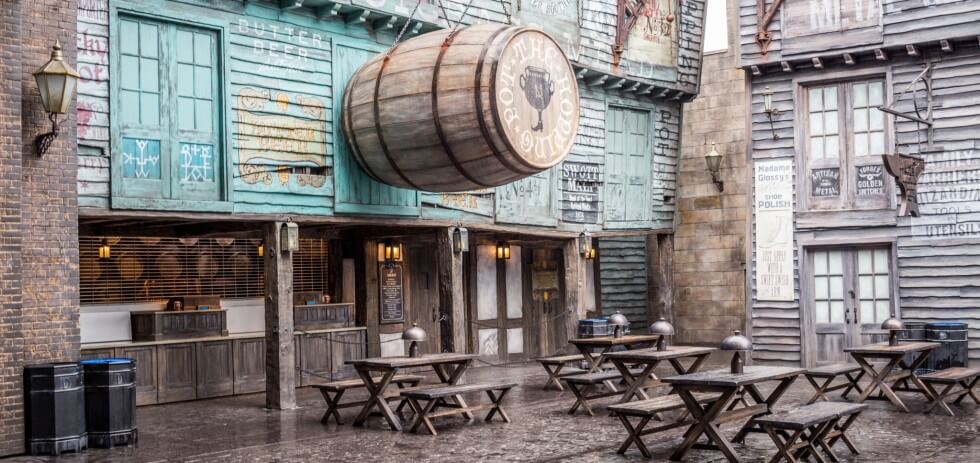 I didn't want too much from our visit to The Wizarding World of Harry Potter. I just wanted the magic of the books to come alive, and to experience it sans other people – that's not too much to ask, right?
As it turns out… it is not. Theme park planning is just like any other type of travel planning. It is possible to visit and have it not cost an arm and a leg and to avoid crowds with a plan. And, so I created our two-day Harry Potter World plan and was amazed at how little time we spent in line and how often we got to explore the parks with little to no other people. Here are our top tips for avoiding crowds and our basic two day Harry Potter World Plan.
1. Go during the least busy times of the year.
This is the most important piece of the puzzle. It does not matter how much you scheme, if you don't plan your visit according to the crowd calendar you will be shoulder to shoulder with muggles. This detailed crowd calendar for Universal Studios Florida also lists park open and close times and special events.
We had some gray days in mid-September when we went, but it just added to the feeling that we were in London. Though I am happy to say the gray cloud signified hot, muggy, sprinkles and not chilly rain and fog!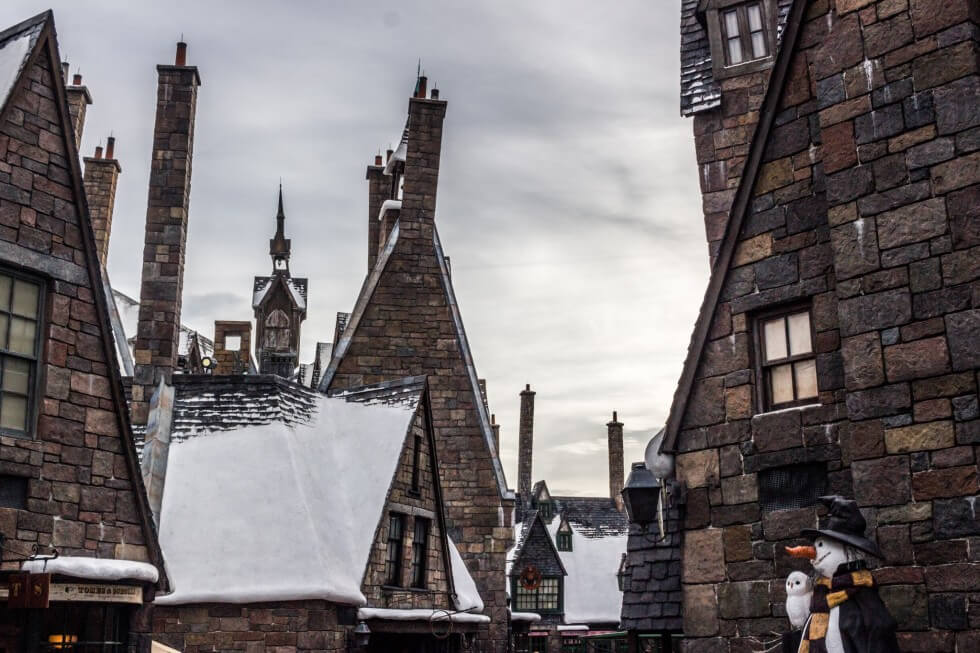 2. Visit the parks in the mornings and afternoons.
Plan on being in the parks the first couple of hours of the day and the last couple of hours. Check the link above for park opening and closing times. I figured everyone would think of this but both days we visited the park we saw the hordes coming when we were leaving and leaving when we were coming. There are two parks that make up Harry Potter World; Hogsmeade at Islands of Adventure, and Diagon Alley at Universal Studios Florida.
I wanted to have a morning at each and an evening at each. So we planned on spending one morning session at Islands of Adventure (Hogsmeade) and then heading to Universal Studios (Diagon Alley) for the afternoon, and then switching the order the following day. It is important to note here that you must have park-to-park tickets (allowing you to visit multiple parks in one day) to ride the Hogwarts Express steam train between Hogsmeade and King's Cross in London.
3. Get early park admission.
This goes with #2, that first hour of the day is key. Also, it is pretty fun being the absolute first people in line at the parks. There is some serious nerd cred to be had there. There are two ways to get early park admission; stay on site, or book a "package" that bundles the tickets and room at a partner hotel. We went with my sister, so this is how the two options broke down for us as three people.
Option 1
Book a package that includes 2-day park to park tickets and the cheapest hotel available. Get one day of early park admission.
$ 693.53 total ($231.18/PP)
Option 2
Book 1 night at a Universal Studios hotel (the least expensive is Cabana Bay), buy park-to-park tickets. Get two days of early park admission as you get early admission the day you check in and the day you check out.
$623 tickets total + $145 room total ($256/PP) (+24.82/PP)
We went with option 2 for a few reasons. Option 1 only includes one day's worth of early park admission, the shuttles did not leave the partner hotel to get to the parks an hour early, there was no lazy river at the partner hotels, and my sister (who is nicer than we are) planned on buying lots of gifts for people and she liked that you can have your packages delivered to your room when you stay on site.
4. Our complete itinerary.
*When we visited the opening times for both parks was 9am, so feel free to adjust times as needed for when the parks open during your visit.
Day 1.
6:45am Get to Cabana Bay Beach Resort, ask for pre-registration, leave our luggage with guest services, get room keys and tickets and arrive at Islands of Adventure turnstiles by 7:40am.
8:00am – 10:30am Enter the park and go straight to Forbidden Journey. Lock up our gear in the lockers, ride the ride with no line, and then take out our camera from the lockers and take the castle's "tour-only" line, to slowly explore the castle.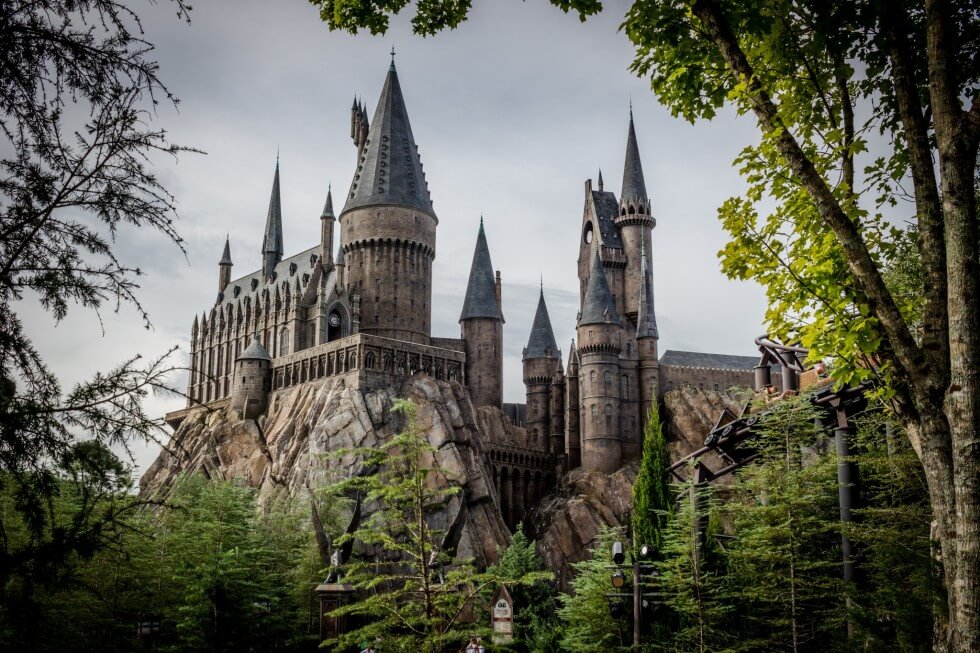 Go to Ollivander's to buy an interactive wand and see the wand choosing ceremony without waiting in line. I knew I wanted to get my wand at the beginning of our visit so that we could use it to cast spells all day long. (I will be writing more about the wand and whether or not it is worth it in another post.)
Eat breakfast at the Three Broomsticks and explore all of Hogsmeade. (Another post coming soon with a detailed itinerary of all there is to see and do).
Ride the train to Universal Studios (Diagon Alley), and check out the London waterfront. This area feels less crowded when there are more people as it is a larger space instead of narrow streets and little shops.
11:00 am Head back to the Cabana Bay to officially check into our room, move our luggage and spend some time maxin' and relaxin' in the lazy river.
4:30 pm Head out to Universal Studios Florida to visit Diagon Alley, more post coming soon about what to see and do. Ride the Escape from Gringotts ride during the last part of the day and make sure you are the last ones in the park to experience the utter magic that is Diagon Alley all to yourself.
Day 2.
Pack up and leave your luggage in guest services, or do as we did and request a late check-out to not have to leave your room until noon.
7:40am Get to Universal Studios for early park admission at 8:00am.
Ride escape from Gringotts again, poke around Carkitt Market, Diagon alley, Knockturn alley, Horizant alley – all the alleys! See some shows, cast some spells and take some names. Ride the Hogwarts express round trip. Since it is pretty empty, the conductors may let you just stay on if you ask nicely.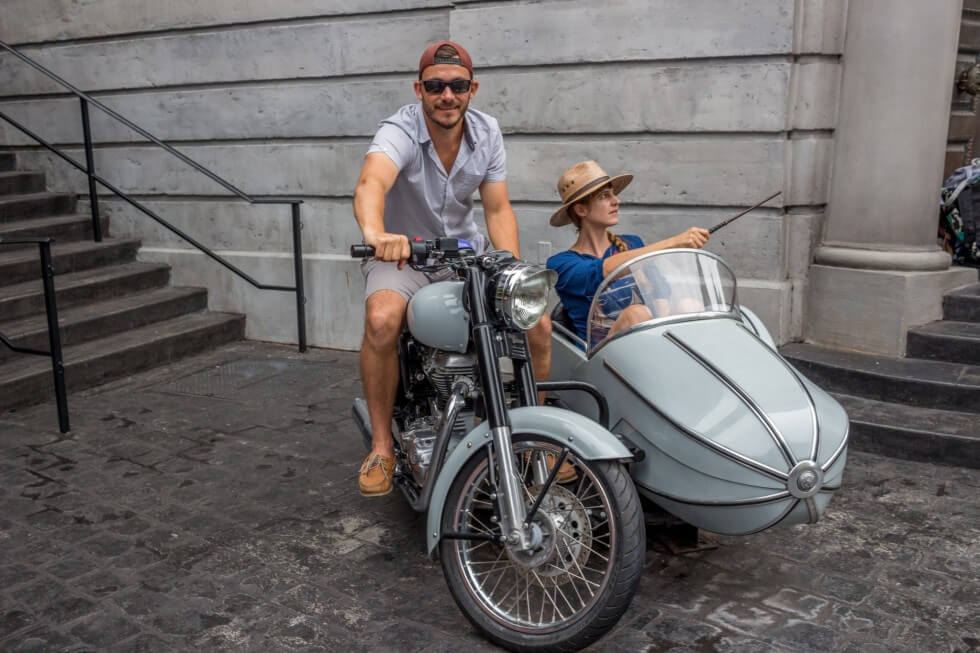 Eat an early lunch at the Leaky Cauldron and then head back to the hotel to pack up and leave your luggage at guest services before hitting the pool again. There are showers you can use in the gym if you already left your room and need to clean up after pool time.
3:30pm Go back to Islands of Adventure to explore the shops and shows of Hogsmeade. Ride the flight of the Hippogriff, have a drink at The Hog's Head and a dessert from Honeydukes.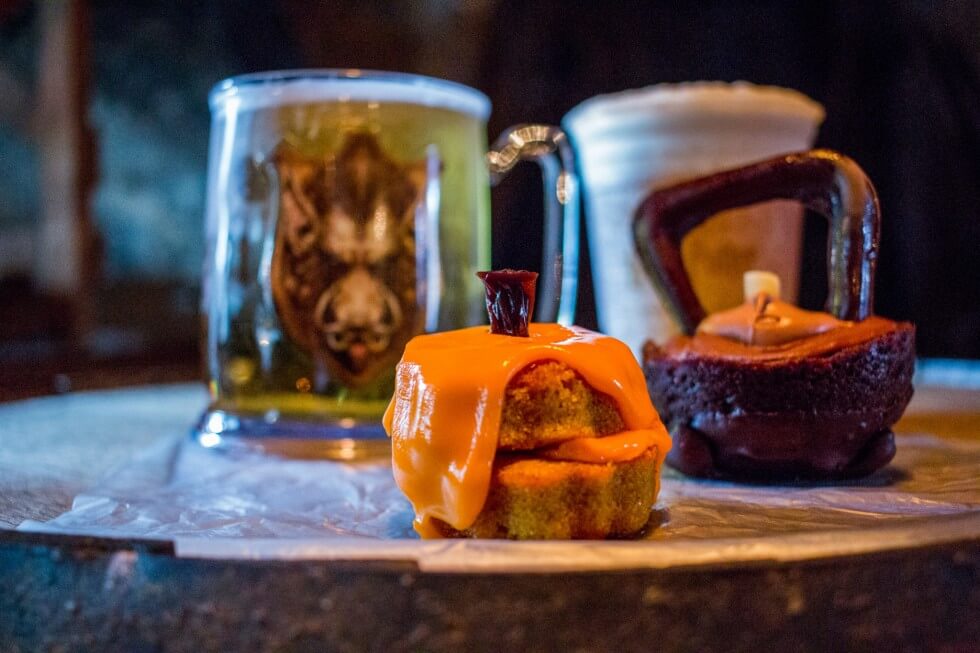 6:00pm Ride Forbidden Journey about 40 minutes before park closes and then ask for castle tour only line, which is empty. Also, if you are feeling cheeky, ask to see greenhouse as that is the only section of the line you miss in the "tour only" line. The highlight of our trip was exploring the castle all by ourselves our last night in the park. We got to take the time to look at everything, to hunt for details like the sword of Gryffindor in Dumbledore's office, who currently has the most house points, and to listen to the entire conversation between the portraits. Pure magic.