Soaring Over San Diego – Flight Lessons in My Hometown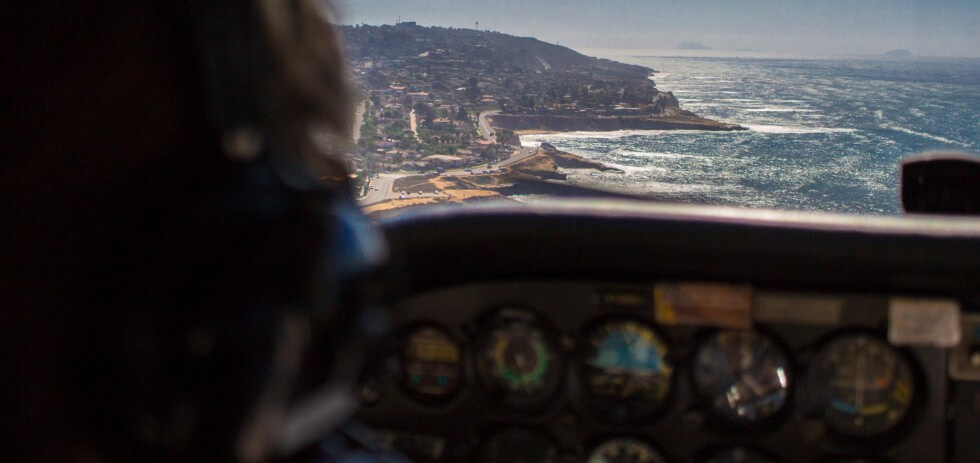 I have recently become ridiculously enamored with small aircraft, from helicopter sightseeing tours in Kauai, to more utilitarian, though no less spectacular, flights in tiny planes across Mexico, if it's small and it flies; I want to be in it!
I decided to take my love of small aircraft to new heights (#dadjoke) and signed up for an introductory flight lesson with Learn to Fly San Diego. Tom and I have both always been interested in learning to fly and he gallantly offered to take the back seat so I could be the pupil and take the co-pilot's chair, for this first lesson.
I am from San Diego, my family moved here when I was just a few months old, and I know it more completely than I will probably ever know another place. I had never left home for more than 6 weeks at a time until Tom and I sold off or packed up everything and left almost five years ago to travel indefinitely with just carry-on luggage. For the last four years, we have returned to San Diego every year for a house-sit and we have loved coming back for a couple of months every year to connect with old friends, play volleyball, surf, do tons of yoga, and all of our other summer (camp) activities.
Exploring the world over the last handful of years has made us both appreciate San Diego so much more than when we lived here. Truthfully, when we left at the beginning of 2011 I was more than happy to kick the dust from this town off my heels, vowing I would never want to live here again. Coming back for our yearly house-sit has made me love the city in a way I never thought I would. Like meeting your childhood sweetheart as an adult and maybe realizing that they are your soulmate. So this was not just any city I was going to be flying over, it was MY city.
The first half of the lesson was spent going over the plane, what the different parts of it are called and how to make sure everything was in tip-top condition, ready to safely fly. It felt very much like my first driving lessons with my Dad, where I spent much more time learning how to check the oil, change the tires, and peering into the engine than I did actually behind the wheel. In my excitement to get off the ground, I grasped about as much as I did those first lessons with my Dad, which is to say not a whole heckuva lot. But I do appreciate that style of teaching and to this day consider myself pretty handy when it comes to changing a flat.
After crawling over every inch of the tiny plane and learning the pre-flight checklist, it was time to settle in behind the controls and get off the ground!
Tom squeezed into the backseat and I took the driver's seat trying to comprehend all I was being told about the controls while battling some serious frissons of nervous excitement and anticipation. The pilot instructor let me know that when he was going to hand over control of the plane to me it would be a three-part vocal chain. He would start with "you have the controls" to which I was supposed to answer "I have the controls" to which he would respond again with "you have the controls" before turning the whole show over to me.
I took a turn a steering the plane down the runway using the foot brakes (harder than it sounds) and then sat back while he took us tearing down the runway and then launched us high into the air.
"Woah" I am sure I murmured into my mic when we reached our height and I saw all of San Diego spread out before me. La Jolla was to our right, Balboa park was to our left and we were headed straight towards the coast banking with Mt. Soledad to our left. I was instantly so, so glad that we chose San Diego as the place for my first flight lesson. There are no words to describe how it felt seeing my town spread out before me in a low flying plane. I instantly fell in love with my hometown all over again.
It felt like I understood the city in ways that I never had before, and that I understood what I was seeing in ways that no one else could. I wavered between not seeing the trees for the forest, and not seeing the forest for the trees. That is to say, every sight in San Diego has a story for me and it was overwhelming in the best way possible to see it all at once.
There! The big Mormon church that looks like a fairytale castle that I visited on a class field trip in 4th grade before it opened.
There! The big cross on Mt. Soledad where I told my first serious boyfriend that we were never, never, never getting back together.
There! The cliff that I leapt off of in High School, tearing every ligament in my ankle when I landed in shallow water.
There! Where I used to go see the sea lions as a child in La Jolla.
Everywhere I turned my head I saw another memory, and also how incredibly beautiful San Diego is.
We reached the ocean and started heading south down the gorgeous San Diego coastline. "OK," the pilot said breaking me out of my hypnotic daze of trying to recognize every inch of what I saw below, "just hug the coastline, keep the plane level, stay over the water and in between 500 and 800 feet. You have the controls." I knew what my line was supposed to be and answered automatically though I struggled to not let it come out like a question "I have the controls!??"
"You have the controls." I could tell he was trying to be assuring, confidently handing over control of the airplane to me. It was absolutely thrilling to feel the plane respond to my every movement, and I tried hard not to abuse my power by making more movements than necessary. In the excitement of the moment, I completely forgot which dial represented what but was too happy to fret, assuming the instructor would let me know if I dropped too low, or climbed too high, which he did, tapping on the altimeter so I would remember which one it was.
"San Diego is perfect!" I announced to him over the microphone as I steered over Ocean Beach, looking down on crystal pier, where I had first learned to walk, taking my first stumbling steps down the wooden pier chasing after seagulls, "it's so pretty!"
"Yeah, lots of people come to these lessons and decide they just want a sightseeing tour," he told me, and it wasn't hard to see why. "There is something not many people get to see," he said drawing my attention to the line of fighter jets when we rounded Point Loma and flew up San Diego bay past the Coronado Naval base.
I flew us towards the Coronado bridge and then handed the controls back over to the real pilot, glad to sit back and enjoy the view giving my sweaty palms a moment to relax from the death grip on the steering wheel.
We circled over the island where we stay each year for our housesit, with Tom excitedly yelling in the backseat that he found the umbrella in our adopted home's backyard and then we headed back across downtown for our landing.
Afterward, Tom and I shared a carne asada burrito and the big grins on both of our faces attested to what a perfect afternoon it had been. Whether you are a San Diego native or a visitor to this lovely city, there is really no better way to see it than from above!
Do you want to do it too?
I highly recommend Learn to Fly San Diego, and as mentioned previously you can have a flying lesson, or just sit back and enjoy the (spectacular) views. Learn to Fly is currently running a special of $199 for a two-hour lesson/flight. Each student can bring two people with them to sit in the backseat, but the combined weight of all guests cannot exceed 500 lbs.