Jean Lafitte National Park, New Orleans Self-Guided Swamp Tour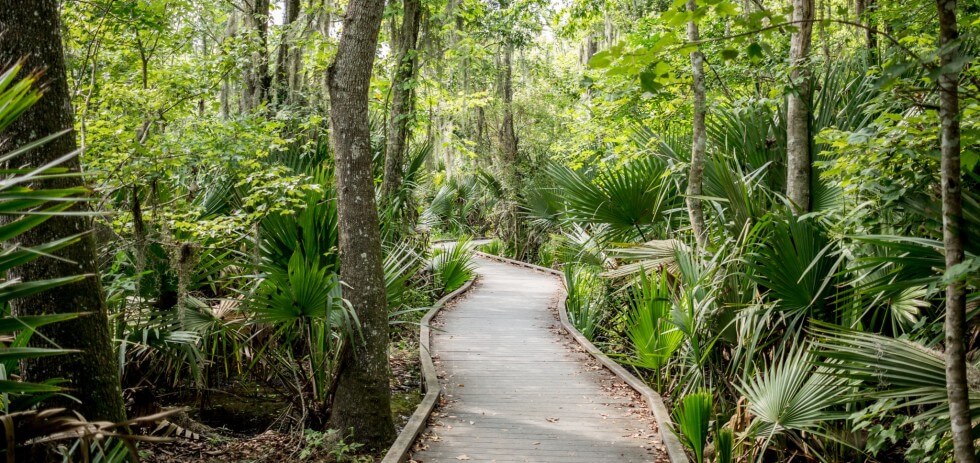 New Orleans is a city surrounded by swamps, basically making it an island. It's easy to see why the swamps are shrouded in just as much mystery and tales as they are in Spanish moss and cypress trees. They are shadowed, otherworldly and breathtakingly beautiful.
The swamps have been home to pirates and slaves fleeing towards freedom, as well as alligators, birds, and insects of every kind. It's easy to see why some people suspect that Bigfoot himself (herself?) has made a home there. The bayous surrounding New Orleans definitely add to the magic of the city and should not be missed!
We loved the New Orleans swamp tour we went on, but exploring the swamps of Jean Lafitte National Park on our own was just as wonderful! If you are just visiting New Orleans for a short while, exploring the swamps independently may be a better option than a tour for a few reasons.
Greater flexibility with time and accessibility.
The park is just 30 minutes from downtown New Orleans and you can make your visit as long or as short as you want. You don't have to research tour companies, or worry about making a booking, you can just head out there (as long as you have a set of wheels) whenever the spirit moves you. Many of the trails are are wheelchair accessible they range from 0.25 miles to 2 miles which can be combined for as short or as long as a walk you'd like.
Get up close and personal with nature
Though boating down a bayou on a swamp tour can be fun, it is really lovely to be able to get so close to all of the beautiful trees, cypress knees, flowers, and plants that make up the wetlands. On a tour, they may just be a green blur in the background, but walking around the preserve, you get to see all of their astounding details.
It was also really nice to be able to get close enough to the gorgeous wildlife of the swamps to make out the intricacies of a dragonfly's wing, or see how many species of grasshopper you can spot in a square foot.
These impressive little black grasshoppers with red trim are known as "devil's horses" or locally, in Cajun French, "chevals-diable."
The park is also full of larger wildlife, and you may inadvertently find yourself a lot closer to them than you would on a swamp tour too! Tom was taking a landscape shot when he looked down with his camera in hand and saw this alligator just inches away from his foot!
It's free!
Unlike a tour, the park is totally free and if you are really keen on a tour and the extra information you may get about the swamps there are a few options. The National Park Service runs a free daily walking tour called "the wetlands walk" at 10:00 a.m. Wednesday through Sunday where you can join a ranger for a guided walk through wild Louisiana swamp and marsh. Stop by the visitor center to find out which trail the day's walk will explore; it's free for the first 25 people to arrive and claim a ticket. There is also a self-guided cell phone tour of the swamp. Or, you can do as we did and just meander around enjoying the preserve.
Do you want to do it too?
Jean Lafitte National Park actually refers to six different sites scattered across south Louisiana including a battlefield and a visitor's center in the French Quarter. This post is about the Barataria Preserve, which is usually what people are referring to when they talk about Jean Lafitte Park.
The preserve can be found at 6588 Barataria Boulevard, Marrero. If you are using a GPS or google maps, double check it with the map on the preserve's website since not all systems find it correctly. It is a legit parking lot; with gates that close, a visitor's center, public bathrooms, boardwalks and everything.
The first time we visited the park we used Google maps and ended up at the start of a short muddy trail with a waterway at the start of it. It was raining and muddy and so we just stayed for a few minutes, but we saw an incredibly huge gator (probably the largest we've seen anywhere, ever) in the waterway at the start of the trail, making it more than worth the 30-minute drive out. FYI, gators tend to stick to one area so this gator will probably still be there if you want to go meet her or him!
Luckily, we had a second chance to visit the preserve when another round of guests came out to visit us in New Orleans. I did a little research before our second park attempt and found that just a few minutes down the road from where we stopped the first time was the actual park! As my sister said; sometimes it pays to be the second person to visit Tom and me in a place!