A New Orleans Swamp Tour Good Enough to do Twice!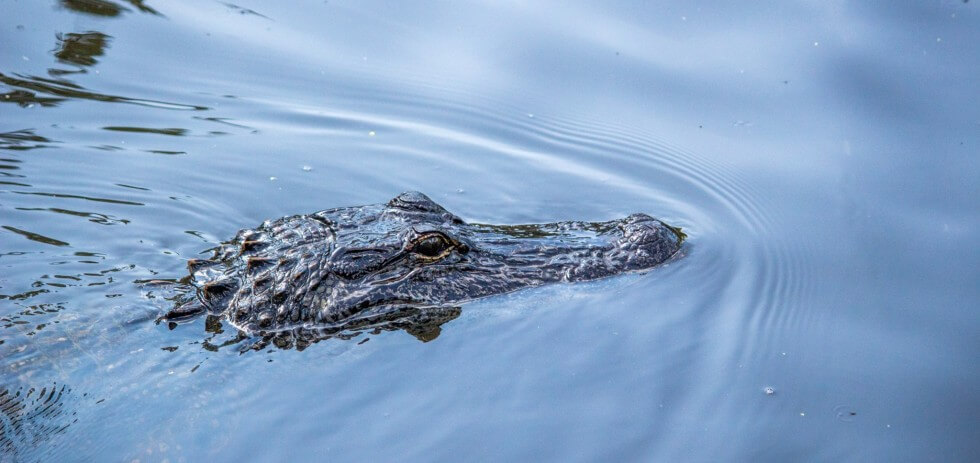 Going on a New Orleans Swamp Tour is definitely a must-do when visiting the Big Easy. We were especially keen to go since as much as we love exploring a new city, we are always looking for an excuse to be out in nature, wildlife-spotting, especially on a boat! I didn't know much about the swamp tours surrounding New Orleans, but my Sister, who was coming to visit us, had requested we go on a non-airboat tour. She had taken an airboat tour in the past, and though she said they are a fun thrill ride, you certainly don't get to get very close to too many animals, or see much of nature except as a green blur speeding past as you roar over the waters. She wanted a more exploratory experience of a beautiful Bayou, and we were only too happy to accommodate her.
On our way to New Orleans our flight was delayed and while waiting in the Austin airport we struck up a conversation with Mary Ann, another passenger on our delayed flight and a New Orlans native. Upon hearing that it was going to be our first time visiting she gave us a laundry list of recommendations – by far my favorite way to find out what to do in a new place.
* If anyone out there ever has any tips for us we always appreciate them! The less we have to research the better 🙂
I asked her for a swamp tour recommendation and she suggested Torres' Cajun Swamp Tours, saying that it was a family-run operation on the land they had lived on since the first Torres' came over to Louisiana from Spain in the 1800's.
I called the company, left a message and then started doing my own research into small craft swamp tours. Almost every tour I saw was over $50/person, so when Merlin Torres called me back and said that they typically work with tour operators, but charge individuals $20/person, I was sold!
I went ahead and made two reservations, besides my sister's visit we were going to be hosting another set of friends and they were also interested in going on a swamp tour. Though the price couldn't be beat, I was a little nervous because if it wasn't very good we were going to be stuck with two visits, but I hoped for the best.
The day of the tour, we were happy just to be zooming out of the city surrounded by shining green plants, bright blue skies and incredible white clouds. Our wildlife spotting felt like it was off to an auspicious start when we saw our first li'l gator right at the beginning of the drive. She started to cross the road and then turned tail and ran when she caught us staring.
We got out to the Torres family land and joined some German tourists on a medium-sized boat. I couldn't get over how gorgeous everything was! The beautiful cypress tree hung with Spanish moss like tinsel on a Christmas tree and everywhere we looked was another bird, dragonfly or alligator.
The tour operator (one of the Torres') was incredibly informative and knowledgable. He was obviously passionate about the land and seemed to know everything about it, patiently answering all of our questions. Tom and I are pretty nosy, and he answered our hundredth or so question about wildlife, or swamp life just as animatedly as he answered our first.
It was fascinating to not only see all of the beautiful wildlife and plants, but to learn how people carve out a life for themselves in such a lovely, but unpredictable place. Though we were tempted to try and live on the bayou ourselves when we saw residents speeding by on their daily commute, there were also plenty of submerged houses, like this one, to remind us that though beautiful, it can be a difficult place to live.
Our guide also pointed out things he spotted with his keen eyes that we may have missed, like bright pink clusters of eggs from some type of sea snail, or interesting plants or wildlife. The eggs are from a snail that was brought into the U.S. for aquariums and then got loose and are popping up all over the swamps. Even though I thought they looked really cool they are invasive and are damaging the ecosystem of the swamps.
At the end of the day I was thrilled that our flight had gotten delayed, that we learned about Torres Swamp tours and that we were going to come back and do it again!
Our second visit to the Torres family's land ended up being a private tour, with just my sister, Nick (Tom's bestie), Tom and me. Bonus!
Do you want to do it too?
We rented a car for the day, which is incredibly affordable in New Orleans, and drove the 30 or 40 minutes out of the city to the tour. This was extra nice because Torres' Swamp Tour is just about 20 minutes away from Oak Alley Plantation and after the tour we drove by to take a peek. I mean really, how can you be just down the street from Lestat's house and not want to have a look-see?
You can read more about their swamp tours on their website, or call Merlin at (985) 633 -7739. Tours are $20 per person.