Shinjuku Garden & Meiji Shrine in Tokyo, Japan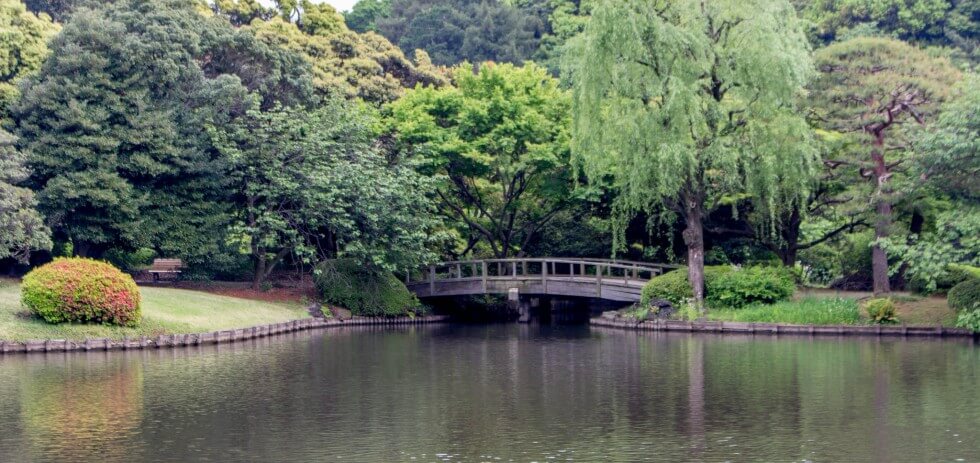 One of our favorite things to do in a big city is to just walk around and see what there is to see. We tend to spend more of our time in smaller, laid back beach towns so it's fun to be surrounded by so many people all doing so many different things. Tokyo, Japan is a great city to do just that. You never know when you are going to walk by masked girls at a Cinco de Mayo celebration or a traveling cattery.
We would have been happy spending our days there just criss-crossing the city people-watching and trying to figure out how to order food at all of the different ramen restaurants in the city. At Afuri Ramen in Harajuku for example, this was done by ordering and paying for the meal from a vending machine and then sitting down and handing our tickets to the waitress, who then returned with our steaming bowls of pure deliciousness. Since there were pictures above the buttons it was actually a much easier way to order for foreigners. Though I do enjoy those lovely moments with waitresses when we cringe apologetically and try to gesture towards food without being rude until they bring us something to eat.
Though we could have spent our whole time in Tokyo strolling through the densely built-up city there are many large forested areas, parks, and gardens that are easy to visit and free or cheap. It is pretty lovely to be able to enjoy the hustle and bustle of a large city and then immediately walk over and wander through a beautiful forest or garden.
Meiji Shrine
Meiji Shrine, located just beside Harajuku Station on the JR Yamanote Line, is a shrine dedicated to the spirits of Emperor Meiji and Empress Shoken. The shrine and adjacent Yoyogi Park make up a beautiful, sprawling area to visit that is right outside of Tokyo's famous cosplay and street fashion center. A massive torii gate stands at the entrance to the shrine grounds and once through you can wend your way through many different forest paths.
Near the entrance to the main complex of shrine buildings is a wall of (empty) sake barrels. The barrels are donated (full!) each year to the souls of Emperor Meiji and Empress Shoken from companies all over Japan. It's kind of a fancy way of pouring one out for your dead homies. Instead of spilling a little of your 40 oz on the ground you donate a whole barrel of sake, and decorate it to boot!
Meiji is one of the more popular shrines in Japan and it is quite common to see events, weddings and other ceremonies taking place there on the weekends. We did see a couple different events happening, but did not find out what any of them were. Unfortunately no weddings, but there was a display of what looked like bread mushrooms on top of birdhouses. I tried really hard to find out what these were but have not been able to. If anyone knows what they are, or why they were there, please let me know!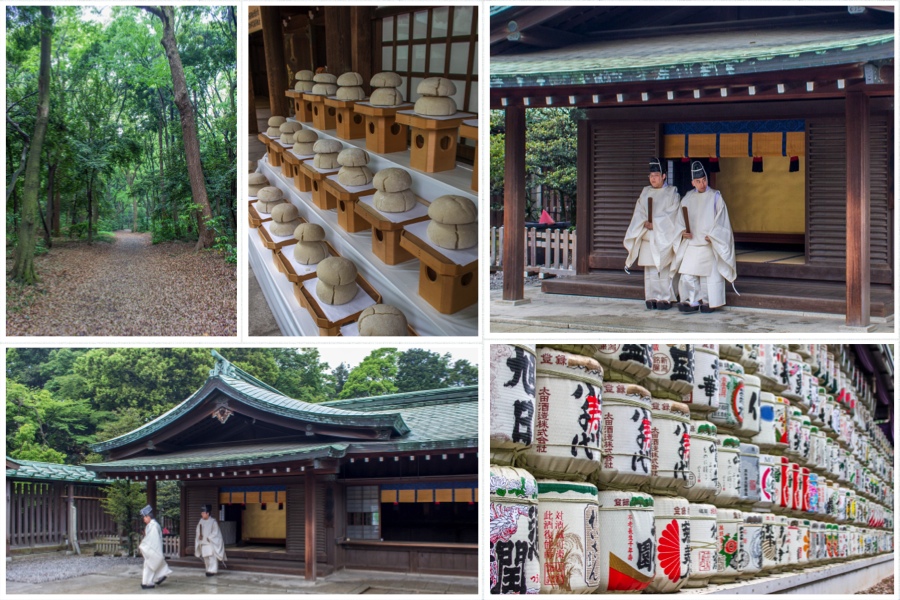 Meiji Shrine is open from sunrise to sunset every day of the year and is absolutely free. To visit take the JR Yamanote Line to the Harajuku station or the Chiyoda and Fukutoshin Subway Lines to the Meiji-jingu-mae station.
Shinjuku Gyoen Garden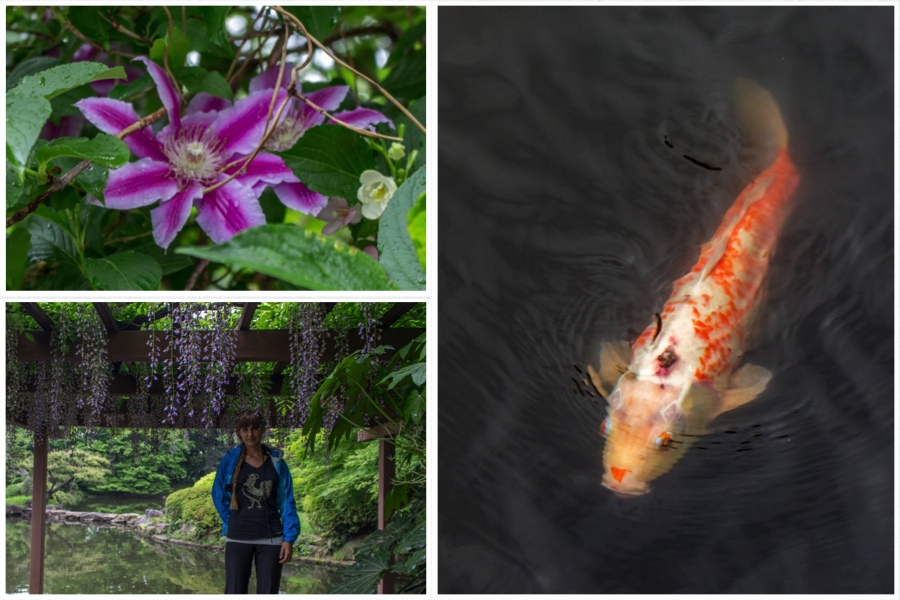 The Shinjuku Gyoen Garden was once the private grounds and residence of a very fancy family and is now a public park and garden space. The garden is apparently one of the best places to see cherry blossoms in the spring or foliage in the autumn. We came at an "in-between" kind of a time after the blossoms were over but before the splendor of summer. Even coming at an awkward "not quite anything" time of the year the gardens and park were stunning!
Japanese gardens tend to just be so darn cute and perfect that I can't stand it. Everything appears to just be naturally perfect but we knew how much thought went into every bush, tree and flower. I think Japanese gardeners have mastered the landscaping version of the make-up artist that makes someone look flawless, but like they aren't wearing any make-up at all, you know what I mean?
The garden is huge so you can approach it from many different directions. You could also arrive at one gate, and then leave by another to not have to double back. Shinjuku Gate is a ten minute walk east from the "New South Exit" of JR Shinjuku Station or a five minute walk from Shinjukugyoenmae Station on the Marunouchi Subway Line. Okido Gate is also a five minute walk from Shinjukugyoenmae Station on the Marunouchi Subway Line. Finally, Sendagaya Gate is a five minute walk from JR Sendagaya Station on the local Chuo/Sobu Line. The gardens are open from 9:00am to 4:30pm and cost 200 yen ($1.85 usd).