A Rainy Day in The Bay of Islands with Haka Tours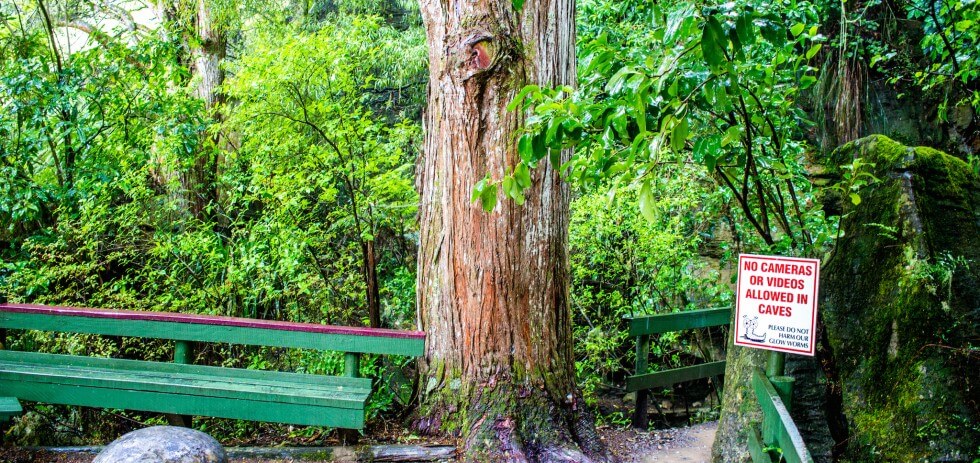 The area around Paihia, New Zealand is known as 'The Bay of Islands' or the 'Winterless North.'The large turquoise bay full of nearly 150 small, uninhabited islands is world renowned for ocean wildlife spotting, sailing, and long stretches of golden sand beaches.
When we visited Paihia and the Bay of Islands with Haka Tours on their 3 Day Bay of Islands Winterless North Tour we got a little more winter than we expected. It poured down chilly rain almost the entire time we were there. Though the beach is still beautiful on a cloudy day, all the usual 'Bay of Islands' activities aren't quite as fun.
Luckily, we were there with Andy, our local knowledgeable guide who drummed up more than enough fun, rainy day, Bay of Islands things to do.
So if you find yourself in the Winterless North on a wintry day, or visiting the Bay of Islands on a non-Beach worthy day; here is a non-beachy, non-ocean Bay of Islands itinerary!
Visit Kawiti Glow Worm Caves. The Kawiti Caves are owned and operated by the Kawiti family. The caves are filled with galaxies of glowworms; indoor, daytime, star gazing at it's best! A 30-minute guided tour costs $20 NZD and takes you along a wooden boardwalk through a 200-metre limestone cave system. Once inside, you will see thousands of glow worms spread across the ceiling surrounded by breathtaking stalactites and stalagmites.
No photos are allowed inside the caves as many people just can't figure out how to turn off the flash on their cameras. Here are some glow worm pictures we took in a different cave we visited independently.
After the caves we made lunch and enjoyed the views from Haka Lodge Paihia. But there are also some great looking options in town; including a Thai restaurant, a Seafood restaurant and a Latin American fusion cafe we had our eye on.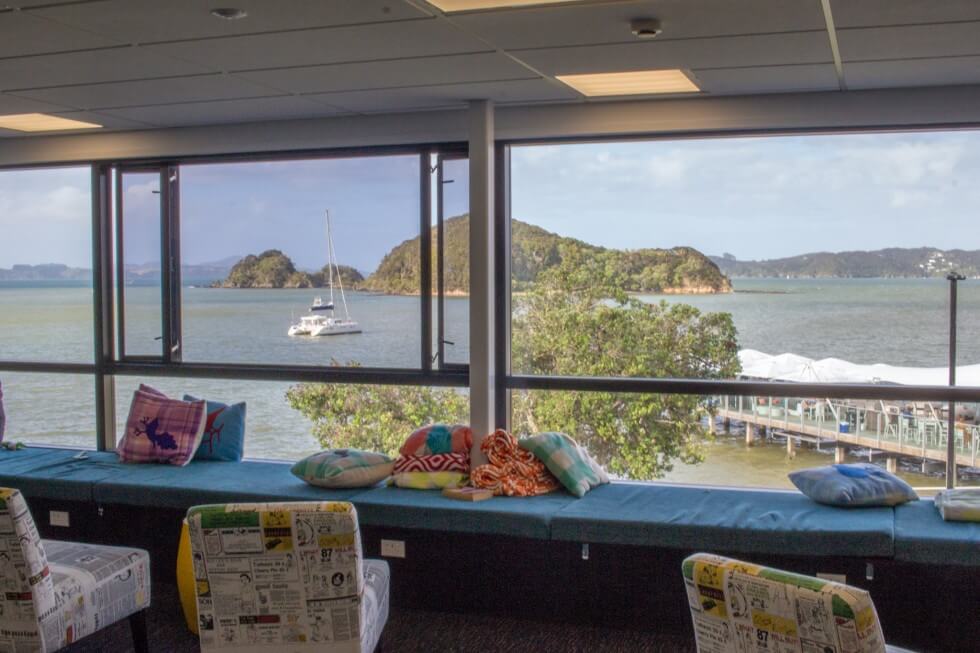 Visit the Waitangi Treaty Grounds and watch the cultural performance in the beautifully carved meeting house.
The Waitangi Treaty Grounds is where the British Crown and Māori Chiefs signed the Treaty of Waitangi and is an incredibly important site in New Zealand's history. Though you may not want to slosh through the grounds too much on a rainy day, it is a perfect time to sit in the (dry) meeting house to see the cultural performance put on by a troupe of Maori performers.
Tom stood in as the chief of our clan and so got the honor of accepting the nose rub welcome from the Maori chief.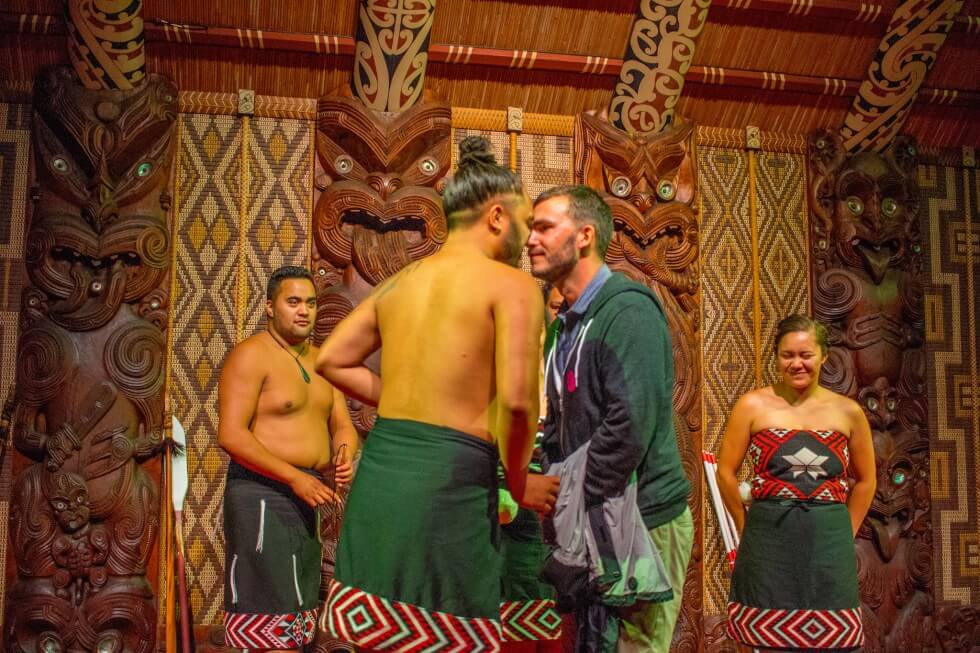 A $40 NZD entrance fee includes admission to the Waitangi Treaty Grounds, entry to the Museum of Waitangi, a short film about the history of the treaty, a guided tour of the grounds and the 30-minute cultural performance.
The Hundertwasser public toilets are yes, public bathrooms, BUT they are really interesting ones! Probably the only toilets in the world that are recognized as an international work of art.
The toilet facility was designed by Austrian artist Friedensreich Hundertwasser using recycled materials from the community. The toilet blocks are all wavy lines, irregular ceramic tiles, integrated small sculptures, coloured glass and even a live tree! Hundertwasser replanted the tree and any other plants that were removed to build the restrooms on top of the "green roof" of the toilets. Needless to say, a very neat place to stop for a wee.
Still want more? About 30 minutes inland are the Ngawha Hot Springs, and what could be better than soaking in natural hot springs with chilly rain coming down?
The springs have a multitude of different pools, ranging in temperature and all claiming to have different therapeutic properties. There is the 'Doctor' that was so hot none of us would do more than dip a toe, though Andy actually fully immersed himself for at least 5 seconds, claiming that his skin tingled for the next hour and other pools that claimed to help with swelling, or dry skin.
It only cost $4 to get into the Mad Max looking landscape of natural pools. Facilities are very basic and it definitely has an 'under-developed' feel. All the different pools are quite interesting and I kind of enjoyed the adventurous natural feeling of the pools. A word of warning, as the Kiwis say it is "stinky AS!" Natural hot springs = serious sulphur smell, so be prepared!
The Bay of Islands is a wonderful part of New Zealand to visit, rain or shine! We hope to make it back some day for some sailing and snorkeling adventures, but we loved seeing a different side of the far North of New Zealand too.
We visited the bay of islands as guests of Haka Tours. As always, all thoughts and opinions are our own no matter who picks up the tab.