The Marble Mountains Vietnam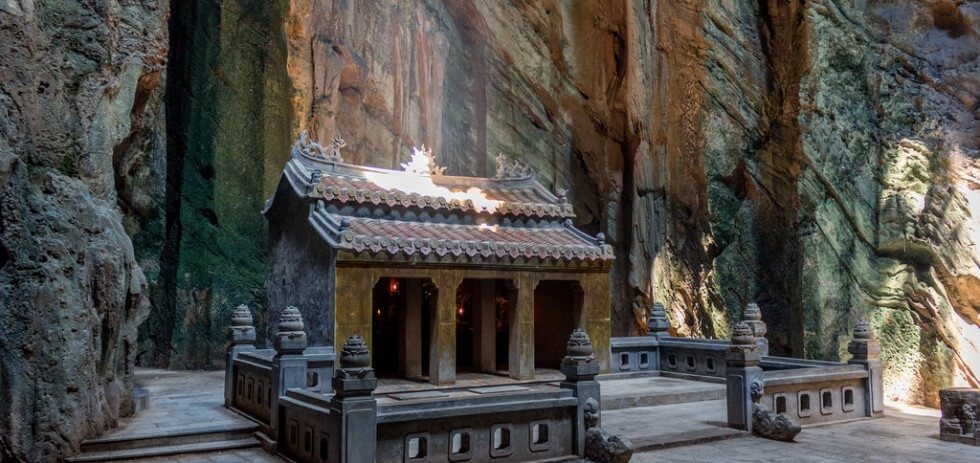 The Marble Mountains Vietnam, just 15 km north of Hoi An are a magical-looking place with gateways leading into the sides of mountains, and little houses and shrines ensconced in cool grottos. The road leading there from Hoi An is wide and paved, which makes it an incredibly easy motorbike ride away.
We knew it was going to be an other-worldly and somewhat odd place when we first entered, passing the animal head sentries and hands reaching out of pools of water.
The Marble Mountains are made up of five towering limestone peaks, each one named after one of the elements. The largest, Thuy Son (Water Mountain), has the highest concentration of pagodas and natural caves and each grotto is full of sculptures and beautiful carvings.
Thuy Son is very large and you need at least a couple of hours to explore it. We were there for 3 hours, and sped through a lot of it. We should have packed a lunch to be able to stay and enjoy it at a more leisurely pace. The interior of the mountain is full of marble that has been extracted and made into statues (mostly of Buddhas), as well as carvings done right in to the walls.
In the depths of Thuy Son mountain you find Dong Am Phu – Hell Cave. It's filled with nightmarish representations of people getting sawed in half by demons, eaten by rats or swallowed by snakes or other monsters.
Practicalities
There is a 15,000 vnd charge to enter Hell Cave, and a 15,000 vnd charge for the rest of Thuy Son. The rest of the area is free and open to the public. There are a lot of stairs to get to the top of the mountain, and a lot of walking once you are up there, so make sure your shoes are comfortable! There is a lot to see and it can get rather confusing when walking from cave to pagoda to cave again so this map is quite helpful when exploring.