Broadway Ticket Lottery, Seeing Shows on the Cheap in New York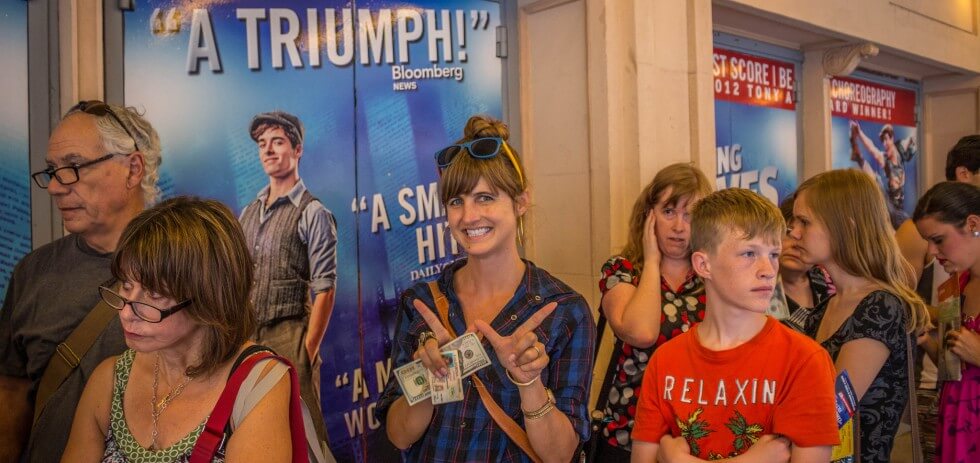 Seeing shows on Broadway in New York is one of my favorite parts about our yearly East Coast visits, but it is extremely spendy. I do love it so much I have to ask, can you put a price tag on love? Well, you can, and it's a lot. At $75 – $200 per ticket, the three-hour experience could equal an entire week's spending in most of our travels or would take us on a one-way cross country flight.
That is why the Broadway lottery is such a fantastic deal! Almost every show runs a lottery 2 hours before the performance begins. Each lottery chooses twenty or so lucky people to win the right to purchase up to 2 discounted tickets to the show, usually for $25-$40 each. This website has a great explanation of the rules of Broadway lottery tickets and rush tickets.
So many shows offer these lotteries that if you have the time and flexibility there is a pretty good chance you can see one if not two or three shows at a deep discount! These two websites have up to date information about which shows offer lotteries, and at what times the Broadway lotteries take place.
When we were there I chose a couple of different shows I would be interested in seeing and then made a schedule for the whole week we'd be there. I figured that any day we found ourselves near the theater district or had some extra time during the lottery times we could go down and enter to win. Our schedule looked like this:
Monday
4:30 Newsies
Tuesday
4:30 Mormon or Aladdin
5:30 Newsies
Wednesday
10:30 Newsies
11:30 Mormon or Aladdin
4:30 Book of Mormon
5:30 Aladdin
Thursday
4:30 Book of Mormon
5:30 Aladdin
Sunday
11:30 Newsies
12:30pm Mormon
4:30pm Hedwig
You can enter for the full half hour from when it starts until right before names are called two hours before the show. You might as well show up just two hours before, otherwise you'll just be waiting while everyone else enters. We went on Tuesday and lost the Book of Mormon lottery, but then won the Newsies lottery!
There is plenty to do in the area between the lotteries if you just need to kill a half hour. We walked a few blocks to visit Mood Fabrics at 225 West 37th Street and see the place where one of my favorite shows "Project Runway" is filmed.
We also had two hours between winning our tickets and the show, so went to dinner and drinks at Eataly, a high-end indoor Italian food market that comprises of a variety of restaurants, and stalls selling gourmet meats, cheeses, pastas, breads, produce and desserts, all artfully arranged and presented for maximum mouthwatering appeal. Many of the products sold there originate from the source in Italy and some are made fresh daily in-house. Each of the seven sit-down restaurants in Eataly are installed next to the specialty market that supplies its fresh ingredients. Nothing says la dolce vita like a bottle of wine and a board covered in meats, cheeses, and olives!
Even if you don't end up with tickets entering the lotteries is a great way to experience the overwhelming-ness that is New York Times Square at night.