Fujiya 1935, 3 Michelin Stars in Osaka, Japan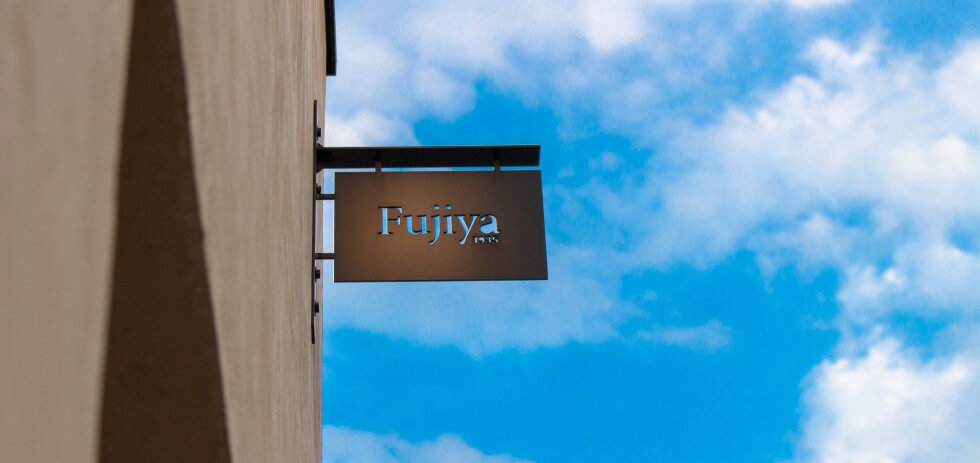 A popular Japanese belief is that people from Kyoto will spend all their money on clothes, people from Kobe on shoes, and people from Osaka will spend everything they've got on food. The Osakans are obviously our kind of people.
As we tend to carry everything we own at one time we aren't big on spending money on shoes, clothes, or anything else unportable. But boy we sure do love carrying around the memories of beautiful meals, sometimes in our minds, and usually a bit around the middle as well. It's a small price to pay.
That said, we enjoy slurping down $0.50 bowls of steaming, spicy, street-food soup just as much as we enjoy the most delicately balanced and beautifully presented upscale fare. Throughout our culinary adventures we had not yet been to a michelin star restaurant and Tom decided to remedy that gross oversight on my birthday this year.
Turns out he picked not just A star, but a three-starred establishment for our first experience. According to the michelin guide 3 stars is "A restaurant worth a special journey, indicating exceptional cuisine where diners eat extremely well, often superbly. Distinctive dishes are precisely executed, using superlative ingredients".
Fujiya 1935 is owned by chef Tetsuya Fujiwara a 4th generation restaurant-owner. The 1935 in the restaurant's name references the year that his Great-Great-Grandfather opened his restaurant in Osaka. If you are into awards and that sort of thing; Fujiya 1935 was only one of 104 restaurants in the world that held three Michelin stars in 2013, and is one of Diner's club top 50 restaurants in the world.
With accolades like that it would be hard to not have expectations flavor the meal before you even sit down. Luckily (for me) Tom kept where we were going for my birthday dinner a surprise so I didn't do any research beforehand. I knew it was going to be an incredibly special night soon after walking in the door.
We were seated in a waiting area and given our handwritten menus listing the 14 courses that we were going to be having that evening. We were also given water in cold, smooth, white cups that felt as though they were made out of eggshell. It turns out that every plate, bowl, cup and knife we were served with that evening felt incredibly good to the touch.
So back to the 14(!) courses. I know that sounds gluttonous, but I doubt that a meal that leaves you feeling painfully full would earn a restaurant as much hype as this one has. It was 14 tiny little courses of amazing (think anywhere from one to five bites per course) spread out over a wonderful 3.5 hours.
First 3 Courses
Red radish and wasabi
Edible wild plants "koshiabura"
Cheese ball
Any trepidation I had felt when I saw 14 courses listed on the menu was dispelled when I saw that the first course (called red radish and wasabi) was literally one red radish for each of us with a bit of delicious wasabi dip to put on it. It was a really fun, bright and crunchy way to begin the meal. It was also incredibly refreshing as we had rushed a bit to get to the restaurant for our 6 pm reservation time and were a little warm. Turns out crunching on a cold, juicy radish is a great remedy for that!
This was followed by a delicious, little, wild green plant and cheese balls served in a little basket. Adorable is definitely a theme of the evening. I had been picturing a melon-ball sized hunk of cheese when I saw "cheese ball", but it was actually a little hollow sphere of crispy, baked cheese. It is like when you buy bread that has cheese in it and sometimes there is a little bit on the side that melted out during baking that you can snap off and crunch on. You know, the best part? Well it was a little hollow sphere made of that.
Fourth and Fifth Courses
Bread of green peas, a lot of bubbles
White asparagus
So I was pretty curious when I read bread of green peas, a lot of bubbles on the menu, but lets talk about our one spear of asparagus course first. It was the most perfectly grilled and seasoned spear of asparagus I have ever had. Crispy and delicious on the outside and warm and tender on the inside without a hint of mushiness. The attention to detail that went into this meal is remarkable!
The bread of peas turned out to be an airy-cavity filled, wonderfully green "bread" with a pea-infused cream in the middle. Just lovely.
A Bread Intermission of Sorts
The bread and butter were presented in beautiful fine-grained wooden boxes. The two small loaves sat on a hot stone to keep them warm and the butter was infused with different herbs. The bread plates and knives were made out of the same wood.
Sixth thru Ninth Courses
Clam, greenpeas flan
Guinea fowl hazelnut sauce
Trout, new onion chinese lantern plants
Spring wild vegetables and herbs, tilefish
Needless to say, at the end of these four courses Tom and I felt pretty inspired to step up our game when having people over for dinner. We use entirely too few small edible flowers in our cooking, and I don't know if I have ever artfully painted swirls of sauce onto a plate.
Fabulous Tenth Course
Capellini, firefly squid and asparagus
I have not enjoyed squid when i've tried it in the past, but I felt like anything the chef prepared was going to be perfect, and it was! The slices of asparagus also went really well with the springy thin home-made pasta and the juicy, firefly shrimp. For me this dish was all about the textures!
The Desserts
Citrus hassaku, hassak
Spring flower, mascarpone, chamomile
Strawberry and cacaocaramel
Honeycake (I am not referring to Tom here, that is actually something we were served)
The last course came out (adorably) with a birthday message, a tea light and a smattering of beautiful pink flowers. I could hardly believe it when we left the restaurant and saw that it was 9:30. We had been there for three and a half hours! It was such a beautiful experience I would highly, highly, recommend it.
Practicalities
Our reservation was for 6pm, and I think early is the way to go. It felt as though no matter what time you arrived, your meal finished at the same time. There was another couple that came into the room about halfway through our meal and they finished when we did. It you want to really stretch out and savor the experience (and not get too full), get there early.
The set lunch price is ¥7,500 (with a 6% added service charge), and dinner is ¥15,000 (with a 8% added service charge). A note about the service – our server was incredibly warm and friendly. She really helped to make the whole experience even more special for us.
For up to date prices and reservation information visit the Fujiya 1935 website.