Flamingos Flying over the Laguna Rosada Yucatan Mexico in Photos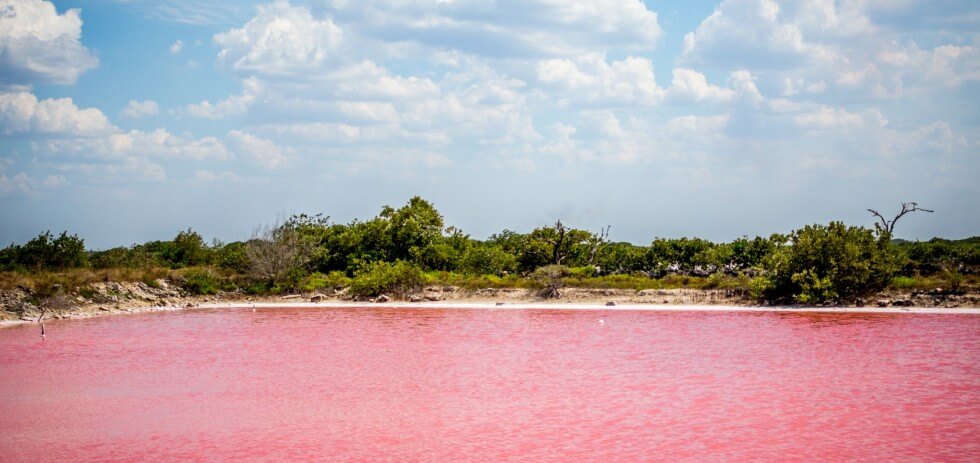 We housesit a lot, and one of the things we love so much about it is that it encourages to visit hidden little pockets of the world that would not have been on our radar otherwise. This was especially true of our housesit in the small Mexican fishing village of Telchac Puerto.
It was a lucky twist of fate that brought us to this housesit in the Yucatan Peninsula, just when we were planning on visiting anyway. When we arrived and were welcomed by our lovely hosts, two adorable cats and the Caribbean ocean in the background we could not believe just how lucky that twist of fate was!
The first thing we noticed when making the one hour drive from Merida to Telchac Puerto was the stunning pink lagoon, or laguna rosada Yucatan that ran along the side of the road right before arriving in the village. Though we had done some research of Telchac when we accepted the sit, we had not heard anything about this incredible lagoon!
The lagoon is full of algae high in carotenoids. This is the same algae that turns animals who eat it, such as shrimp and flamingos a beautiful pink color. In fact the lagoons are also home to a large flock of wild flamingos!
As the water in the man-made pools begins to evaporate, the concentration of the algae becomes greater, making the pools of water darker and darker pink. At the edges of the pools you can see the beautiful salt crystals that are left when all of the water has evaporated. Salt that is super high in carotenoids, or as we know it beta-carotene!
We loved passing by the lagoons and wild flamingos every time we left our housesit to drive into the larger towns of Progresso or Merida to do our shopping or run other errands. This is definitely the only place in the world that included wild flamingo spotting over a magical pink lake as part of the usual commute!
Do you want to do it too?
The Laguna Rosada is located right off of the highway (YUC 27) connecting Progresso and Telchac Puerto. It is a 40 minute drive from Progresso, and a little over an hour from Merida. We found that the best area of the lagoon to see the brightest pink waters was alongside the road leading up to the ruins of Xcambo, a road that runs directly through the laguna rosada. The flamingos move from day to day so the best spot to spot them is always changing, but they are hard to miss!