Merida Cenote Diving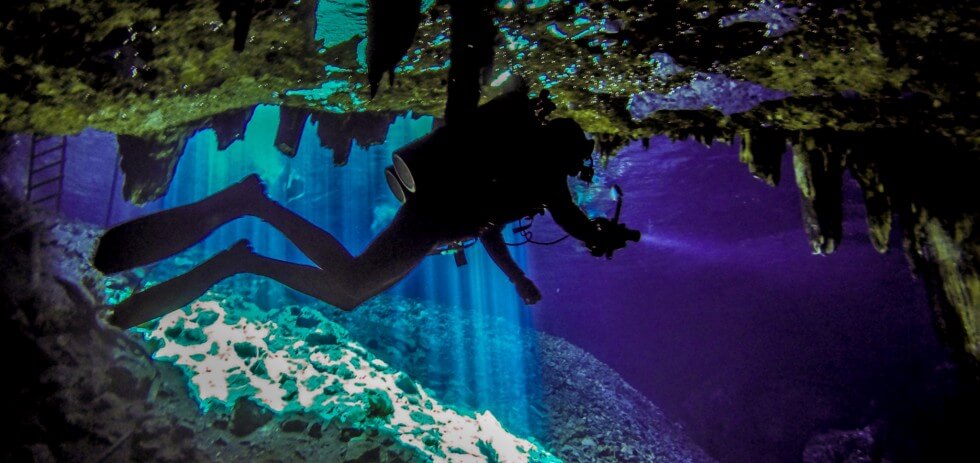 Everybody who heard we were headed towards the Yucatán Peninsula of Mexico mentioned cenotes to us in one way or another. Either they would exuberantly assure us that we were going to LOVE the cenotes, or mentioned in a more off-hand way, "well you'll be visiting all the cenotes you can, of course." One person even told us online that we HAD to scuba dive a cenote, as it had been one of her most memorable dives and is a "must" while visiting.
But, honestly we really didn't even know what cenotes were. I had a foggy notion of seeing some lovely crystal clear waters on Pinterest with the term "cenote" under them, but beyond that was pretty clueless. More than just an often-recommended attraction, cenotes seemed to be synonymous with the Yucatan. We love being told what to do in a new place (it's just that much less research we have to do ourselves), and have learned that if enough people mention something it is probably worth doing. And so we signed up to scuba dive a cenote with Freedom Divers Mexico in Merida without any more research than the comments and e-mails we'd received.
We met Jeff at his shop in Merida excited to see what all the cenote-fuss was about, but having really no idea what we were getting in to. Jeff is originally from the United States and now lives in Merida and runs his own dive shop. Merida is about an hour from the coast, and I thought it was a funny place to have such a well-outfitted shop. We soon found out that there are an estimated 7,000 cenotes peppered across the Yucatán Peninsula, more than enough places to keep any scuba dive shop busy.
Jeff is the type of guy who is so enthusiastic about what he does, in this case scuba diving cenotes, that there is no way you won't be as equally stoked after talking with him about it for a few moments. Who wouldn't be pumped up by someone joyfully expounding on the Indiana Jones – style of exploration and adventure that he feels diving cenotes and seeing things that people may have never seen before!?
He loaded up his red pick-up with a set of new looking scuba gear for each of us and off we went, trundling out of the city and down the dirt roads into the countryside.
"So have you guys ever scuba dove a cenote before?" Jeff asked us casually in the truck. "Nope" we informed him cheerfully "we've never even seen one!"
"But, you know what a cenote is, right?"
"Nope!" we remained cheerful, but I could tell he was surprised. I imagine the majority of his guests arrive a little more well-informed than we did.
Jeff then proceeded to explain that while many people did come nervous or frightened for what may be their first cavern dive there was nothing to worry about and how he was going to go about making sure that we were safe that day.
Uh. Cavern diving? I started trying to frantically decide if this was a case where not researching something beforehand had helped or hurt. Is it better to arrive informed but frightened out of your mind, or completely ignorant?
We let him know that; No, I (Jenny) had never been on a cavern dive before. Or a wreck dive. That other than a few short moments spent going through a small space in the Andaman sea in Thailand I had never done any "enclosed environment" diving before. I think Jeff saw the anxiety beginning to build in his backseat because he went on to thoroughly explain what we were going to be doing that day, and how it was going to be amazing and completely safe. Jeff is certified to lead cave-diving expeditions and takes these responsibilities seriously. He was going to be diving that day with not only an incredible amount of safety and rescue gear, but also with hundreds of hours of cenote-diving experience under his (weight) belt.
He explained that in cavern diving, unlike in cave diving, you always had to have a direct line of sight with the light. That you would always be able to turn your head and see sunlight, indicating where your exit was. That though we would be spending most of the dive with a "ceiling" above us of beautiful stalactites, that it would be tight in some places, and very dark, that he was an incredibly experienced scuba guide and that if we felt nervous at any point how to let him know and he would take us to surface immediately.
It seemed like Jeff had our favorite combination of qualities in a guide; knowledgeable, enthusiastic and safety-oriented. It's a sexy motto; I know. I started to relax some and as he went on to explain what a cenote actually was, and why diving them was so magical, I started to get some of the excitement back that I had bounded into his shop with that morning.
So, what is cenote? A cenote is a natural pit, or sinkhole that is the result of a collapse of limestone bedrock that exposed groundwater underneath. They were the only source of water in the jungle for the Mayan civilization and as such are considered sacred by the Mayan people and were sometimes used for sacrificial offerings. The Mayan considered cenotes to be an entrance to their "underworld" or "Xibalba" where their gods live and their spirits reside after death. It's not hard to see why.
They are, without a doubt, the clearest, freshest most magical-seeming swimming holes you will ever see. They are hidden away in the jungles of the Yucatan Peninsula, usually with small entrances at the surface that you walk down to discover the amazing pool below. And then if you are lucky enough to dive one, you realize that most of the cenote's beauty is hidden away. Below the crystal clear waters are underwater cave systems full of rock formations that have taken thousands of years to form. In some cases divers have also found ancient fossilized remains of camels, giant jaguars, mammoths, sloths, and horses. Indiana Jones for sure!
By the time we arrived at our destination I had gone from ignorant bubbly excitement to terror, and back to a more well-informed and cautious enthusiasm over the course of our drive out to the cenote Kankirixche. The cenote itself was as stunning as we had been led to believe and before getting ready for the dive we went down the staircase to explore and ask Jeff more questions about cenotes in general.
Then it was time to suit up and head down. Though it was a hot day Jeff warned us that the cenotes could get cold, and so I decided to not risk it and double up with two wetsuits for the dive. I have the unique ability to get cold in almost any situation or climate. It's my super-weakness. Jeff shares that weakness and dives with two suits himself and had brought extras. I am glad I did and would recommend two wetsuits to anyone prone to chilliness in the water.
Once we had checked all of our gear and Jeff double-checked it, we made our way back down the steps to start the dive. Though "seeing the light" had been mentioned many times as a requirement for cavern diving, as opposed to cave diving, nothing had prepared me for how beautiful that light was. In fact, just getting the chance to be suspended in darkness watching how the light came through the water was one of the most beautiful parts of the dive. The formations were also impressive and the "puddles" of air on the ceiling that reflected the light back out were mesmerizing.
It was a beautiful dive and I did not feel at all nervous or scared during any point of it. After the dive we came back up among the feet of a group that was there swimming in the cenote and I just couldn't imagine only seeing the surface of Kankirixche as they were. All of the trips taken with Freedom Divers Mexico include a short video of the day and we love the one that Jeff made for us!
After the dive we all sat down to the picnic lunch included with the tour. Jeff had brought us some incredible pork-belly sandwiches. We meant to go and find the sandwich shop that he had got them from ourselves, but sadly we never did. They were one of the best things that we ate over our entire month in Merida!
We left Merida that afternoon, tired and happily full of delicious sandwich and I belatedly starting doing some research. I immediately was glad I had waited because the internet makes cenote-diving out to be a scary, scary, thing to do. And maybe if you go with a different company, or a different guide it is. I honestly didn't feel nervous once while we were on the dive and have to agree that it is a MUST DO if you are visiting the Yucatán Peninsula of Mexico.
Do you want to do it too?
Contact Freedom Divers Mexico through their site or their facebook page to book a tour. All tours include:
• Dive/Snorkel Equipment
• Cenote/Cave/Park Entrance Fees
• Box Lunch
• Video of your experience.
A huge thank you to Jeff for hosting our cenote diving trip in Merida, as always all thoughts and opinions are my own.