Spectacular Sustenance, Ku'uk Merida Review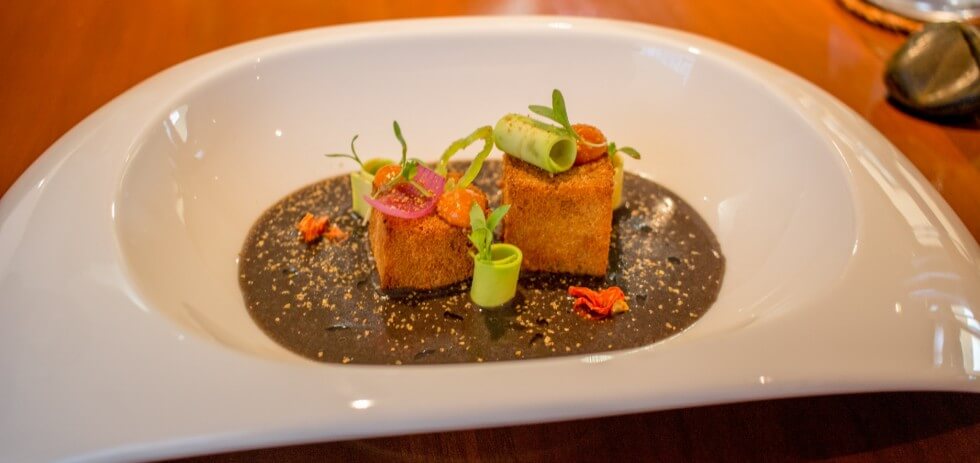 Food has gotten weird over the past couple of decades and I am so, so, into it. It has gone from mere sustenance, or delights to the taste and digestion to full on immersive artistic experiences that vie for attention from all of the senses. Since we do travel full time with just one carry-on bag each, it is these delights to the eyes, ears, mouth, fingers that I relish and take with me. I am the girl who will want to spend more on adventures, meals or massages than I ever will clothes, shoes or knick knacks.
Tom has started a tradition of finding and reserving dining experiences for my birthday where I will be more likely to be blowing the vapor off of some type of complicated nitro sorbet than I will be blowing out a birthday candle. Going to places that just take food to the next level. Places that serve meals in a number of courses in the double digits. Meals that stretch out over hours served one perfect delightful bite at a time. Each bite is a handcrafted piece of artwork to be enjoyed by all of the senses and it get's so ridiculous it's barely even food anymore.
I knew that my birthday lunch at Ku'uk in Merida, Mexico was going to be something extra special when we sat down and the waiter informed us that our menu was themed on the creation and history of the Yucatan peninsula, beginning with the meteor that hit about 70 million years ago, triggering the mass extinction of the dinosaurs and forming the Yucatan in one gigantic fell swoop. Within moments of sitting down the waiter had mentioned a menu "theme", dinosaurs and millions of year old meteor impacts; I knew we were in for something special!
And when our first course, named for the meteor Chicxulub, came out I couldn't do anything but giggle for a full five minutes before starting to taste. This "falso fósil" or fake fossil is made from ginkgo, pollen, nopal, a dried smelt fish and seaweed.
Our meal continued with Ensalada verde y melón mentolado (Green salad and mentholated honeydew) which was actually delicious, though I have to admit I thought it was going to make a better Dale Chihuly-esque mantel adornment than a tasty salad.
The course kept coming out, slowly one after another for our 2-3 hour lunch. We were served a "Té" de espinaca del huerto con sorbete nitro de cardamomo y albahaca limón (Garden spinach "tea" with lemon basil and cardamom nitro sorbet), followed by Caracol de Yucatán en chile–ajo (Yucatán sea snail in "chile–ajo" sauce).
When I saw "black bean soup tostada," or Tostada de frijol colado I had no idea what to expect, but was very surprised by this marvelous little sandwich, which turned out to be one of our favorite dishes of the afternoon!
The Joroch de recado en frijol, aguacate y polvo de pepita (Polenta in beans, avocado and pumpkin seed) was one of the cutest courses of the day and I I adored all the little sprouts popping out of tiny rolled avocado slivers.
The Velo de tomate y papa (Tomato veil and potato) and the Terrina de camarón de Celestún y kabic con castakán (Celestuns shrimp terrine with spiraled pork rind) made me realize that even tomatoes, potatoes and pork rinds can be fancy if served properly! Eating meals like this one always makes me dream of stepping up my own plating game, and serving each ingredient of a dish in a fantastic new shape or texture.
The next two course were the meat courses, and though technically "heavier courses" were still tiny little perfect bites. The first meat course was Pato de Sisal en mole de higadilla y pipián (Sisal duck in mole and pumpkin seed sauce) followed by Venado en su fondo (Venison in it's own stock).
When I saw Bocado frio de frutas de temporada or (Seasonal fruits cold snack) listed as the next course I figured it would be a cute little strawberry and a piece of mango or something like that. Instead this adorable little spoon came out. I love how even after 10 or so courses the kitchen was still surprising us and sending out dishes that made us gasp out loud or chuckle to one another.
The dessert courses all mixed savory and slightly sweet ingredients together to create innovative combinations that fell on varying places of the "dessert" continuum, with no of them being overbearingly sweet. Like this Helado de hoja de aguacate, chocolate, frijol dulce y caldo de piloncillo (Avocado leaf ice cream, chocolate, sweet beans and piloncillo)
The Epazote y espuma LYO–NITRO de piña (Epazote and LYO–NITRO pineapple foam) and the Merengue de pasilla, pelos de elote y helado de pibinal (Pasilla pepper meringue, cornsilk and pibinal corn ice cream) rounded out the meal and ended what was on their official degustation menu.
The entire experience was filled with details that left me smiling and shaking my head long after they were eaten.
Tom had told the restaurant that we were there to celebrate my birthday, and so though I thought we were finished after the teeny, spicy, smoky s'more served on a wooden tree round, they still had one more special birthday dessert they wanted to surprise me with. A multi-tier lazy-susan covered in tiny little sweet bites of almost every variety! I thought I couldn't eat another bite, but when I saw the all the adorableness that they had concocted for us, and the big gold peanut that housed tiny little bites of candied peanut I discovered that I had a little more room left!
All in All
Kuuk Merida was an absolutely wonderful experience and I am pretty astonished that they have not (as of yet) been awarded a Michelin star or two. They do have plenty of other accolades stacking up and I am sure Michelin is not too far behind. The entire meal was $990.00 MXN pesos (about $68.00 USD), per person which though is undeniably a splurge from our regular meal of street tacos, is an incredible price for a meal of this caliber.