At Sea; A Budget Cruise Across the Pacific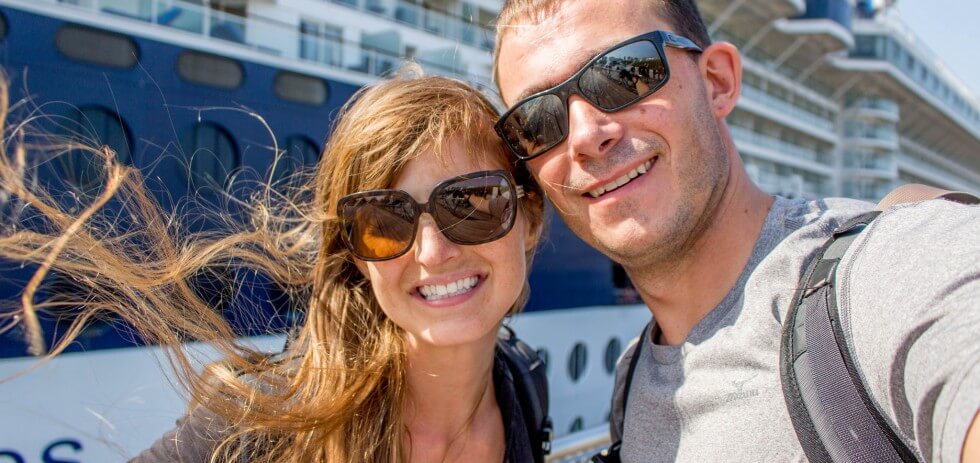 As I've hinted in previous posts, Tom and I found a rather unique (for us) way to travel back to the Americas from Asia, via a cruise ship!
We have learned time and time again, experiences are shaped by expectations. With that in mind, we were really setting ourselves up for success when we started reading the reviews of the boat we were about to embark on just two days before we were set to sail. "Well let's put it this way," Tom said grimly into the darkness as we were both trying to fall asleep "would I choose to have booked the cruise after reading those reviews – no. But, there's nothing we can do about it now."
We had just finished reading pages and pages of tales of sickness, rude staff, and awful food aboard a glorified trash barge. We had not done a lot of initial research past the price. I mean, a two-week cruise across the pacific ocean for the same price as a plane ride across the same distance, what else could we possibly need to know?
Three weeks earlier while cruising (pun intended) a cruise deal site I found this trip slashed to $700/person and had bought it immediately. After reading all of the horrible reviews of the Celebrity Millennium we found online, we had to remind ourselves again and again why we were doing this. How the money we normally would just throw at a plane for transport was going to be spent on an entirely new experience.
So we found ourselves at dinner the first night, expecting to be given canned corn and instant mashed potatoes with a huge group of incredibly old, incredibly chubby, republicans. We were pleasantly surprised to find ourselves eating delicious grilled salmon and salads, seated with two Swedish, vegan backpackers on a year-long trip circumnavigating the globe without flying.
Our other dinner mate, a young guy who had been living in Japan the last 10 years, unfortunately, had different expectations. He had seen commercials advertising the cruise filled with young, well-dressed professionals. Laughing, drinking, lounging around in bikinis and then dancing the night away in the on-board clubs. Looking around at all the other dinner patrons, he was less enthused about the cruise than we were. He was expecting the show "blind date" on a boat, and after reading all the bad reviews we were expecting a rusty clunker whose main claim to fame was that it was somehow still chugging along. Luckily we were both wrong!
Costs
We booked the cruise for $700 each which included everything except for alcohol and extra tours or spa treatments. We did not spend anything extra on the boat. We used Vacations To Go but Cruise Sheet also has great re-positioning deals.
Alcohol & Onboard Activities
Alcohol is the big extra on a cruise and if we had chosen to get an alcohol package it would have doubled the cost of the entire cruise! You are allowed to bring two bottles of wine on board per cabin, so that is what I drank. Tom drank rum which he brought on board in plastic bags hidden in his suitcase, and I am pretty sure almost every suitcase on board had one of these puppies in it. We were also given a bottle of complimentary champagne one night from the gentleman in charge of our deck.
If you go to some of the onboard art auctions and other activities you are also given complimentary champagne so we had a glass or two there as well. Which brings me to onboard activities. There were a whole lot of those on offer, but we didn't really participate in any of them. There were cheese making classes, stand-up comics, art auctions and piano players. There were a whole lot of activities that seemed, for the most part, to be pretty budget and boring and so we did not go to any unless we were in the mood for a glass of champagne.
Dining Options
There are 4 different free dining options. You can eat during meal times in the dining room You can visit the buffets, you can order room service or you can hit up the "extra treat" places.
Dining room: Meals served in the dining room were in several courses. You picked between options for each course and then they were brought to you as you ate them. The salads were not as good in the dining room as they were from the salad bar where you could really pile on the veggies, but all of the grilled meats we had were surprisingly good.
Buffets: The buffets are really your best bet, especially if you have any dietary restrictions. Also, the dining room didn't have as big of windows as the eating area for the buffet, which was another point for the buffet. There were tons and tons of different "stations" and the best part is they were all staffed by people when we were there. To prevent sickness from spreading through the ship, the passengers were not allowed to serve themselves from the buffets which kept everything much cleaner. Tom's favorite stations were the omelet bar in the morning, and the carving/sandwich station at lunch. My favorites were the salad bar, and the stir-fry station where I got to pick whatever fresh veggies and protein I wanted and then watch as they were quickly cooked up in a large wok and slid steaming onto my plate. I also may have had like three bowls of miso soup a night. Whatever your poison is, they've probably got it.
Room Service: You can have all four courses of whatever is being served in the dining room brought to your room during dinner time, or you can choose from a room service menu. The menu includes things like pizza, cookies and cheese and fruit plates. The staff who bring you your pizza or whatever else you ordered at 2am are really, really good at being non-judgmental when they deliver. They obviously have a lot of practice. You get the least amount of options with room service, but it was a fun novelty for us once or twice.
Extra treats: There was a soft-serve machine on board which was Tom's favorite treat stop, and a cafe style place on one of the decks which was mine. The cafe style place charged for "premium coffee drinks" but all of their desserts were complimentary. I almost wish I hadn't discovered this place because their dark chocolate brownies and fruit tarts were the only desserts I really liked on board and they were just there and waiting every single day!
So what did we do?
We walked around the ship in endless circles. We played a lot of backgammon. We disinfected our hands. A lot. I read 13 books. Tom worked (offline) on projects he was interested in. I wrote and re-wrote, and re-wrote again a short story i've been toying with for the last few years. We checked out the machine with money that gets pushed in the casino to see if it changed from day to day. We went to the gym and braved the cold outside by the pool. A little. We snuggled in bed. A lot.
The best day of the cruise was the last one. We were cruising down the inside passage of Canada and saw dolphins, orcas and bald eagles! It was especially nice because we had watched "Blackfish" on the boat and really needed the soul-healing that seeing happy, wild orcas provided.
All in All
I liken being on a cruise of this length to being home sick from school as a kid. Everyone wants to take care of you and make you whatever you want to eat and make your bed. You are allowed to just read books and watch as many movies/ as much TV as you'd like. It's kind of great for a little bit. But eventually you do get bored and miss your friends. That does not make it unpleasant at all, just makes you ready to go back to school when it's all done.
Would you choose to be sick for your whole vacation? No. Is being sick sometimes like a vacation? Yes. We would definitely take another cruise as a form of transportation, but we wouldn't suggest making it your entire vacation. Unless it is for just a couple of days up the Canadian coast, those landscapes are seriously stunning!