Best of Kauai. What we did & what we will get to next time!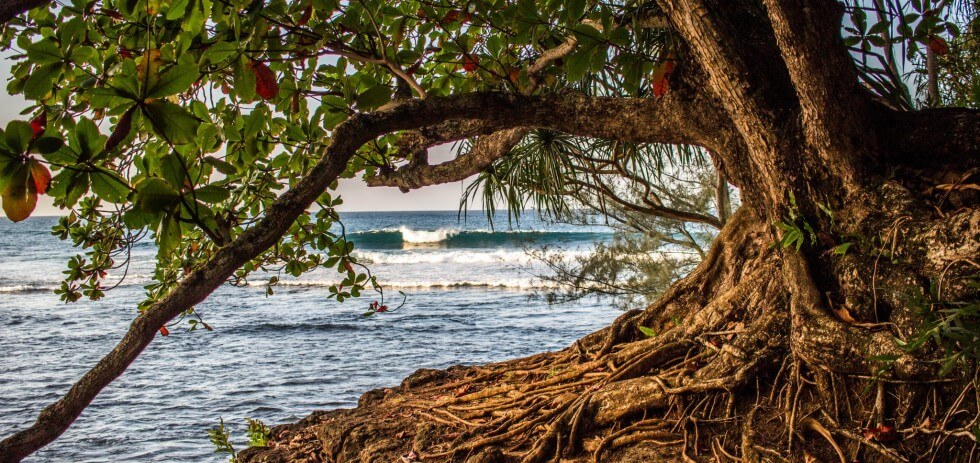 When we arrive to a new city, country or island I usually sit down, do some research and make a huge list of what sounds like "The Best" things to do in the area. If we end up doing 50% of the things I end up feeling pretty accomplished. As I have mentioned before, Tom and I are not the most "go-getter" of travelers and with all the time we need to spend working and lazing in hammocks with books or iPads in our hands we always end up having less "sight-seeing" time than we think we will.
I typically write about the things we do, and explain how we did them, just in case you want to do them too. This time, I thought I would try something a little different and give you my entire "Best of Kauai" list, including the things we didn't get to, just in case you have a higher sight-seeing tolerance than we do.
Best of Kauai Snorkeling
Tunnels Beach I had read that Tunnels has great snorkeling, but that it can only be done outside of the winter months. In the winter the surf gets really big on on the north shore of the island, and since we were there in early January we weren't able to snorkel.
Ke'e Beach is also on the north shore, and so though we had a lovely swim there after our long Kalalau trail hike we did not snorkel.
Anini Beach Park is also on the north shore, but is incredibly protected and was the only snorkeling we did on the island other than our boat tour. The water was very calm and clear, making the snorkeling very easy if not spectacular. I did see quite a few turtles here and some other life, but there was not a lot of coral or very many bright colors. It is a perfect beginners snorkeling spot since it is so calm, and I have heard of people seeing sea horses here. I combed the sea grass hoping to spot one, but was not that lucky.
Best of Kauai Beaches
The Glass Sand Beach near Port Allen Kauai is one of the most magical spots we visited in all of the Hawaiian islands! It is in an industrial area and so it is not a beach you go to for swimming or sunbathing, but is definitely worth the visit. The beach is in Port Allen, which is where the boats leave for the whale watching and snorkel tours, so it is an easy stop if you are going on a boat tour.
Kaupea secret beach is a long beach on the North Shore known for its size, privacy, and scenery, which is supposedly spectacular. We never made it here, but these are the directions I found for it online "take the Kuhio Highway past Kilauea and turn right on Kalihiwai Road. Follow the road for about 50 yards and then turn right into an unmarked, unpaved road. Proceed to the end and park. Nearby is the foot path leading to the west end of the beach."
Hanalei Bay is definitely not a secret, but it sure is lovely! It is a half-moon shaped bay surrounded by towering mountains and is a fun place to surfer-watch, people-watch and laze away a day.
Polihale Beach is another apparently spectacular beach that we did not make it to. It is on the west side of the island and is known for being a long, wide sandy beach framed on one end by the cliffs of the Na Pali coast.
Ke'e Beach is easy to find since it is literally at the end of the road. It is the last beach accessible by car on the north shore. In the summer it is apparently a gentle ocean lagoon and a good snorkel spot. We visited in the winter and though it was not a gentle lagoon, it was a gorgeous beach and a perfect place for a refreshing dip after our long hike along the Na Pali coast.

Kaweonui Beach or SeaLodge Beach was maybe our favorite just because it is a hidden little gem that we accessed from a trail right behind the Princeville condo we rented on Airbnb. It is this type of local knowledge that makes us love renting apartments so much! Sign up for Airbnb with this this link and and get $25 off of your first rental!

Haena Beach is a beautiful golden sand beach sandwiched between lush greenery that hides the road on one side and rolling blue waves on the other. Perfection! It was not the best swimming beach the day we were there but was a great place to stop for a stroll and some relaxing on the sand.

Best of Kauai Hikes
Waimea Canyon State Park is full of many hikes, trails and lookout points. There are easy walks of a quarter of a mile and more moderate and difficult hikes up to 11 miles long. We spent a day driving around the park, going on several smaller hikes to take in the sweeping canyon views, lush plant life, little waterfalls spilling down red earth, and huge falls spilling down staggering cliffs.

The Kalau Trail on Na Pali coast is probably the most famous hike in all of the Hawaiian islands, and for good reason. The rugged coast line on the north side of the island, called the Na Pali coast, is so beautiful it made me squint! It's almost like you need beauty glasses on top of your sun glasses to cut down on the harsh glare of perfection. We did the "Hanakapi`ai" portion of the trail, which is the farthest you can go without planning ahead and getting permits. It is a loop of just over 8 miles that follows the coastline for two miles to Hanakapi`ai beach and then continues inland another two miles up the river to Hanakapi`ai falls. It would be a shame to visit Kauai and not go on this hike, it is one of the loveliest we have ever been on, anywhere.
The Nounou Trail up Sleeping Giant is a four mile loop, 2 miles up, and 2 miles down, moderate hike. There are wide sweeping views from the top of the mountain and the trail head is right outside of Kapa'a town.
We did not make it to Maha'ulepu Heritage Trail on the south shore, but the four mile loop sounded incredible. Supposedly it is an easy hike across some beautiful undeveloped coastline where you can spot many different sea animals off the shore and a wide range of different plants. Sounds great, right?
The hike down to the Queen's Bath near Princeville leads to a large "pool" carved into a lava shelf that is the size of several large swimming pools. I saw pictures of this gorgeous site all over Pinterest and it was one of the things I was most excited to see. Unfortunately, during the winter months the surf pounds so hard and high that you can't even see the pool. If you do go, take some photos and send them to me, I never get tired of looking at that gorgeous crystal clear pool looking out over the ocean.
These are the directions I had planned on using to get to the Queen's bath, hopefully you will get better use out of the than we did! Directions: Take Highway 56 to Princeville. Turn right on Ka Haku Road. Turn right on Punahele and right again on Kapiolani. Park along the road at the end of Kapiolani and follow the dirt trail along the stream for about 25 yards. At the end of the trail turn left for about 300 yards to the Bath.
Kilauea Point Hike is a very short (0.3 mile) paved hike that is great for families with small children, wheelchairs and anyone who wants to look at a ton of wildlife and a seriously picturesque lighthouse.

The Secret Tunnel is another epic-seeming hike that we never got around to doing. The hike goes to a secret lava tube tunnel that lets out onto the North shore of Kauai. Sounds amazing, right? This blog post by HikerAdventures has a lot of great information about the hike, and this post is filled with information and maps of the secret tunnel hike and this post has a lot of great tips for preparing for the hike.
Best of Kauai Art Walks
There two different regular art walks in Kauai. The Hanapepe (on the south shore) Friday night art walk from 6-9pm and the Kapa'a Art Walk on the first Saturday of the month from 5pm to 9pm. We went to the Kapa'a walk and it is always fun to see some live music and try the different food trucks that these events bring out.
Best of Kauai Food and Drink
One of the many taco trucks in Kapa'a. We found a surprising number of taco trucks in Kapa'a, and tried so many of them that we wrote a post about the tastiest tacos we found there.

Koloa Rum Tasting on the Kilohana Plantation. Koloa rum is produced on the island of Kauai and they have a great tasting room with free daily tastings every 30 minutes on the half hour. They are a newer company so they do not have any aged rums yet, but there are some sitting in barrels getting good as I write this! The tasting room is also on the grounds of the Historic Kilohana Plantation, which has a mini train ride that runs around it and is a beautiful place to walk around and explore to let your little tasting buzz die down before you leave.
Poke and Pomelo! You want to eat them separately of course, but my two favorite parts of Hawaii are this raw fish dish, and these amazing citruses. Don't miss out on trying either while you are there. This poke is from the very highly reviewed Koloa Fish Market, that we stopped at in between rum tasting and the tree tunnel. The pomelo was from a tree in a random front yard. I knocked on the door and asked if I could have a few, and was told to take as many as I liked! People are very generous with their pomelo.

Kapa'a Farmers Market on Wednesdays starting at 3pm is supposedly the best on the island. I can't say for certain though, because we forgot to go every Wednesday. I was mostly going to stock up on pomelo, so after raiding that tree I wasn't as keen to check it out.
Best of Kauai Tours
Kauai is a gorgeous place and we wanted to drink in the sights from as many angles as possible while we were there! We took a boat tour that included whale watching and snorkeling along the rugged coastline with Cap't Andy's. Follow this link to read about our Kauai Snorkel and Whale Watching Tour.

We also soared over the island in an unforgettable Kauai Helicopter Tour, follow the link to read about my first helicopter experience!

Best of Kauai Miscellaneous Activities
Kauai Power Yoga is a wonderful little studio offering Baptiste style power yoga classes in Kapa'a town.

The Kapa'a Bike and Pedestrian Trail is a beautiful little trail that is perfect for bike riding or strolling down. We found a fun swing on the beach and a lot of beautiful roosters when we walked down this path!

The Tree Tunnel is a wonderfully fragrant, mile-long stretch of Eucalyptus trees located just above Koloa Town. A lovely little road to drive down after or before tasting rum at the Koloa rum tasting room.

Spouting Horn Blow Hole is supposedly 'the most photographed spot on the island.' It can be found on the south shore. We've heard that it incredibly accessible and easy to visit with ample parking and that the view from the lookout is luminous at sunset. We had just seen a lovely blowhole in Maui so we didn't feel too bad about missing this one.
Nene Spotting! The Nene is a Hawaiian goose and the state bird of Hawaii. They only live on four of the islands (Oahu, Maui, Kauaʻi and Hawaiʻi) and I have only ever seen them on Kauai.

The Taro Fields by Hanalei Bay are just on the side of the road leading down from Princeville to Hanalei. This is the first place I had ever seen taro growing, and I didn't realize that they grew in paddies, like rice. There is not too much room to pull off the road, but the paddies are beautiful with the big mountains towering in the background.

The Hanalei Bay Lookout at the top of the hill is a striking place to pull over for a quick gaze.

Sunrise and Sunset, one of the best parts of being on a li'l island is that with very little effort you can see the sun both rise and set over the ocean each night.