A Tale of Two Baklava Recipes; Persian and Hawaiian Style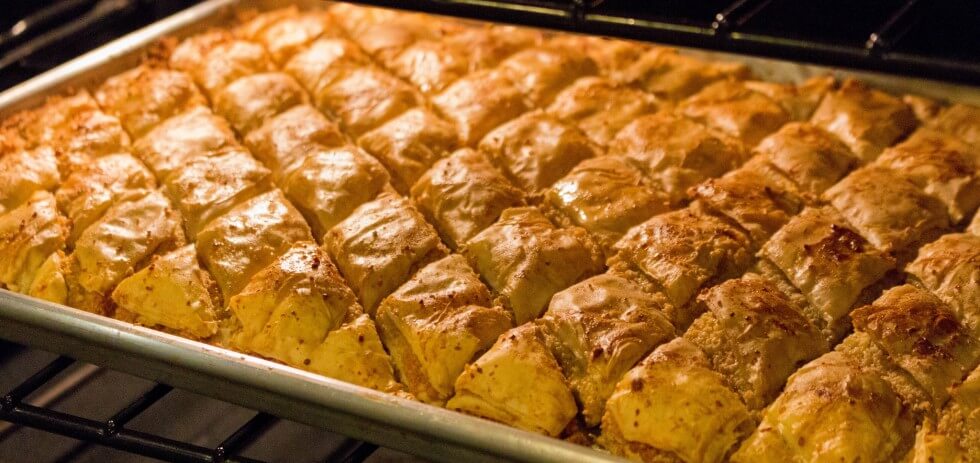 Our friend Shawna is really great, but even if she wasn't we would possibly continue to be friends with her to get the opportunity to see her parents Marie and Farzin. I guess it would be pretty hard to have parents like that and not be pretty great, so we don't have to worry about that ever happening.
Far moved to the U.S. from Iran, met Marie here and ended up settling down in San Diego. He is an amazing cook and both he and Marie are incredibly generous hosts and invite us over for dinner every time we are in town. Our nights at their home are some of our favorites in San Diego and we love trying new and delicious Persian dishes while enjoying their company. Far knows that Baklava is one of Tom's favorite desserts and so this year he invited us over, on his birthday, to teach us how to make baklava on our own. He also very good-naturedly put on the pirate accessories that came with the pirate birthday card we brought him.
Persian Baklava is a little different than Greek or Turkish baklava in that the syrup on top is made from sugar instead of honey, and it uses almonds. Here is the Farsi version of the recipe next to the translated version that Far made for us.
Making baklava had always scared me because I imagined the fillo dough was too difficult to work with. I have a hard time with finicky, detail-oriented projects, but Far immediately put my fears to rest. He grabbed a small handful of sheets and slapped them onto the buttered cookie sheet. "It's fine if it tears a little," he said, "you won't even be able to tell after it's baked." The actual assembling of the baklava was much easier than I had imagined. He put about 3-5 sheets down, buttered them, added some more sheets, buttered them, and then spread half of the nut mixture on top. We repeated this process with the rest of the nuts, fillo dough, and butter and then voila! Before we knew it we had a tray of baklava ready to be sliced up and tossed in the oven.
It turns out that this is where the hard part starts. Not impossibly hard, but definitely the most time-consuming and difficult part of the whole process. Shawna and Tom put their heads together on this project and using a variety of tools mixed with pure determination cut the tray into perfect diamonds. They baked at 350 for about 40 minutes and then after they had cooled, Far slowly poured the syrup over the entire tray.
Far made sure that we knew throughout the baklava making process that though this was his recipe, everybody makes baklava a little differently and so we needed to experiment and figure out what our personal baklava style was. Challenge accepted Far! We take our homework seriously and so made our first solo batch as soon as we could while visiting Michael's (Tom's Dad's) bee farm. We decided to use the fresh ingredients that are both plentiful and free here and made a macadamia nut-honey baklava.
Michael's bees help pollinate the macadamia nut orchard next to his property, and so he has access to the farm and it's nuts. We started by walking through the orchard and gathering a ton of macadamia nuts. We pulled the leathery outer shell of the macadamias off while we gathered them.
Once we got back to the farm we used a nutcracker to crack the impossibly hard inner shell of the nut and removed the raw nut until we had a big bowl-full.
We roasted the nuts at a low temperature (250 F) for 20 minutes to get them just a little bit brown, and then pulsed the nuts (about 3 cups worth) in a food processor with a teaspoon of cinnamon and a quarter cup of sugar.
We made the syrup by heating 2 cups of fresh honey from the farm and 2/3 cup water on low heat with juice from one lime and a sprinkle of cinnamon. In retrospect, we should have just used straight honey, I think it would have been better.
We melted the butter in the microwave and then got down to business! We followed the method we had learned from Far and layered the fillo dough, butter and nut mixture.
Now came for the cutting! Tom and Shawna did a really nice and careful job of cutting the batch we made with Far into perfect, beautiful diamonds. Apparently when Tom's cutting partner goes from Shawna to me, things get a little wonkier. We pulled them out and let them cool before pouring our honey syrup on top.
Our major worry, when we were waiting for them to bake, was the fact that the only absolute that Far gave us ws to NEVER, EVER use salted butter, but that's all we had on hand.
Verdict was… not too salty! Here is a side by side comparison of each of the baklavas, Persian style is on the left and Hawaiian style is on the right. What we learned from this experiment is that lime does not replace rose water, cardamom is really good, macadamia nuts are really good, and baklava is really good no matter how you make it.
The most important lesson we learned about making baklava is this: It is highly addictive so have many people to share it with unless you are comfortable with eating obscene amounts of baklava in one night!

Far's Recipe
Ingredients:
1 pkg fillo
20oz almonds
10 oz powdered sugar
1 tbsp cardamon
1 cup melted butter
Syrup Ingredients
20 oz white sugar
1.5 cup water
up to 1/4 cup rose water depending on taste (optional)
Method:
Use a food processor to chop almonds, powdered sugar and cardamom.
Butter the bottom of a cookie sheet.
Stack about 4 layers of fillo on the cookie sheet.
Butter the top fillo layer and add 4 more sheets.
Butter the top layer and add half of the nut mixture.
Place 4 more sheets on top, butter and add the rest of the nuts.
Add your remaining sheets on top and butter.
Cut. laboriously.
bake at 350 for 45-60 minutes.
Remove from oven and pour cooled syrup on top.
Syrup Method
Mix sugar and water and heat on low, stirring until all sugar has melted.
Continue to stir until it thickens and then add rose water of you are using it.
Remove from heat and allow to cool.
Now I encourage you as Far encouraged us, go forth and experiment! What kind of concoctions can you come up with?