Bedding Down with Buddhists, A Temple Stay in Koyasan, Japan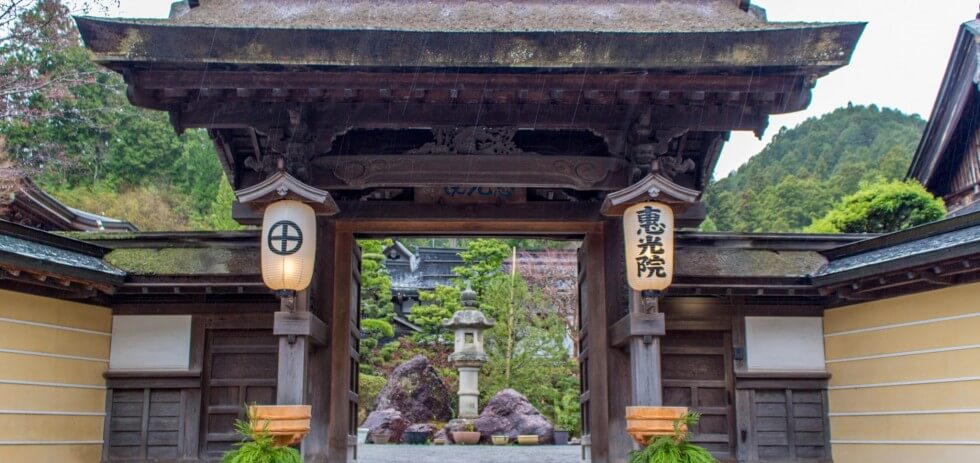 Koyasan (Mt. Koya) is famous for being the center of Japanese Buddhism and is home to a university dedicated to religious studies and 120 temples. Many of these temples allow pilgrims to spend the night and there are numerous pilgrimage trails that lead to the town.
I would guess that the majority of visitors these days like us, are not legitimately Buddhist pilgrims, but rather people who are interested in the experience of staying in a traditional Japanese monastery and exploring the beautiful and unique town.
Many people suggested that we stay in a ryokan, or traditional Japanese inn, while in Japan. Ryokans often run from $300-$500 a night and so we decided to visit Koyasan and stay in a temple to get that traditional inn experience, with a Japanese buddhist experience, rolled in for good measure.
There are many different Koyasan temple lodgings options and every visitor has a different experience. You can read about the stays of Simon and Erin of Neverending Voyage here and Steph and Tony of 20 Years Hence here.
One of the reasons we visited Koyasan was to immerse ourselves in traditional Japanese culture, and so we did opt to stay in a monastery, but there is another option in the town. A temple is really the best place to play dress-up in yukata (Japanese robes) in a legit tatami mat room, and so may be worth it for that experience alone.
However, if playing dress-up isn't your thing, you couldn't be asked to attend Buddhist ceremonies, or if you just want to save a little paper, you could stay at the Koyasan Guest House Kokuu, which is the only option we heard of for visiting Mt. Koya and not staying in a temple.
The Monastery
EKOIN TEL: +81-736-56-2514
We chose Ekoin based on online reviews. We payed 21,000 JPY ($205) for one night and two full meals for the two of us. It also came with welcome snacks and tea and the option to sit it on two Buddhist ceremonies. Ekoin was built almost 1200 years ago, and we loved imagining the monastery just calmly existing over the past thousand years, and continuing on for thousands of years in the future.
Considering that meals in Japan are typically quite pricey, $205 didn't feel like too much and we really enjoyed the whole experience.
The Onsen
The onsen (bathhouse) at the monastery was pretty fabulous. As with all onsens, you change outside of the "wet room" and leave your clothes and towel in these baskets. And yes, by "change" I actually mean "strip down to your all-together".
Once you enter the bathing area you pick a washing station and sit down at the little stool and give yourself a proper shower. Make sure you really scrub up and rinse off because the only thing that keeps this whole thing from being gross is that everyone is squeaky clean and soap-free when they slip into the communal tub. Hang out in the tub and relax. I know a lot of people find it difficult to relax when naked in front of strangers. I can only urge you to really try and just go with it. It's only as awkward as you make it, right? If you couldn't tell, I am a believer in the onsen. Especially since springtime in Japan felt incredibly cold after spending 5 months in SE Asia and soaking in that tub was the only time I felt truly warm in the country!
The Meals
All of the meals are vegan, and were brought to us in our rooms. Luckily there was a menu written out as otherwise we would have had no idea what we were eating. Even with a list of what was on our (adorable, tiny) plates, we usually couldn't quite nail down which dish was what.
Welcome Tea
Dinner
The highlight of this meal was the cold, sesame tofu. We opted to add warm sake to our meal and it was an excellent decision.
Breakfast
The Ceremonies
The guests of the monastery are invited to observe a chanting ceremony and a fire ceremony in the morning. Surprisingly, I enjoyed the meditation/chanting ceremony more than the one that involved a towering live flame. We did not understand much of what was going on in either but the chanting sounded really nice and it was interesting to be in the pretty rooms and witness something that monks have been doing daily in that room for over a thousand years!
And (in case you were wondering) there is even wifi throughout the temple!
The Town
Most of your time will be spent in the monastery, but the town itself is a lovely place to walk around. The main attraction is the moss-covered, and the country's oldest, cemetery.
We were lucky enough to be visiting in the Spring and so caught the town with it's cherry blossoms still blossoming!
Transport to and Around Koyasan
Getting to Koyasan is a pretty fun experience in itself. There is a cable car which travels up the mountain, taking about five minutes and costs 390 yen. Once at the top there is a bus which travels through the town and getting on the bus, finding the best stop and then finding the monastery is a seamless process with eager helpers at every step of the journey.
To be honest, we were a little wary of the whole experience before we went. We thought it may be awkward, or feel super touristy and zoo-like. I am happy to say that our misgivings were for naught and the whole trip was absolutely lovely. It felt as remote and serene as staying in a 1200 year-old Buddhist temple in a traditional Japanese town should.