Fairy Stream Mui Ne, Vietnam – In Photos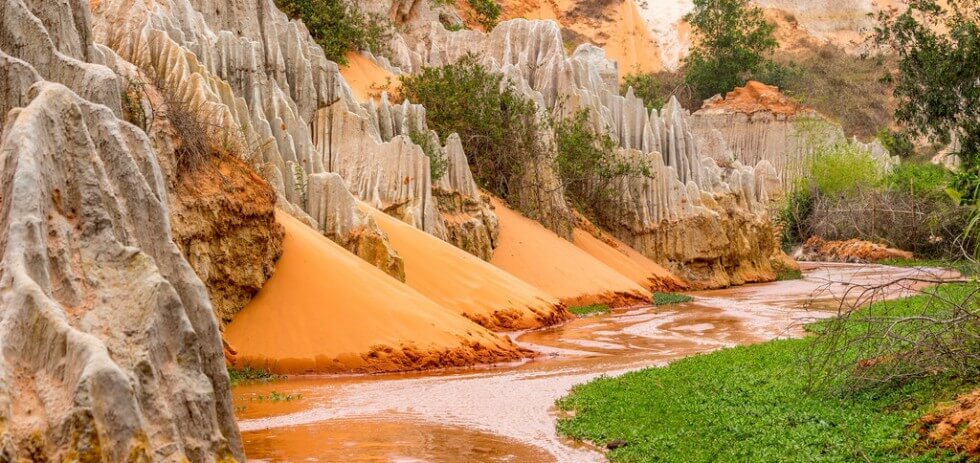 Many of the tour operators in Mui Ne heavily advertise trips to "The Fairy Stream" right outside of town. If you have an hour or two to spare, it is probably the easiest "sight" in the area to see on your own. You could ride a bike, or a motorbike a couple kilometers down the main road, or you can take a moto-taxi or public bus.
My friend Michelle and I flagged down the public bus headed out of town and paid the 13,000 vnd fare (about $0.65). When we crossed a bridge over a stream and saw a sign that said "Fairy Stream" we just stood up and waved at the driver and he pulled over and slowed down enough for us to hop off.
We walked down the side of the bridge and then (with a little trepidation) entered the stream. Easy Peasy.
I have to admit at the beginning of the walk we were not impressed. I think I mentally counted back to my last tetanus booster before getting in it at all. We perked up a bit when we saw a pretty interesting rock formation, and a rather fabulous cow who I nicknamed "spotty Dotty." We thought she had gotten splashed with cement or mud at first, but nope! That is just Spotty Dottie's coat, au natural.
We continued down the stream and realized that the deep reddish brown color of the water was not from waste or trash, but from the color of the sand that was making up many of the formations. We began to see some beautiful flowers poking up from splashes of bright green on either side of us.
After passing a place that sold drinks and snacks, we turned a corner (both literally and metaphorically) and began to see that the Fairy Stream is not oversold at all. It felt like being inside of a sand art bottle that someone made at the fair using nothing but white, red, green and blue sand.
At the end of the path Michelle and I got a wild hair and decided to try and scale one of the sandstone hills that tower over one side of the stream. About halfway up I got scared off by the crumbling cliff under my feet and the gale force winds pelting sand into my eyes and threatening to send me tumbling down the side of the hill. Michelle's hair was wilder than mine that day and kept going up, determined to make it up and over.
She eventually had to admit defeat as well and come belly sliding back down the hill. She made it about twice as high as I did though!
It was completely lovely and definitely looks like fairies may have lived there at some point. Who knows, maybe they still live there and just we didn't run into any that day. Unless you count Spotty Dotty.