Eating For Two A guide to Krabi Food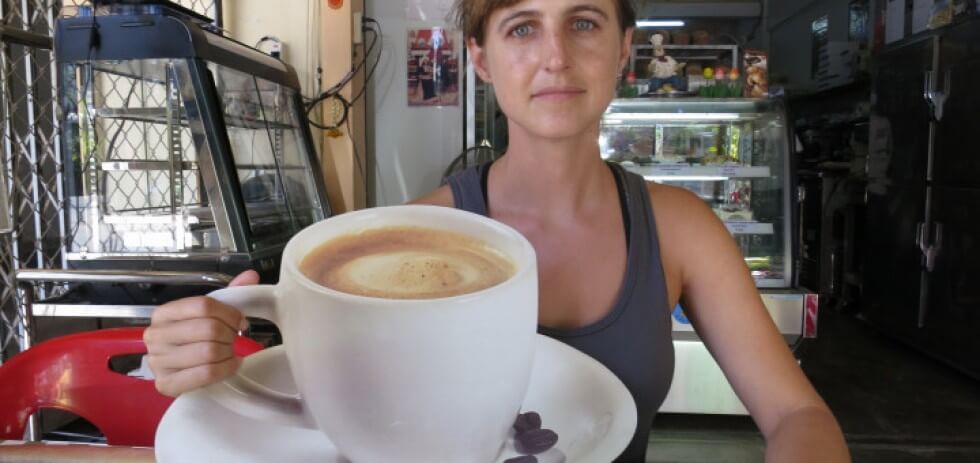 The first time we came to Thailand I was too amazed at seeing all of my favorite Thai dishes on every menu and street corner, to branch out too far. Seeing things like larb moo (spicy pork salad), som tam (spicy papaya salad), tom yum (hot and sour soup), tom kha (coconut milk soup), ga-prao gai (minced chicken with basil), curry (uhh..curry), khao neeo mamuang (sweet sticky rice with mango) and satays (meat on a stick) all around me meant that not only did I know what to order, but I also knew what amazing taste sensation to anticipate when I did. After months of pointing at things to order it was a heady experience to say the least. Not to knock pointing, some great things have come from pointing. There was also that unfortunate experience of pointing to some tasty looking cauliflower only to discover it was actually cold lumps of pig fat floating in a sauce.
There were not enough meals in the month that was our first visit to Thailand for me to get my fill of all of my Thai favorites I knew and loved from restaurants like Amarin Thai in San Diego, CA.
It was only this visit that it hit me. I had rarely met a Thai dish that I didn't like, and there are so many other things that people are eating here! I may very well have a new favorite dish just waiting to be discovered, and I set out on that mission with a vengeance over our 10 days in Krabi Town. Tom was not feeling too well while we were there, and so he stuck to small glasses of fresh OJ and western foods he knew and loved. I compensated by trying enough new (to me) Thai food for us both. That's just the kind of selfless wife that I am. Here are some of the things I tried while eating for us both in Krabi Town.
Khanom Jeen (rice noodles with a variety of curry sauces, vegetables both fresh and pickled, and hard-boiled egg). A Khanom Jeen stand is spotted by the 4-6 huge metal pots in front of a lady at a stall, surrounded by plastic tables and chairs. For less than a dollar you get a handful of soft, fermented rice noodles that you can then cover with whatever sauces you like. I didn't know what I was doing so the lady just asked me, "spicy?" to which I answered with a resounding, "Yes, please!" She sauced me up, but I saw other customers who were obviously in the know who sauced themselves up. Once at a plastic table you are brought the condiments for these saucy noodles. The condiments are a huge tray of fresh and pickled vegetables, dried roasted chilies, and whole unpeeled hardboiled eggs. I put everything in the bowl and it was delicious! I could slurp down bowlfuls of this stuff daily for the rest of my life! Just a word of warning, it is supposed to be served room temperature, so don't be put off by the fact that it is not hot.
Yam Kai Dao (Fried Egg Salad). This is a very refreshing salad of pieces of omelet mixed with tomato, onions, cucumbers, celery leaves, lime juice and chilies. This one was just ok. If I was in a salad mood again I'd stick with larb moo, as pictured below. I did not get a picture of the yam kai dao, but doesn't that larb look tasty?!
Hot and Spicy Soup with Mushrooms. I don't know what this is called in Thai. There was this stand at the walking street night market that was just overflowing with fresh mushrooms and a long line of locals. It smelled amazing and I wanted a steaming bowl of whatever it was more than anything. We hung back for a minute to try and figure out how the process worked. It looked like each person wrote down an order in Thai on a piece of paper and then gave it to the lady who added it to a queue of other slips of papers. It didn't look like there was another way to do it so I grabbed a pen and piece of paper and turned to someone waiting for their soup. "Can you help me order, please?" I tried with a smile and held out the pen and paper, hoping she would take it. She took it a bit resignedly and asked me, "spicy?" the lady taking orders behind the stand saw what was happening, and took over. I think she figured (rightly so) that if someone else put in my order for me I would not know it was mine when she called it out and I would foul up her whole system. She took my order for me, and 10-15 minutes later when our soup was up I was glad we took the time to figure it out! It was a hot and spicy broth chock full of delicious mushrooms. Yum!
Pad Thai (everyone knows what pad thai is). This is a funny one because it is super famous and is the one thai dish that everyone is familiar with. I am not a big fan of stir-fried noodle dishes so it's something I never ordered in a restaurant. Once I tried a bite of someone else's in a restaurant in Chang Mai and was unimpressed as I imagined I would be. I smelled it before I saw it in the night market in Krabi, and just had to get one. There was something about having it handed to me steaming hot on a banana leaf for about $1 that had me appreciating this dish for the first time.
Quail eggs, over easy. Nuff said. Served with a spicy chili sauce. Totally worth the cholesterol.
Tod Man Pla (Fish cakes). Definitely a fantastic way to start the night! I would usually grab a couple of these and have a lovely little flavorful appetizer while strolling around to see what else is on offer.
Sang Kaya Fug Tong (Pumpkin and Custard). Whoever dreamed this one up is an honest to goodness genius and I would love to shake her or his hand. I can only imagine that to make it you open a pumpkin like you are going to make a jack o'lantern, scrape out the seeds, fill it with raw eggy custard and then steam the whole thing. Slices of this steamed pumpkin with the not too sweet custard are pure joy served for about .50 cents in a plastic box.
Khanom Tarn (Palm Sugar Pudding). These little steamed cakes sort of looked like cornbread. Maaaaybe if they were served with butter and honey they would be good. I guess anything that is used as a vessel for butter and honey is good, even spoons! As is, the texture is good but they don't taste like much and I am not a big fan of tasteless bready things. They kind of taste like pancakes. Which again only have worth to me because of what I can put on top of them.
Itim Kati (Coconut Ice Cream). Oh yum! Since first trying this at the walking street night market here in Krabi town I have not had my old favorite of sticky rice and mango even once! Not that I don't love sticky rice and mango, but this refreshing and delightful coconut milk ice cream is served in half a coconut on a bed of scraped young coconut flesh. It is my new favorite desert, and especially nice after eating a hot and spicy thai soup! Though speaking of sticky rice and mango, the rice is tri-colored here which definitely adds something to the presentation!
Roti (Thai-style roti). I loved roti so much in Malaysia I figured I would try the Thai style roti (called Thai pancakes) you find on every corner. I actually tossed mine after one bite. Instead of being made with ghee, it is basically deep fried in margarine. So instead of the crispy but stretchy savory fabulousness that is roti canai, you get this deep fried greasy pancake thing that the stand owner almost put condensed milk and sugar on before I shouted out "noooo!" and surged forward like an action movie hero stopping him just in time. They are almost more like a sweet fried flat doughnut here. Which I am sure a lot of people like. I just hate doughnuts. And fried foods. And milk, condensed or otherwise. I disliked these as much as I liked roti canai in Malaysia.
Kanom Krok (Coconut Pancakes). To be fair I actually had eaten these in the States before. The ones I had in the night market in Krabi were the first ones I had eaten in Thailand and they blew my previous experiences with them out of the water! They are cooked in a special cast iron skillet with little holes and are somehow made to be nice and crispy on the outside and then hot, gooey, and coconutty on the inside. Super delicious but fresh off the skillet they are around the same temperature as molten lava so be patient and let them cool or you won't taste anything for a week afterwards! And as you can imagine, burning the tastebuds off your mouth would be a real waste of a visit to Krabi Town, Thailand!