Cooking Class a la Provencale in Aix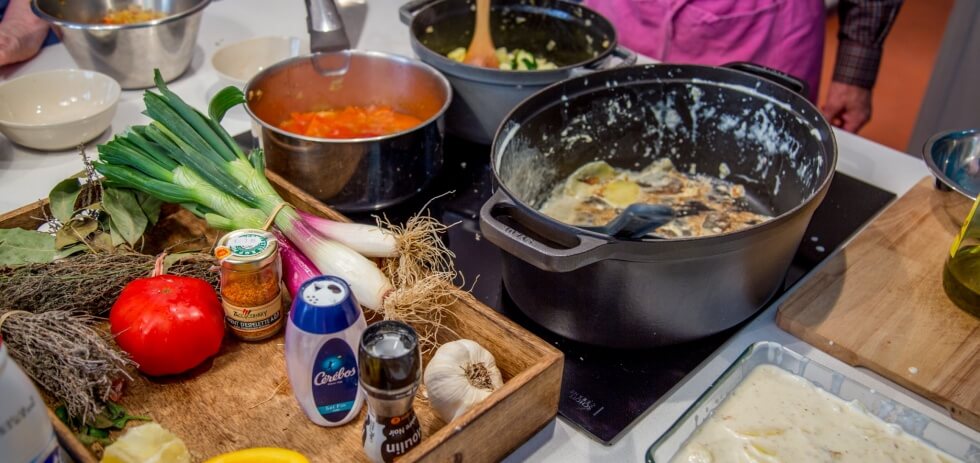 There are many different ways to get to know a new place, but we find that our favorite way is to make our way to it's heart through it's stomach! That has been even more true than usual here in France. From our three Michelin starred lunch in Paris to our 1€ daily baguettes, from seasonal fruits and vegetables in the market to cheeses from the fromagerie and meats from the charcuterie; we have been crossing more off our list of things to eat than our list of things to do!
We love cooking classes and have taken them all around the world but I was especially keen to sign up for an Aix en Provence cooking class. Provence is considered to be the garden of France. It is a highly fertile agricultural area known for it's vegetables, fruits, olive oil, fish from the coast and goat cheeses. The term "a la Provencale" on a menu usually means "comes with hella vegetables" and so I knew I wanted to take our French cooking class here, instead of in Paris (where we will be taking a baking class instead!)
We signed up with L'Atelier Cuisine de Mathilde, which had the added benefit of being just a couple of blocks from the lovely apartment we rented in Aix. The day started in front of the town's City Hall. Normally the class would then go together to the local farmer's market, which is held daily in Place Richelme. The day of our class was pouring down rain and so we all decided to skip the market and get right into the kitchen.
With all of us seated around the large cooking island in the beautifully renovated kitchen, we had coffee and calissons while Mathilde told us the history of the famous sweet, mixed with some history of the region. The almond shaped confections, which are sold all over Aix, are made up of candied fruit, almond flour, fondant icing, and a wafer. They are not as sweet as I was afraid they would be and also don't have the off-putting almond extract flavor I associate with marzipan. They are actually quite delicious so if you wanted to bring someone a uniquely Aix-en-Provence style gift the boxes of these they have everywhere would be a good choice.
After coffee, sweets and introductions, we all donned our aprons and got down to work preparing the day's menu. Every class has a different menu, and you can see the menu before choosing a class here on Mathilde's site. This was not a cooking class where you have your own station and ingredients (our favorite type of cooking class) but neither was it one where you just watched a chef do all the cooking without really getting to participate (our least favorite type of class).
This class was somewhere in the middle and we all worked together to create the dishes of the day, tearing apart the kitchen in the process. I am a firm believer in tearing apart kitchens, the messier the kitchen gets while your cooking, the more delicious the food will be!
While we did get to participate in most of the steps for each dish, there were some steps we missed while preparing other parts of the meal. It felt more like cooking new dishes with friends in a beautiful kitchen in the center of an old village in France than it did a structured cooking class with a lot of guidance.
We made impossibly adorable fresh goat cheese and zucchini charlottes with red pepper sauce. A charlotte is when one ingredient is used to line a ramekin that is then filled with something else and then inverted to make an adorable little gift of whatever it is you are eating. In our case, the wrapping paper was roasted zucchini and the present fresh goat cheese mixed with herbs and yogurt with a red pepper sauce. Tom and I had a lot of fun plating our charlottes, each trying to make ours the fanciest looking.
Our main dish of the day was a sea Bream fillet with virgin sauce, a potato gratin, and ratatouille. The virgin sauce was my favorite thing on the plate, and the recipe I can see getting incorporated into our everyday cooking style. It is a labor of love that I called 'Mediterranean salsa' since it reminded me so much of pico de gallo. It is good olive oil with tiny little squares of lemon, peeled bell pepper, peeled and seeded tomato, capers and any other vegetable you want to add. Mathilde made sure that we knew that the most important part of the "sauce vierge" was to not let any soupy, seedy, or dirty bits of our vegetables get into the sauce and muddy the color of the oilve oil. We took the job seriously and I am pretty impressed with how pretty it looked (and how good it tasted!) over the white fish.
We started our day of cooking by preparing the creme brulees to put in the oven, cutting open fresh vanilla pods and mixing them with cream, milk, egg yolks and sugar. We then ended our day of cooking by topping the custards with brown sugar and torching them to form the signature crispy burnt sugar top.
All in All
There is no better way to spend a rainy day than in a kitchen meeting new people and creating different dishes. We especially enjoyed using fresh, local and seasonal ingredients from Provence and learning more about the region and it's history from Mathilde. Fragrant thyme shaken straight from dried bundles over bright beautiful vegetables, fish taken from the coast just 30 minutes away and tangy, creamy, goat cheeses – it was all I had hoped it would be and more!
On the other hand, our class seemed a little over-crowded at 11 people (she usually caps them at 10) and with fewer people we may have gotten more hands on time with more of the dishes. The format was much more casual with different people weaving around each other doing different jobs and if you didn't reach for a job it was easy to get left out. Luckily Tom and I are not shy about volunteering, but if you are, then this may not be the best format for you.
Do You Want To Do it Too?
The classes include a market visit and cooking class and are about 4.5 hours long, from 9:45 am to 2:15 pm and the price is 85€ per person. Mathilde also offers French pastry classes and offers classes in both French or English.